Fancy some Top Gear Euro-trip advice? If you happen to be walking past the Pagani factory based at San Cesario sul Panaro in Modena, Italy, here's a tip: You're welcome to walk up the front door, and for a small fee at the reception desk, take a wander down Pagani's own memory lane.
But in case you're not passing Modena any time soon, allow us to take you on a guided tour through the Pagani Museo. Be warned: It's a slobbering, NSFW collection of car pornography.
The OG Pagani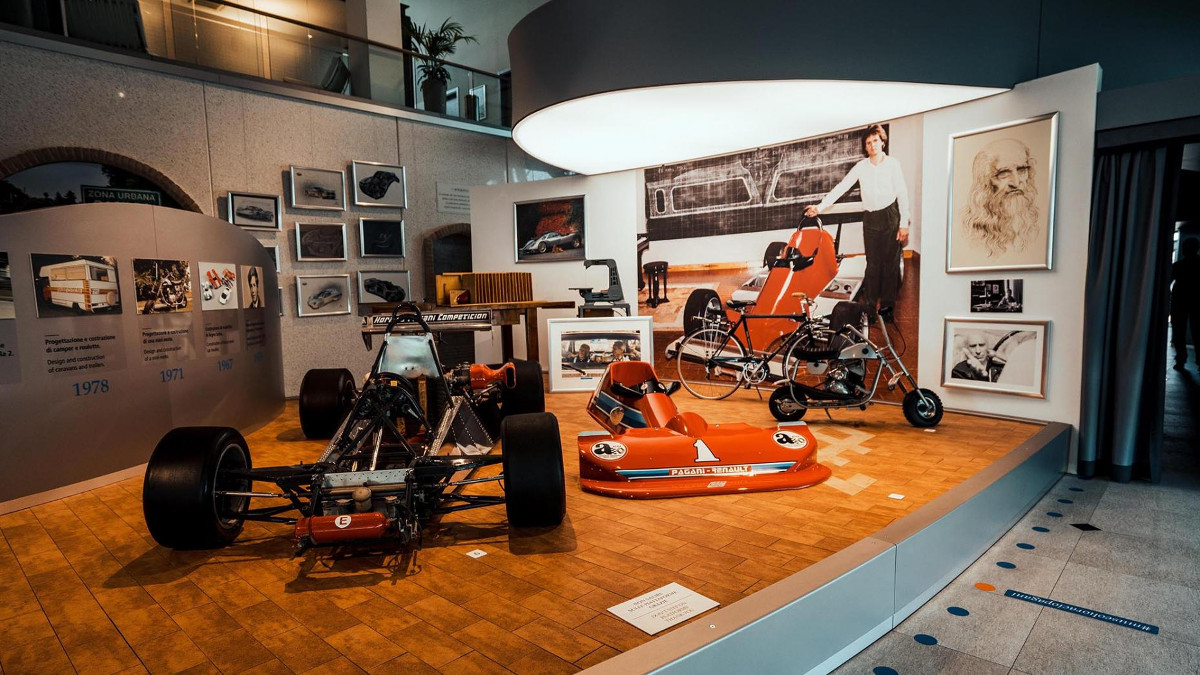 Yep, this is Genesis. And as the eagle-eyed will have spotted, the first Pagani was also the only Pagani not to powered by Mercedes-AMG.
Continue reading below ↓
Recommended Videos
While still living in his native Argentina as a 20-year-old talented engineer, Horacio Pagani was hired by Renault to help improve its Formula 2 racer. Horacio worked chiefly on the body and aerodynamics, and the car's results dramatically improved. So much so that when he decided to up and move to Europe, Argentine racing legend and family friend Juan Manuel Fangio wrote him a letter of reference. Said letter is also showcased in the museo.
Note that one of several sketches of Leonardo da Vinci is hanging on the wall. Mr. Pagani is fascinated by da Vinci, whose innovation and respect for art and science inspires the attention to detail of the company's supercars.
Four wheels good, two wheels also good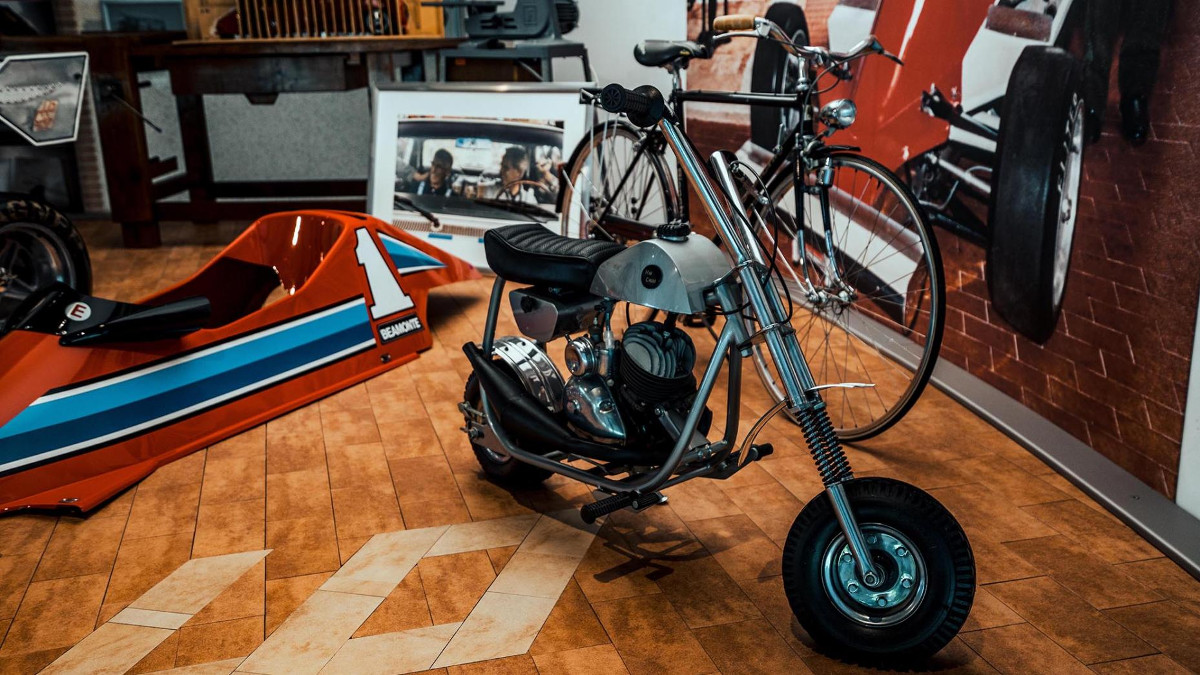 Before Horacio got to building cars, he was building motorcycles out of whatever he could find. Well, it's certainly easier to commute on than a Huayra BC, but not quite as quick around Monza.
Grandma Zonda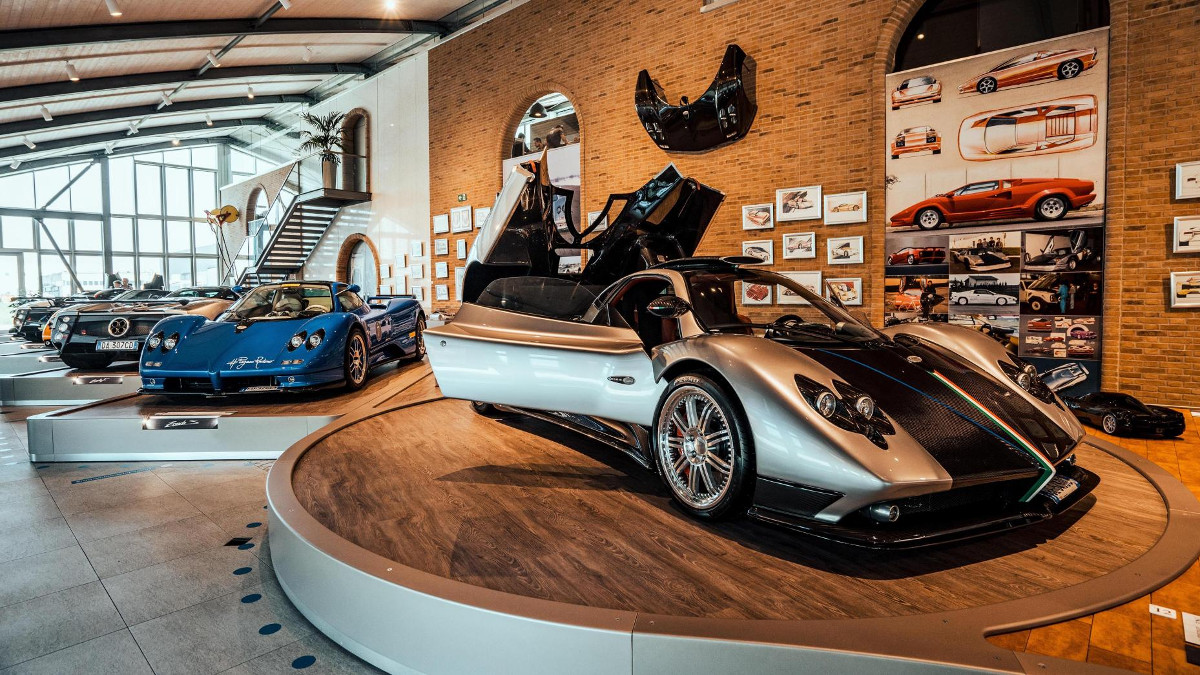 If you really know your Paganis, you'll have heard of the car they call 'la Nonna.' The 'grandmother.'
This is Pagani chassis 002. While 001 was used for crash testing and recently rebuilt to original Zonda C12 spec, 002 lived a very different life—one of constant evolution. It's been the test bed for the constant improvement of the Zonda, starting life with a 6.0-liter V12, but gradually being upgraded with the 7.3-liter engine, more power, lighter components, Zonda F bodywork and wheels, and better suspension.
Originally, it had a manual transmission, but right now the car is living out its days in 760hp Zonda Cinque spec, complete with a paddle-shift gearbox. This chassis has, through its hard life of testing, trial, and improvement, covered close to 100,000km over more than 20 years, on roads and racetracks all over the world.
La Nonna has earned her retirement, you'll agree.
Gran Turismo
Is it rude to take a photograph of an Italian grandmother in a state of undress? We'll let you be the judge.
A Zonda fit for a prince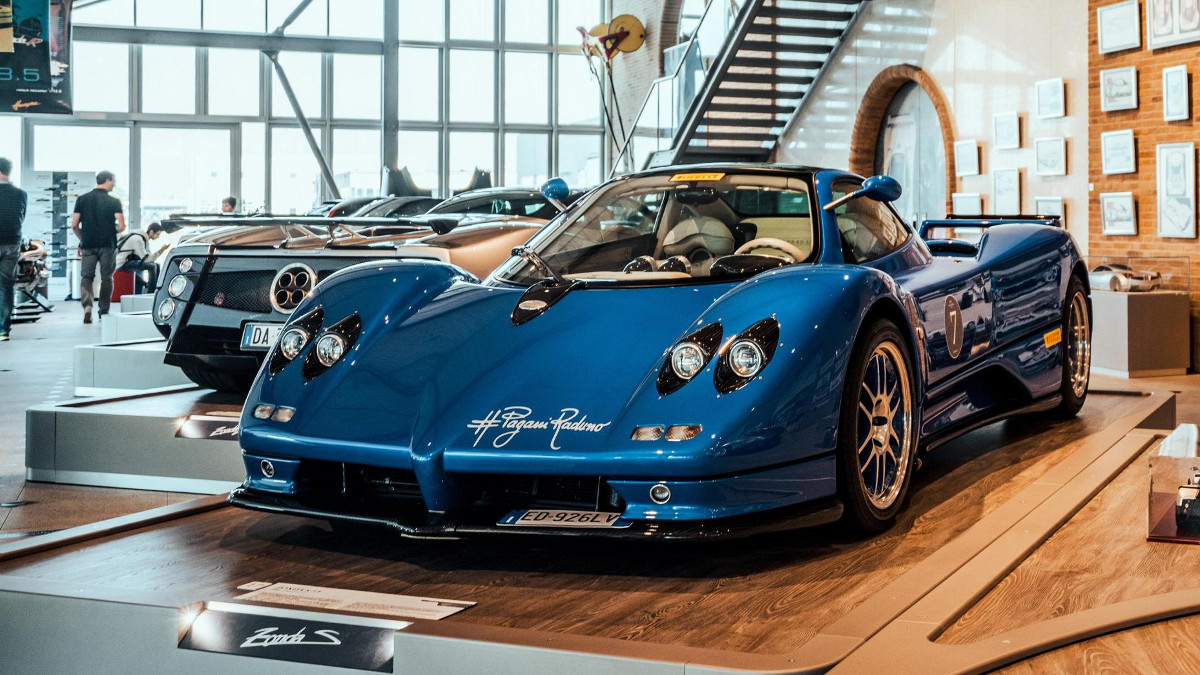 This is a very early Zonda S, painted a bespoke shade of blue as commissioned by a wealthy (duh) Arab prince. Nowadays, it looks almost quaint—paint on a Pagani, instead of bare carbon fiber. How very old-school. Pagani bought back this car because of a rare spec choice—painted inner wheel rims, matching the car's bodywork.
Depreciation? Never heard of it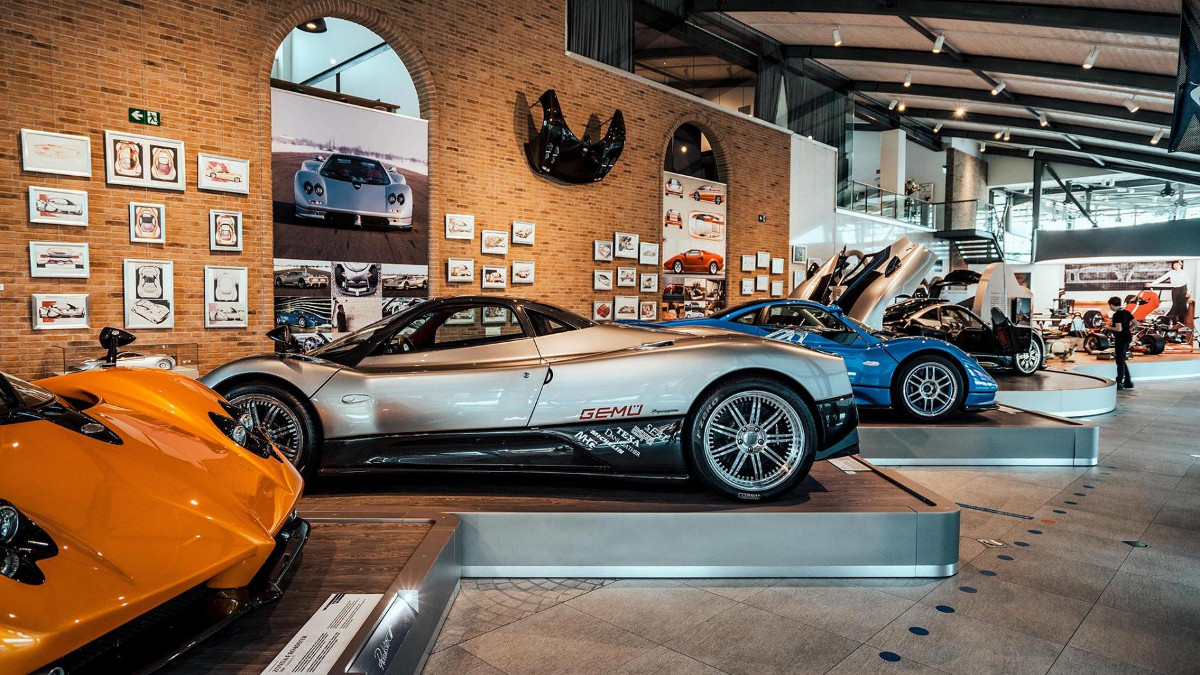 It's been a dream of Mr. Pagani to have a museum showcasing the progression of the cars bearing his name for some time, but putting it together has been a painstaking process. The reason? Well, Pagani never retained 'one of each' for nostalgia's sake. Each car built was individually spec'd and sold, with only the factory test mule remaining behind.
As each new iteration of Zonda and Huayra has emerged, customers have sent their supercars back to Italy to be upgraded and tweaked. So, originality is a rare thing in the world of Pagani. The company has had to persuade customers to sell cars back to the museum, at up to three times the original price paid for them. Triple interest!
Toilet stop...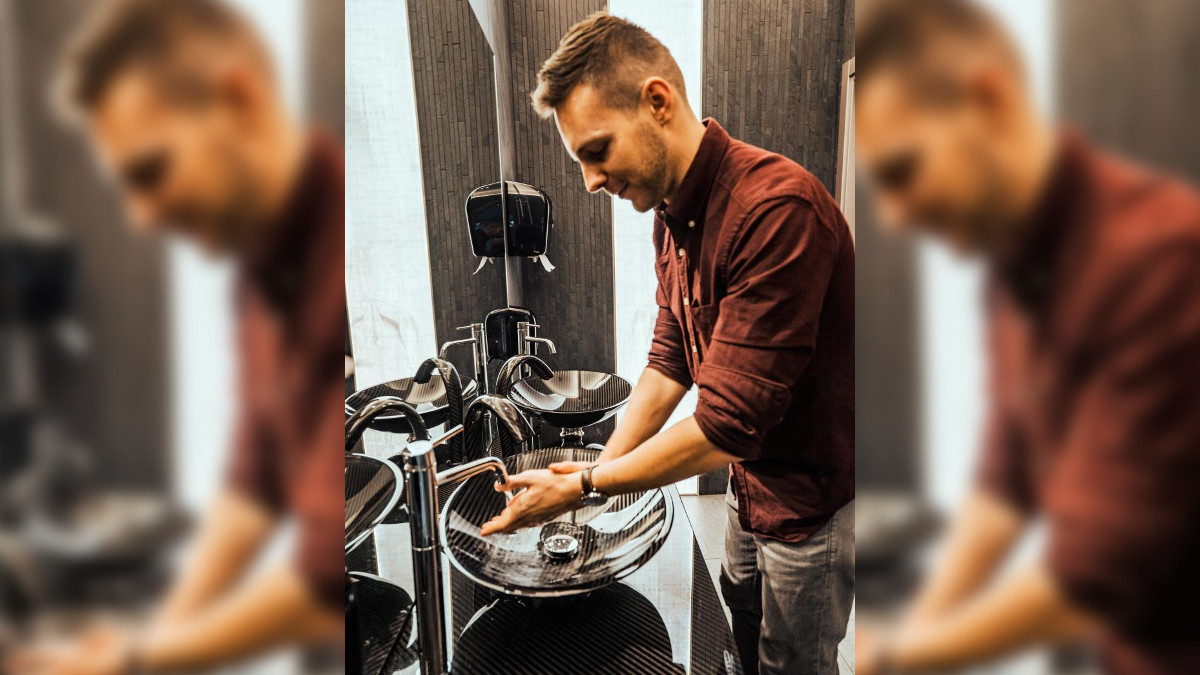 Sorry, had to have a swift bathroom break midway through the tour. Hope you understand. But, I thought you might like to see inside. Because where else but the home of Pagani would you expect to rinse your hands in a carbon-fiber sink, under a carbon-fiber tap? On a carbon-fiber worktop, too. Welcome to Top Gear's Loo of the Year.
F word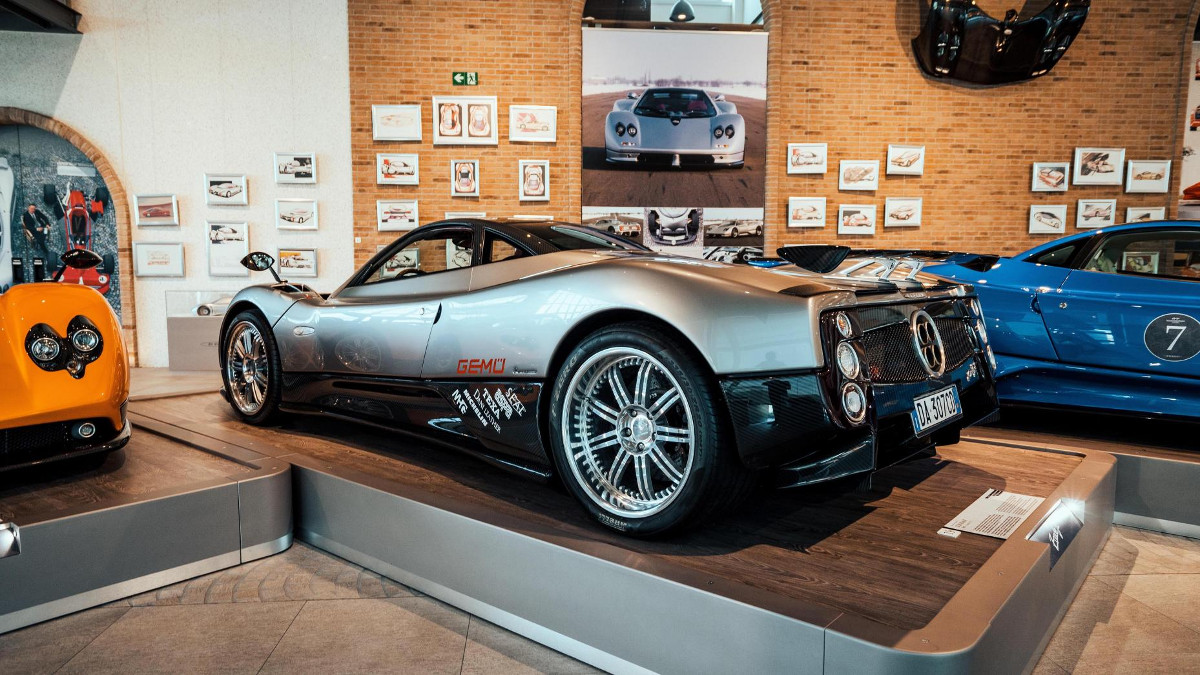 Recognize this? It's the original 2005 Zonda F press car, now fully detoxed of journalistic bodily fluids.
This is the very machine you saw blowing Richard Hammond's mind on Top Gear telly, before setting what was for a long time the TG test track lap record of 1min 18.4sec. This 602hp example, with the suppliers' logos stencilled onto the side, also featured in Top Trumps cards, posters, and all of the press photography of the Zonda F. Is this the perfect Zonda spec?
F (roof) off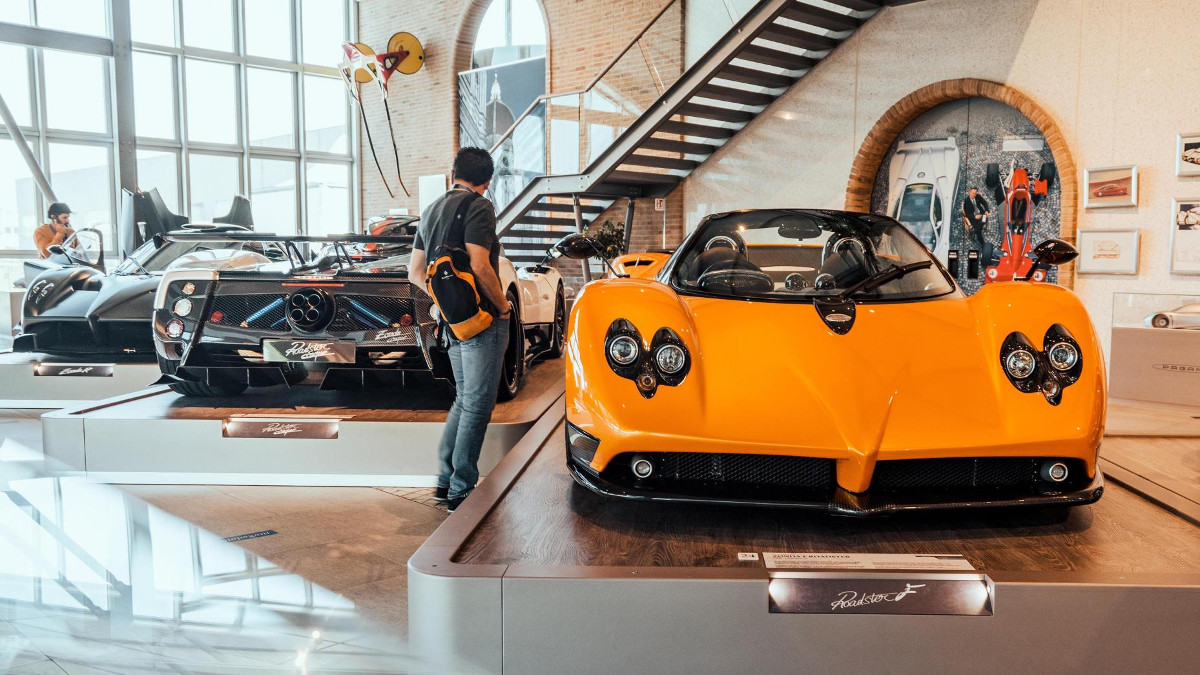 Of course, you might prefer an all-original Zonda F Roadster. Faster around the Top Gear test track than a Bugatti Veyron, you might remember.
Is this man the owner? Is that color-coordinated rucksack just a coincidence? Yes. Yes, it is.
It's pronounced 'Chin-kwuh'
The Cinque was supposed to be the last hurrah for the Zonda—and we know how that turned out. But the fact that more powerful, more aero-obsessed special editions came later doesn't mean that the five hardtop and five topless Zonda Cinques are any less awesome. That roof scoop has become a Zonda icon. Is it just us, or can you hear this picture?
Pick a Zonda your own size: part one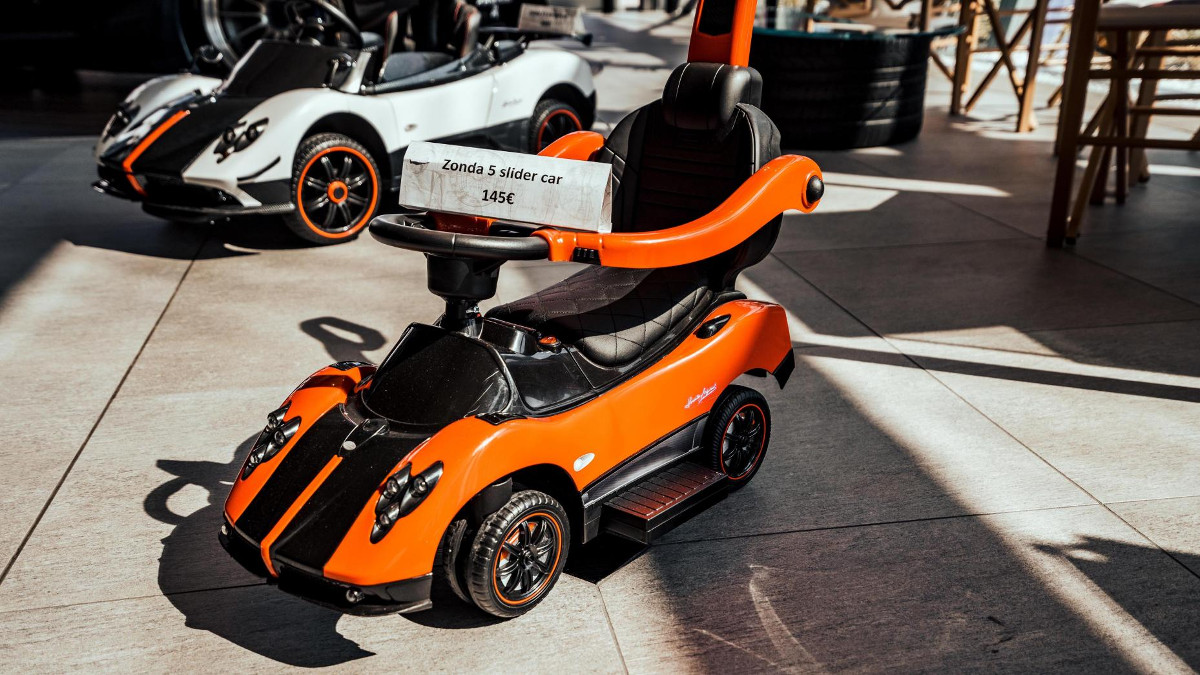 Pagani very kindly supplied a Zonda Cinque more suited to a Top Gear bloke's budget.
Pick a Zonda your own size: part two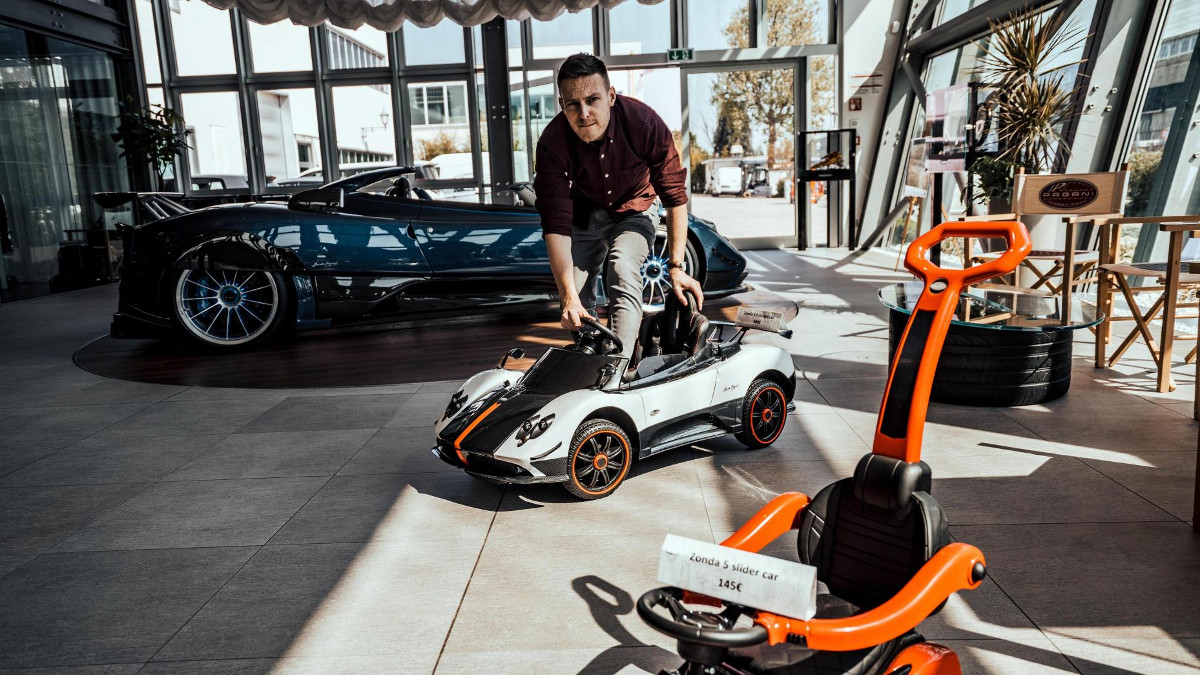 Who says supercars bring out the inner kid in all of us? Oh. Whoops.
R-rated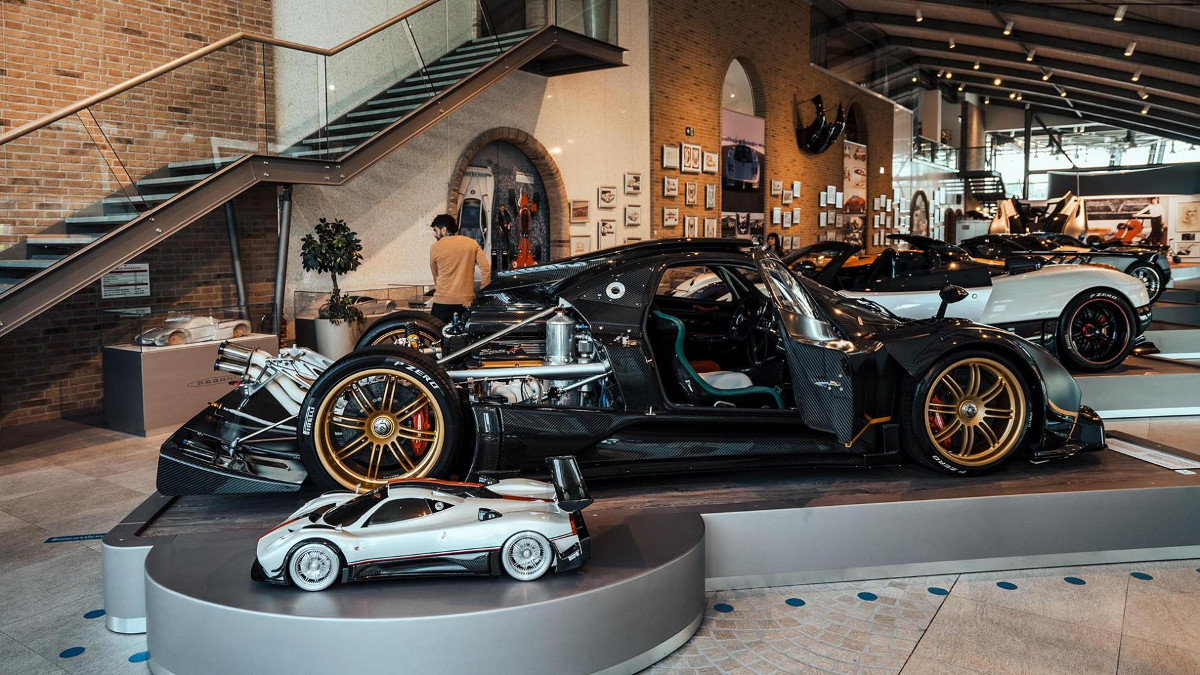 When Pagani revealed the 739hp Zonda R back in 2009, we didn't really understand it. Too loud for a private track day, too crazy for the road, too unrestricted to be eligible to race. Oh, and the small matter of £1.5 million (P102 million). What was the point?
Underneath, this was really a test bed for the Huayra, allowing Pagani to work on racetrack-proven suspension and material tech in plain sight. And it was a nice little bit of business on the side, truth be told. Ten years on, we don't question the point of the gloriously loud, batsh*t-mad Zonda R. We're just thankful that it exists.
Game of thrones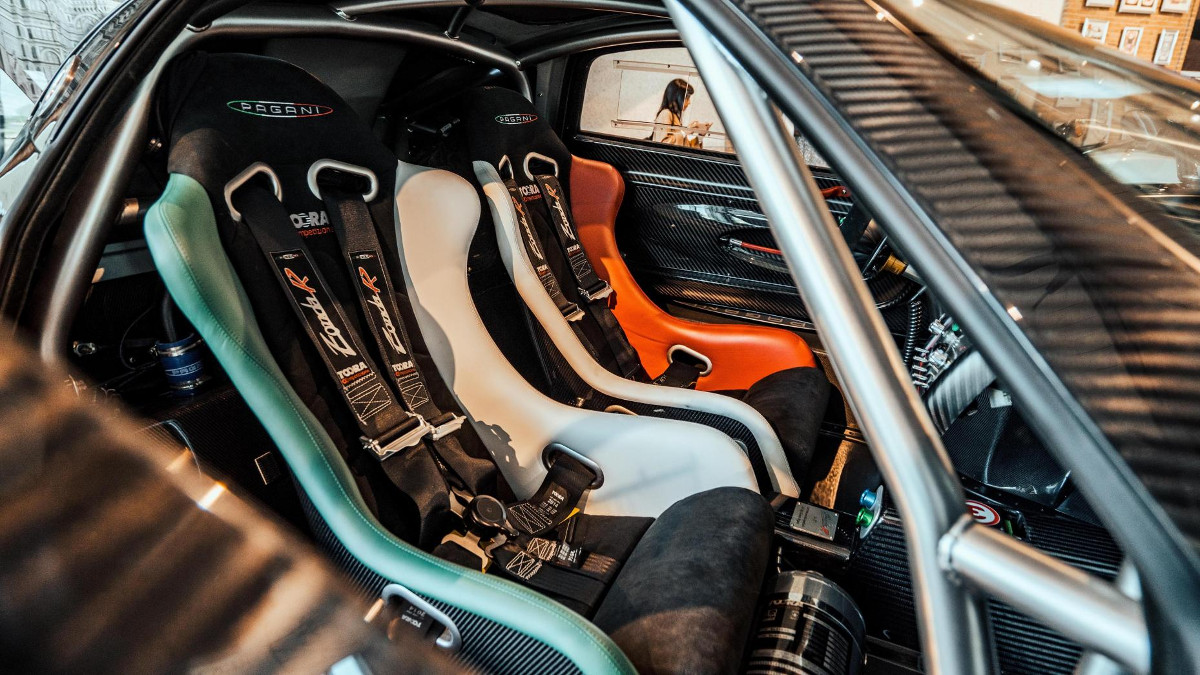 Yep, the seat bolsters in the no-compromise Zonda R are actually color-matched to the Italian flag. Personally, if we were going for a 6min 47sec lap time at the Nürburgring, we'd have gone for a nice, rich brown.
The end of the beginning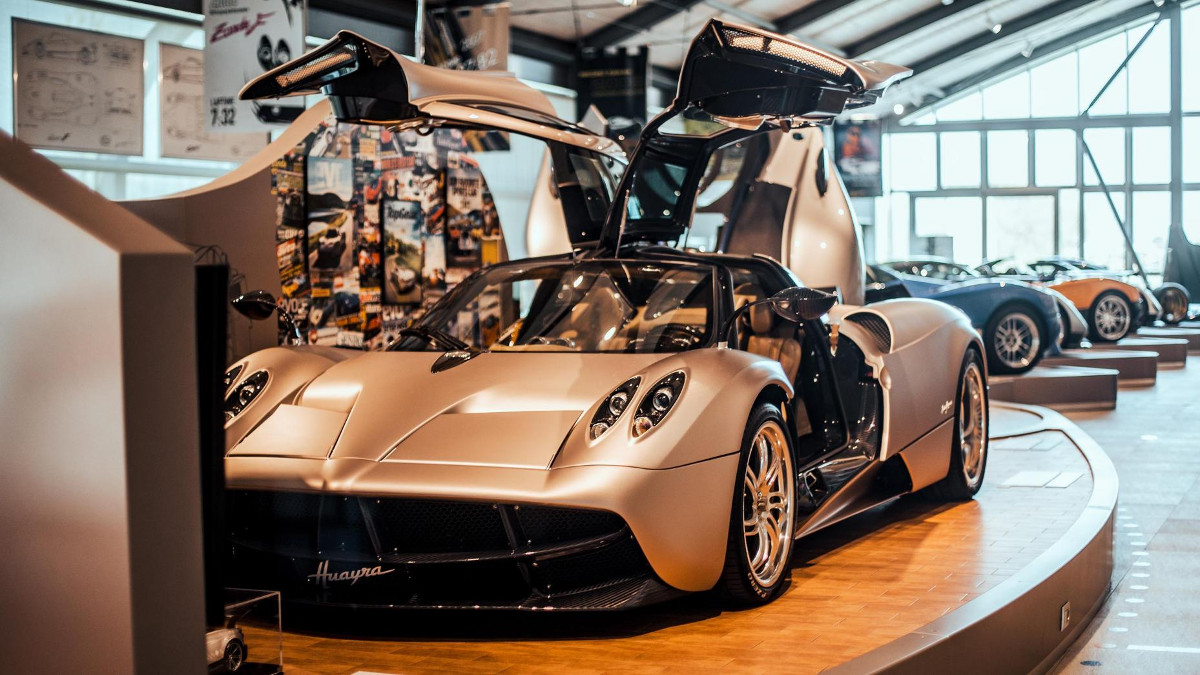 After the Zonda, the Huayra carried on the Pagani name. This matte-silver example is chassis 001, as seen on the cover of Top Gear magazine, on Top Gear telly, setting the TG test track lap record, and probably in a few other magazines over the years. But mainly in Top Gear.
Funny how it looks almost plain, these days. We're too used to an Instagram diet of Huayras in clear-coat carbon with zany colors and big wings attached.
Door-to-door service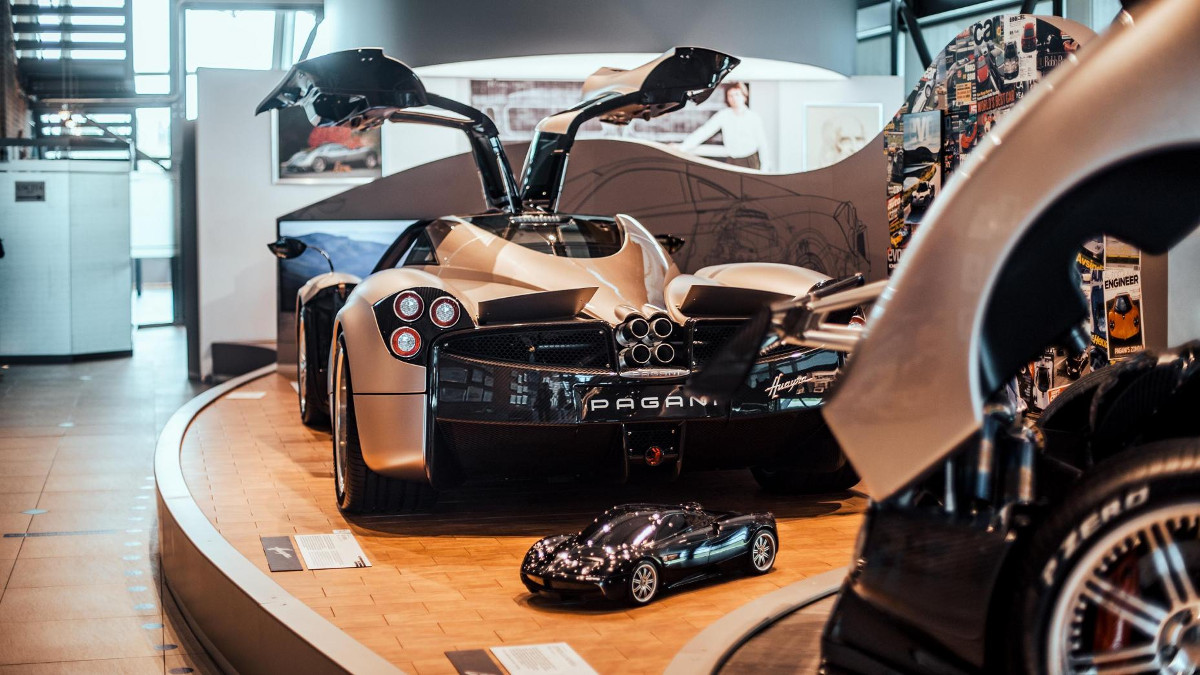 And here's a bonus shot of the original Huayra for you, with the doors raised. You could argue that no supercar deserves to live out its days posed in a museum, but the Huayra surely gets close to qualifying as art.
No really, this is the last Zonda
And Horacio should know. This one's his.
Really. It's the last one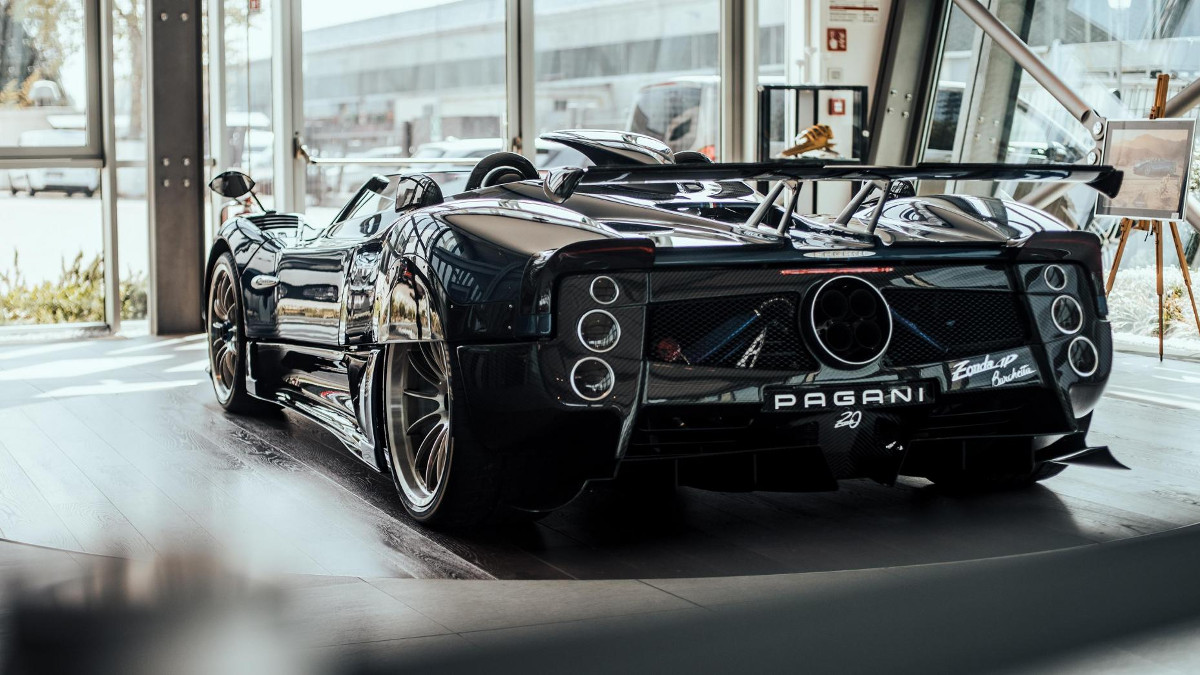 This is the Zonda Barchetta. A chopped-windshield, roofless version of the Zonda, uprated to 789hp and wedded to a manual gearbox. Imagine the noise.
Horacio specced this one, complete with plaid interior fabrics, for himself. Only two more will be built, costing their faithful Pagani buyers a cool €15 million (around P872 million) each. A fittingly bonkers finale for one of the greatest supercars of all time. We'll leave you with a few extra images to pine over...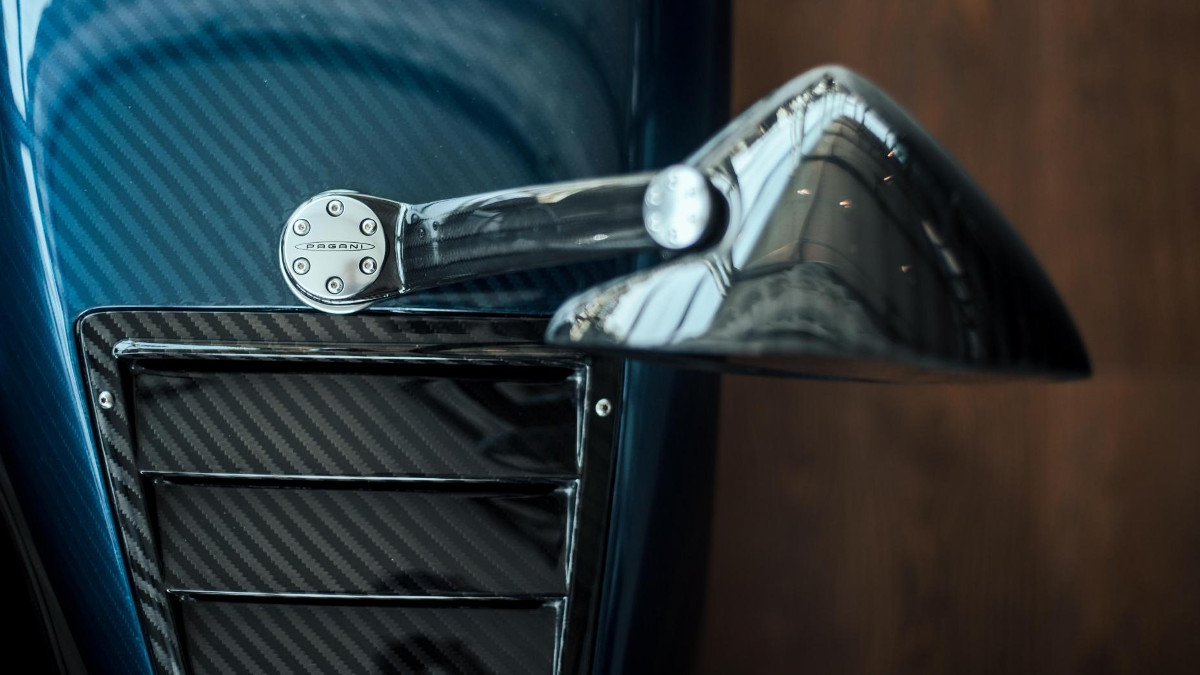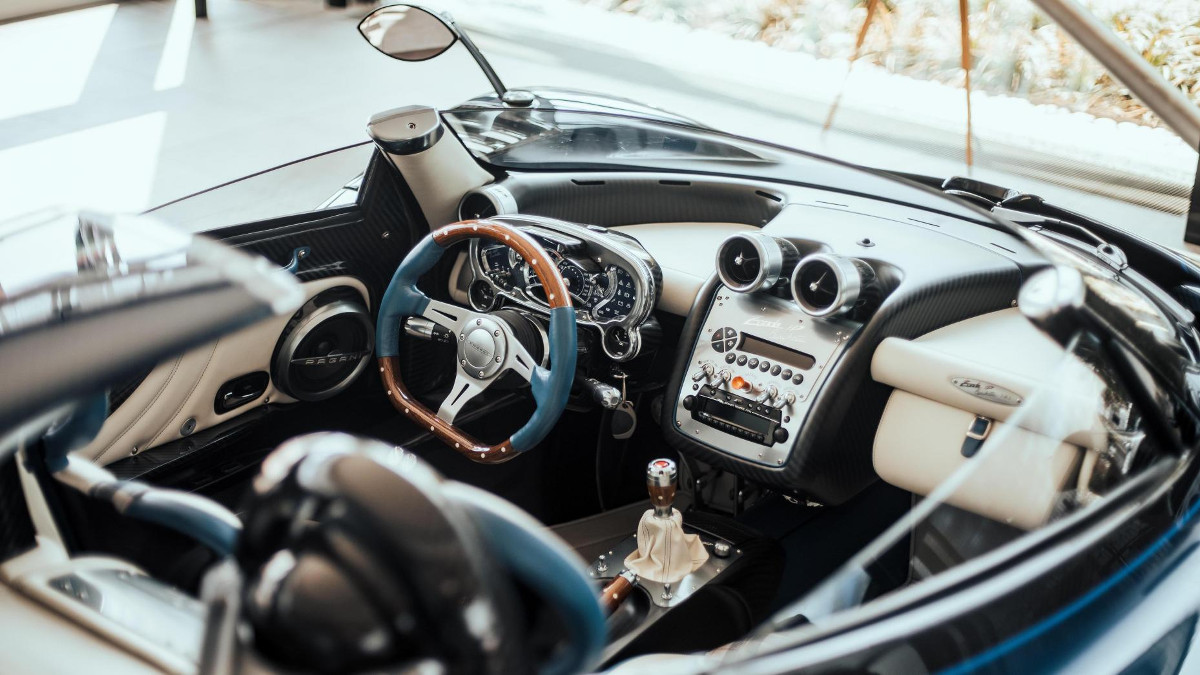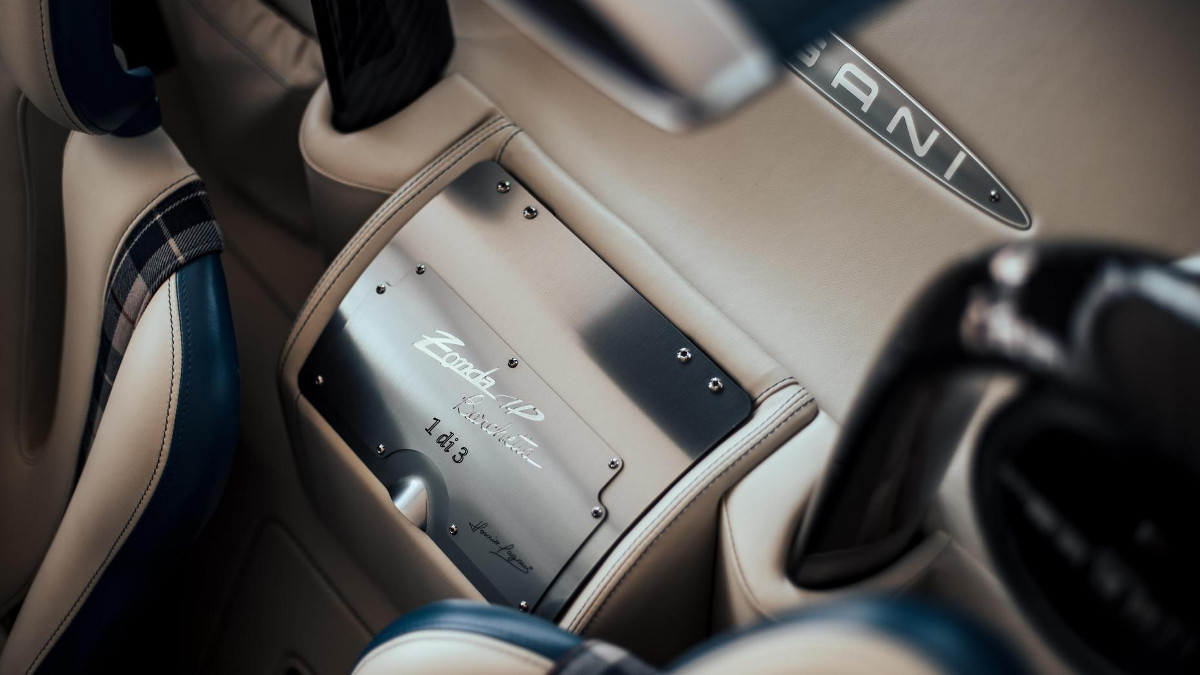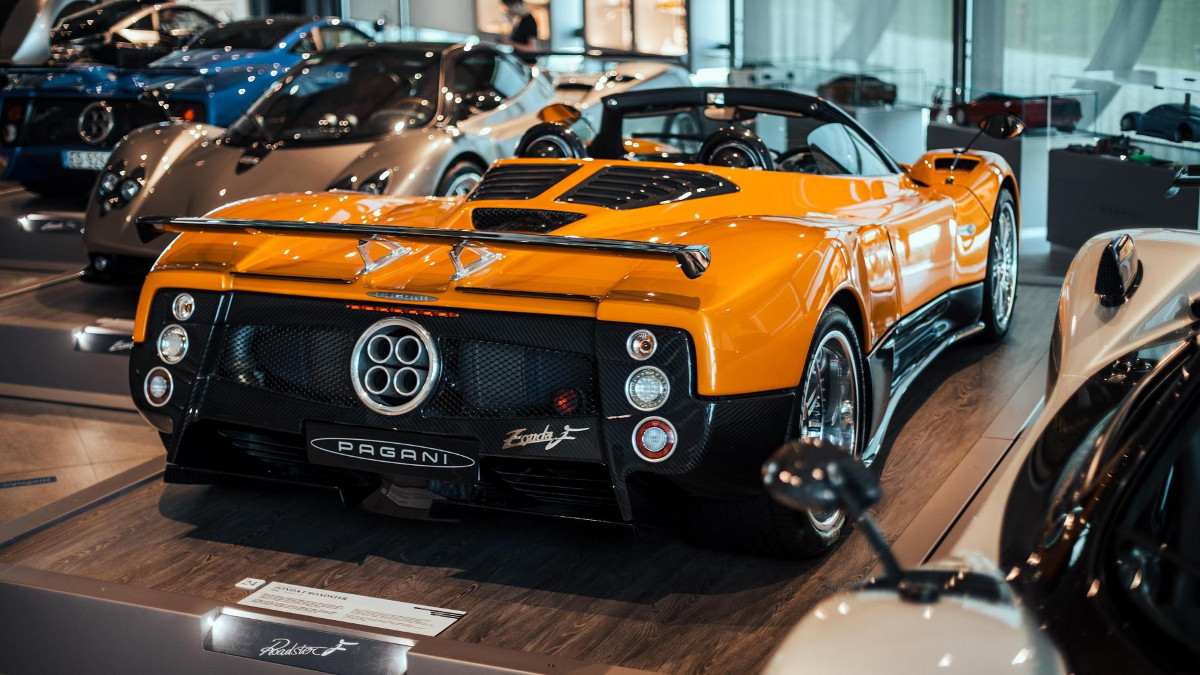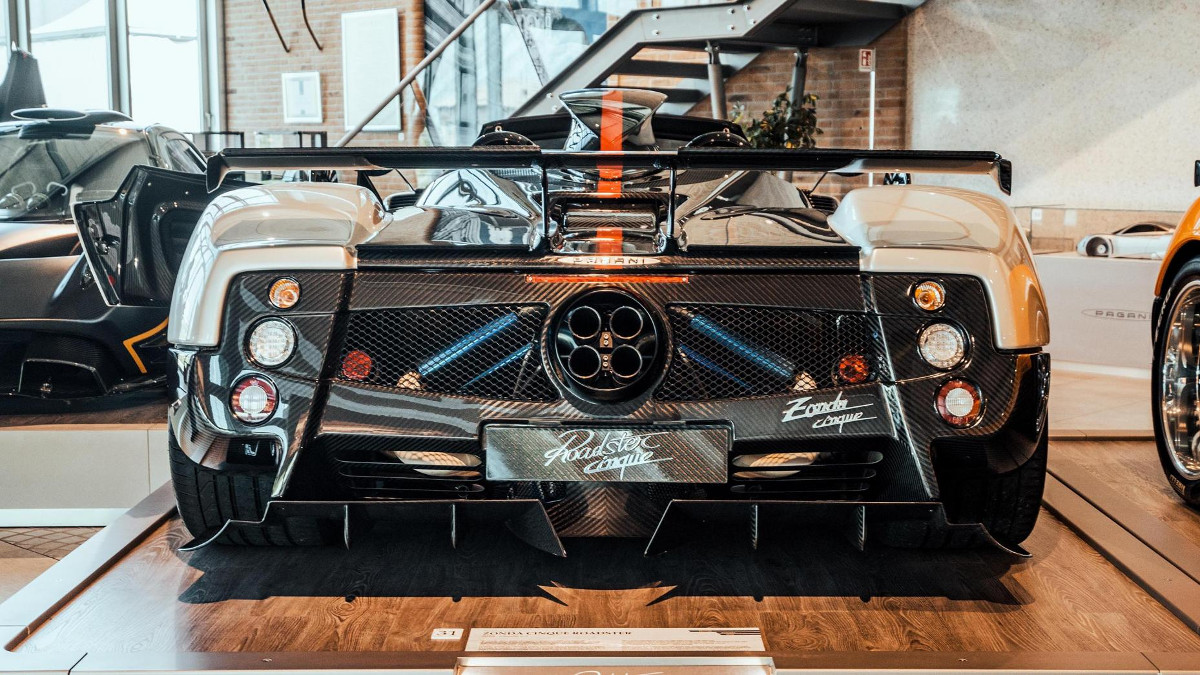 NOTE: This article first appeared on TopGear.com. Minor edits have been made.