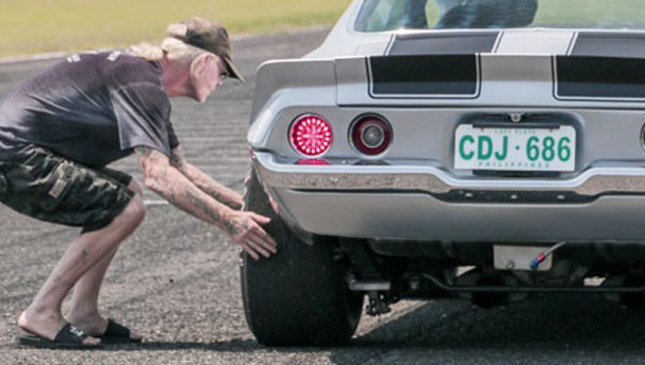 Very early on a Sunday, we leave the metro and head out to Clark Freeport Zone. There's a deluge of weekend daytrippers seeking reprieve from their busy work schedules,and it also happens to be Father's Day. Along the way, we see several motorcyclists on their big bikes, and we assume—quite correctly—that we're headed to the same event. That event is Outlaw Drag Racing, organized by WM Danbros, and sponsored by Omni Aviation flight school and Shell V-Power. The very same airstrip used by Omni Aviation will be the drag strip for today's races.
Things are still shaping up when we arrive, and we have to wait for head organizer Willie Dandan to accommodate us for an interview. So, we decide to mingle with the participants, some of whom have their families with them—bonding time between the older generation and the next. There's an informal air to it and most people know each other, the majority even speaking the local dialect. The first ones to arrive are the ubiquitous cars this side of the Pacific—Hondas, Nissans and Toyotas—albeit outfitted differently to what we usually see in most motoring events. They sport additional cockpit instrumentation, bucket seats, larger rear tires, hood scoops, thick rollcages, or those incongruous air intakes that look like a very large bicycle horns in place of one of the headlights.
Continue reading below ↓
Recommended Videos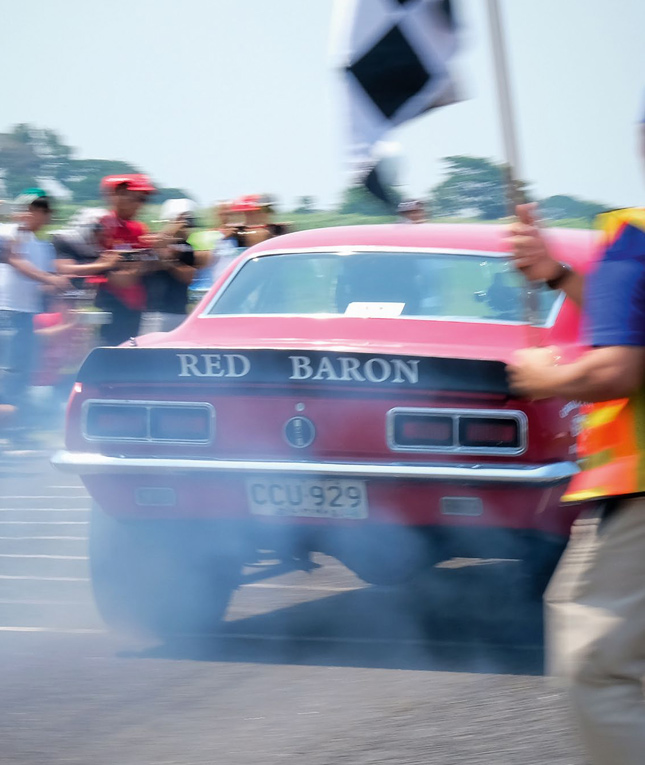 Then the big guys from the Cold War Era—Fords, Plymouths, Pontiacs, and Chevys—roll in. You can definitely hear the distinct deep, throaty growl of their big-block engines from faraway. These cars are from AHRA, or the Angeles Hot Rod Association. Some are motored under their own power, and I swear you can see the chassis shuddering from the torque. Others arrive on trailers, being specialized, purpose-built, funnycar-esque machines. The common denominator: engine power in insane amounts. AHRA is said to be the oldest drag-racing club in the Philippines,established in 1979 by US servicemen and their families who were car, drag,and motorsports enthusiasts.
I interview Bob Shearer, AHRA member, owner of the only H-series 1973 Plymouth Duster (with a 5.6-liter V8) here in the Philippines. Retired from the US Army and in-country for 10 years already, he says he has opted tostay in the Philippines because "it's a great country. Most of the members will say the same thing. The retirees, mostly. The climate's nice, the people are nice, and the car culture is rising. It's a good place to be." We talk a bit about the AHRA's long heritage. "Most of the members were still in active duty when they started the club," Bob shares. "Some of the original members are here. Some of the original cars are here. Most of the cars stay in the club—they pass through within the club. There are races out in Clark—some of our members take part in those. Other members join local car shows or own garages within the area—like Ken Kepner, who was one of the founders."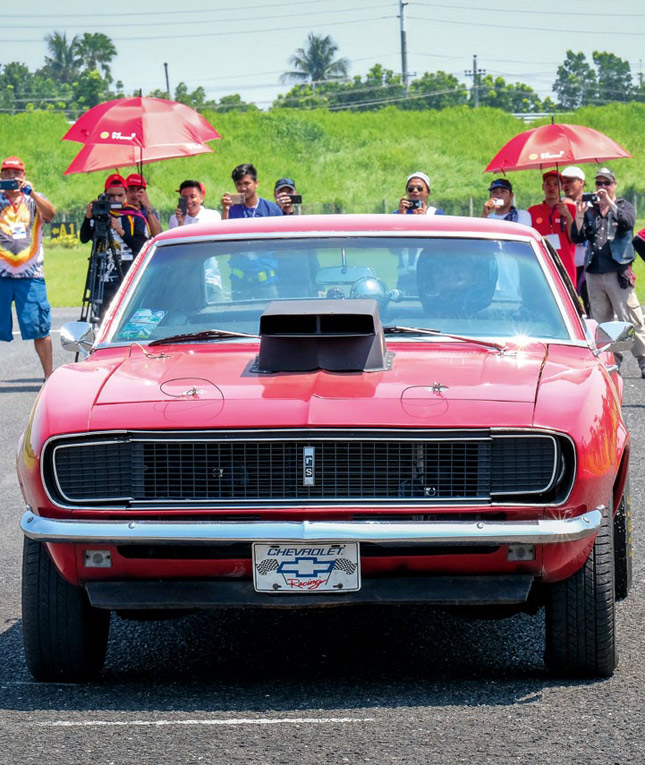 Currently, the group has 45 active members. "Membership is easy—just show up in one of our meetings and pay your dues. Whether you have a car or you're just an enthusiast, you're welcome! You just have to have the bug, and that's it," he assures. "We usually have our meetings at O'Beavers Smokehouse every second Sunday of the month to discuss the upcoming events like races and car shows, or events, cruises."

I can hang around the folks of AHRA the entire day (I do take photos of their trial runs) or lounge around the bikers' clubs and their magnificent Harleys, BMWs, and Kawasakis, but I have to remember my priorities.Willie asks if I can interview him while he's on the job—that is, while he's doing the safety walk-through of the track to sift out foreign objects. I go off with him and his coterie of participants, marshals, crews, and numerous safety personnel. As we walk along, he starts talking. "We got the idea for Outlaw Drag Racing from 'The Street Outlaws' of Oklahoma City," Willie states. "Those guys are our inspiration, and we wanted to bring that here in the Philippines." He explains the 'outlaw' part of the name: "We basically don't have rules—no tire restrictions, no roll bars, only 1/8th mile. Just wear jeans, rubber shoes, a shirt, and a helmet. You can go against anyone—if you're a Honda, you can go up against a muscle car. We have each driver draw a number, then go against another driver who has the same number. But we also have the bracket where you can go against your own kind."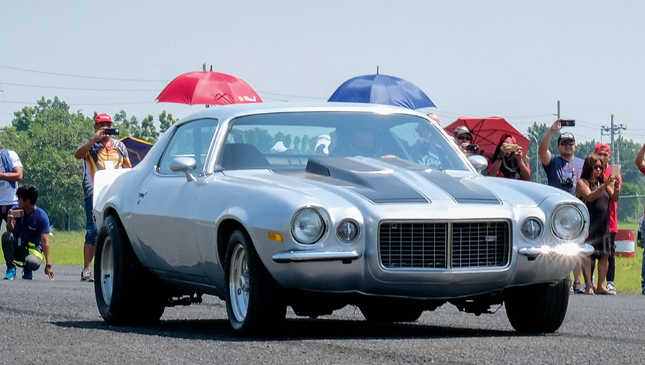 The midday sun is relentless. Everybody is sweating buckets while walking the track, but overall, the energy is high. Willie goes on to share a little bit of history: "This event is organized by WM Danbros—it's Willie and Manny, our construction company. The major sponsors are AHRA, Omni Aviation, and Shell V-Power. AHRA is our adviser; they are the pioneers of this drag strip. They started racing here even before any of us did, so we are honoring their efforts and their history. We want to bring back the glory days together with them. These guys contributed a lot in finishing the surfacing of this strip way back during the '80s and '90s." Wait—so this isn't originally an airstrip? "No, believe it or not, it originated as a drag strip," he reveals. "Then they decided to go into the business of teaching pilots how to fly, so they came up with a flying school.The owners of Omni have the same passion for cars. From the first guys who started the place with AHRA, then the new corporation. The same guys with passion for racing—for cars and going fast, but this time they go up the air."

We reach the end of the track and start walking back to the starting line. Willie explains how his team prepares the participants. "Safety is paramount, so we have the Automobile Association Philippines do the drivers' briefing. We don't want anyone getting hurt. We want to set the example to the younger racers," he stresses. "We have registrations and inspections. You have to have your seatbelt, and as long as your car is running well, then you're okay. It's very informal. If you have roll bars, that's fine; if you don't, that's also fine. It's the seatbelt that's a must—you cannot race without it. And most of the guys here are veteran racers." Future plans for the event involve more regular stagings. "The next one will most probably be in January," says Willie. "From there, we're gonna try for at least five times a year, depending on the schedules of the National Drag Racing Championship. We don't want to bump into their schedules."

We reach the starting line, and ask Willie if he can get his brothers together for a photo op. It turns out the two big guys going around, tirelessly barking orders, joking with the people, and coordinating with the guards and marshals are none other than his brothers! As they smile gamely for the photos, we really get to see what this was all about—the fun people can have together by competing with each other in their beloved machines, minus obsessive rule mongering and unnecessary nitpicking. That's what Outlaw Drag Racing is all about.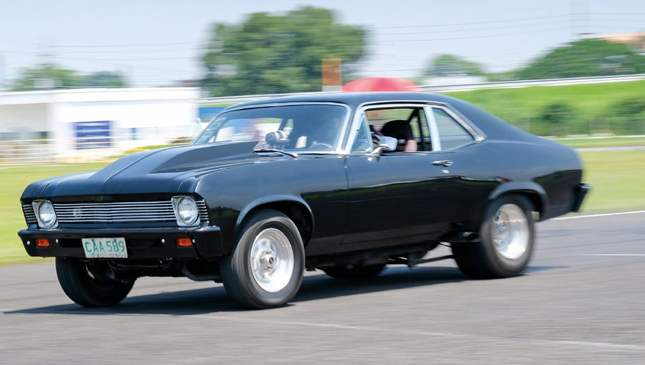 Note: This article first appeared in Top Gear PH's August 2017 issue.