Pininfarina willingly admits that most customers for the upcoming 1,900hp Battista will have never driven an EV before. It acknowledges that they'll have big collections of the world's rarest cars, but something like the Nissan Leaf might not exactly be on their radars.
So, how best to introduce deposit holders and potential buyers to that feeling of all-electric performance? And how to prepare them to deal with that level of power? Well, a day of circuit driving, working up from a Tesla Model 3 all the way to a Formula E car sounds like a decent start, right?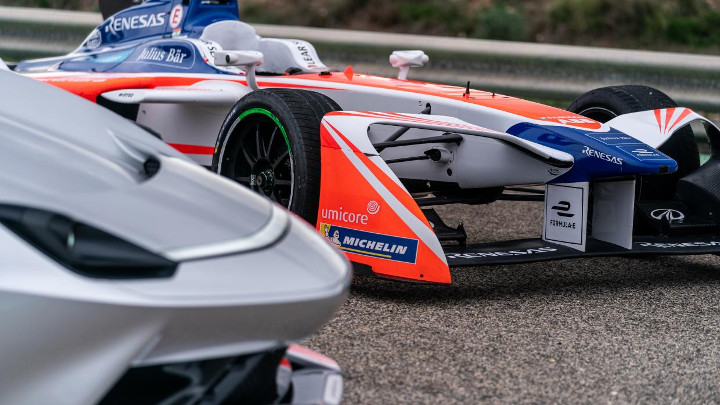 Known as 'Hyperdrive,' the experience comes about thanks to Pininfarina's parent company Mahindra and its Formula E team. The Indian outfit has been in the series since the first season back in 2014/15, and much of the knowledge gained has been shared with Pininfarina in Battista development.
We're at the Calafat Circuit in Catalonia, where Mahindra conducts most of its Formula E testing. The day begins, as so often is the case, with a briefing. The main thing to note? In the simulator, the Battista (which won't be set up as a track weapon) is over 4sec per lap quicker around here than the first-generation Formula E car we're about to drive. Damn.
Ex-Formula 1 and Formula E driver Nick Heidfeld is here, too. He's still working with Mahindra on the development of their racer, while also acting as a test driver for the Battista. We're instantly jealous.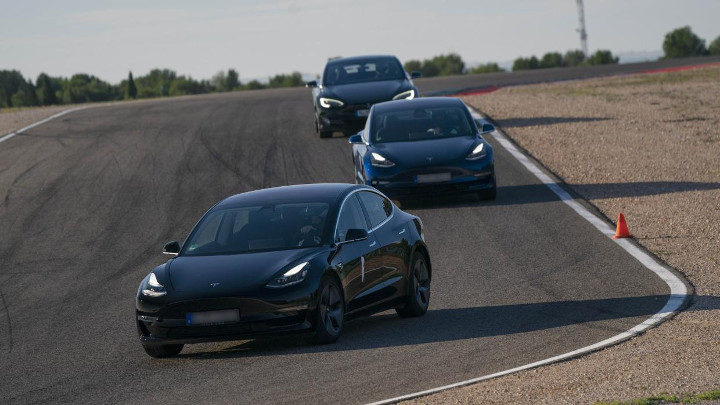 Next up, it's track orientation. That means a few brisk laps in a Tesla Model 3 Performance convoy that's sandwiched between a Jaguar I-Pace and a Model S. Calafat is extremely tight in places, and we're having to negotiate the street-circuit-style chicanes that Mahindra and fellow Formula E team Jaguar Racing have added in.
The Model 3, of course, is far from slow, and this gives those potential customers their first taste of just how quick the Battista will feel—it'll have around four times the power, for goodness' sake.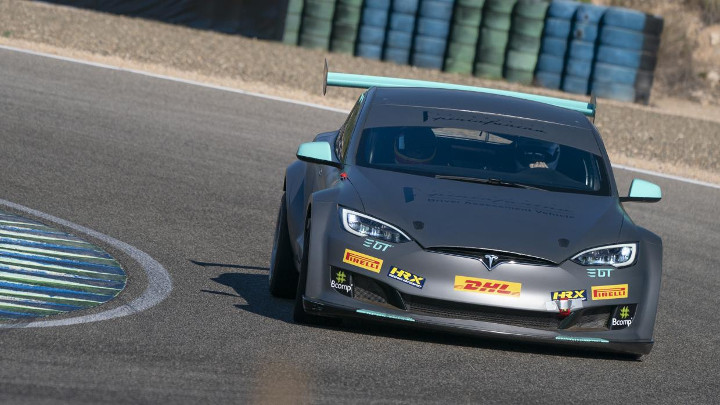 The next rung on the day's EV ladder is a stripped-out and bewinged version of the Model S P100DL. This is a pretty serious step up, and provides the still-unique experience of an electric GT car.
The engineers reckon they've taken around 700kg out of the standard Model S—partly by using a hemp fiber for the bodywork and also because it literally has no interior...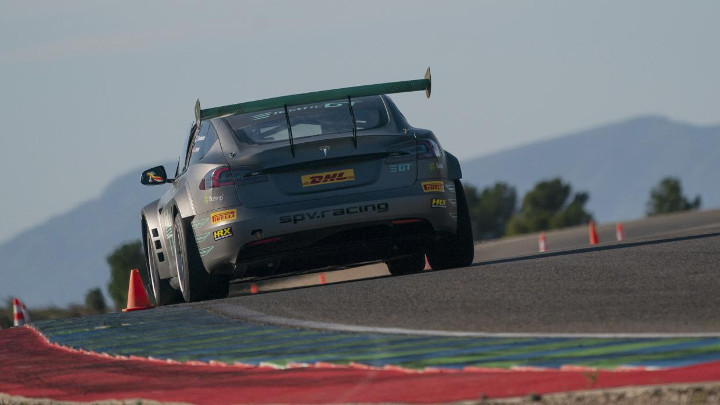 As you can imagine, progress is rapid. In terms of acceleration, this is probably closer to what the Battista will feel like than the Formula E car we're about to step into.
With regenerative braking in play, it's difficult to judge how much pressure is needed on the left pedal, but the presence of four-wheel drive carries you through corners and flings you out the other side. That four-wheel drive and the subsequent torque vectoring system are what Heidfeld reckons will be his biggest challenge in development of the Battista, though.
"I think the fact that we have the battery and electricity involved means that we can adjust the torque vectoring a lot more precisely than with a combustion engine," he says. "That's what I liked most about the Formula E car and what will be so good about the Battista—you get what you want, when you want it, without any delay.
"What we have in the Battista is extreme. Acceleration will be quicker than Formula 1."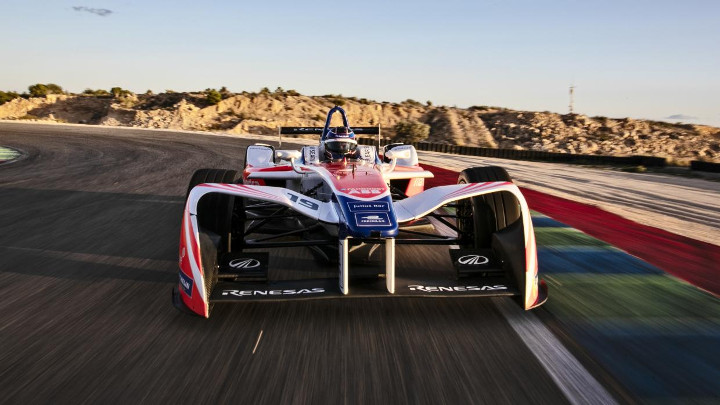 And on that note, we jump into Mahindra Racing's Formula E car. This Gen1 version only produced 268hp in its all-out qualifying mode, and Mahindra has turned the wick down slightly for the Hyperdrive experience.
That means there isn't the complete hit of acceleration that one might expect when you stamp on the throttle. It's far more progressive, and Heidfeld says that the idea isn't necessarily to simulate what customers will experience in the Battista—it's more an example of the pinnacle of current EV performance.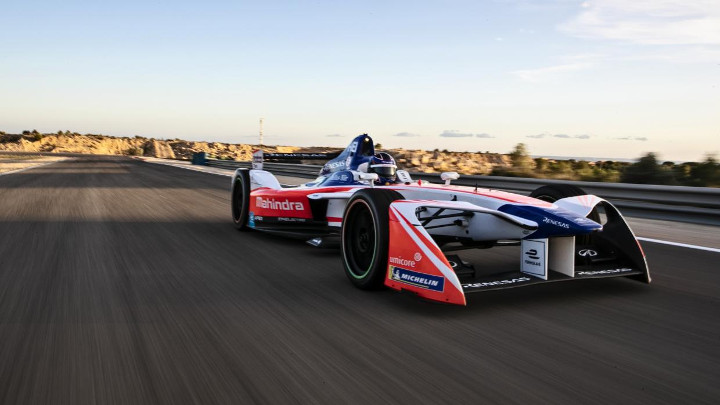 Pininfarina, of course, claims that the Battista will be the new pinnacle once it arrives with customers in 2020. The simulator stats back up that theory, too. The Battista will pull 0.5 G more acceleration than the Formula E car, and even on Calafat's short main straight, there would be a 80kph difference in speed.
"One might believe you know what to expect with the Battista, but you don't," says Heidfeld.
"I've driven the Nürburgring GP circuit in the simulator. It's a circuit I know very well—I've driven GT cars, Formula Ford, Formula 3, Formula 3000, and Formula 1 there. Normally, the braking points are in roughly the same place, because in F1 you arrive much quicker, but you also have a lot more downforce and you have slicks on, so braking points don't change massively.
"But in the Battista, this completely changes, because the acceleration out of the previous corner is just mind blowing for a normal road car. It's unique in the way that you have to adjust your driving style and anticipate the next corner."
That's quite the gauntlet thrown down for Pininfarina's first hypercar, then. And anything that warrants this kind of driver program has our interests piqued.
NOTE: This article first appeared on TopGear.com. Minor edits have been made.