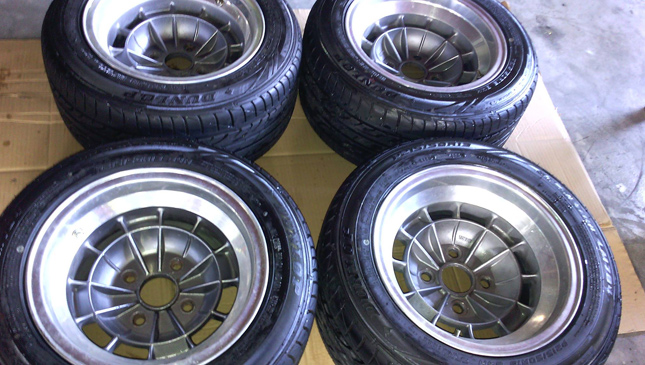 We love checking out what's for sale in the car groups that we are part of on Facebook. At first, it was kind of weird to just find yourself added to these things, but once something cool appears on the feed, it becomes quite an addiction. Scrolling and checking out what is for sale is pretty fun.
We've featured some cars in this 'PM sent' section before, but we think that it's time to branch out into car parts, too. This here is a set of old-school 13in x 8in old-school TRD wheels (with tires). For those in the know, these wheels are highly desirable among enthusiasts, and you can tell by the prices. An original set that is good condition can easily cost more than the old-school Toyota that you are building. Crazy, right?
Continue reading below ↓
Recommended Videos
These wheels are historically significant because older versions were badged as TOSCOs. Here's some info from the Toyota USA website: Toyopet Seibi Co., Ltd., was founded in 1954 to refurbish used vehicles. In three years it became the first Japanese car company to become involved in racing when they created Toyota Sports Corner (TOSCO) as its motorsports division. In 1976, the name was changed to Toyota Racing Development (TRD). Pretty cool, right?
This is the wheel to mount on your old-school Sprinter or Celica. It just looks so right. Kind of looks like a dartboard, too. It doesn't really matter if they have the older TOSCO castings, or newer TRD markings. These are rare wheels, and even if we didn't have an old-school Toyota, we'd still want to keep a set of these in the garage. The car can follow.
This set can be your for P120,000 (USD2,250). "Hard to let go of, but need to move on to the next project," says the seller. Are you in?