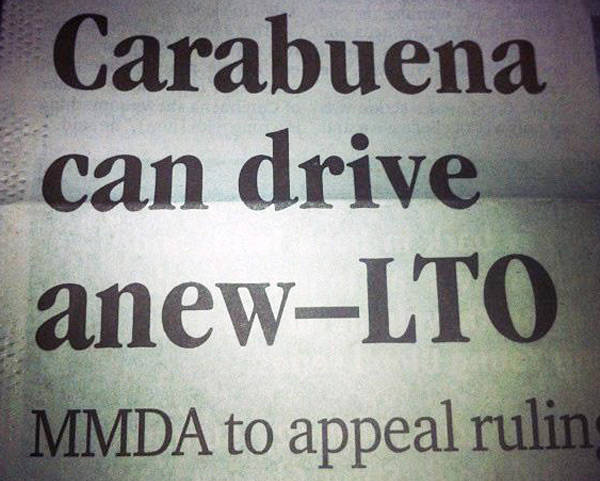 Today, Metro Manila motorists woke up to the news that Robert Blair Carabuena--the man who was caught on video bullying MMDA traffic enforcer Saturnino Fabros in August last year--is now free to drive a motor vehicle again after the Land Transportation Office decided that his action was merely a traffic violation and not a criminal offense.
As expected, MMDA chairman Francis Tolentino contested the decision, saying "Mr. Carabuena's action was not only a crime, but a clear and blatant disregard for authority. People like him with that kind of temper and behavior should not be allowed to drive on our roads because he is a danger not only to our enforcers but also to other motorists."
So now, the questions: Is the LTO right in refusing to revoke Carabuena's license? Is revoking Carabuena's license too harsh to begin with, and that he should have merely been slapped with a longer suspension? Or is the MMDA chief correct in thinking that Carabuena should be permanently banned from our roads?
Take our poll.
Do you agree with the LTO's decision to allow Robert Blair Carabuena to drive again?

✓

Yes. Permanently revoking his license would have been too harsh of a punishment

✓

I also don't think his license should be revoked, but they should have given him a longer suspension

✓

No. What he did was a crime and he could do it again to a fellow motorist or another traffic officer