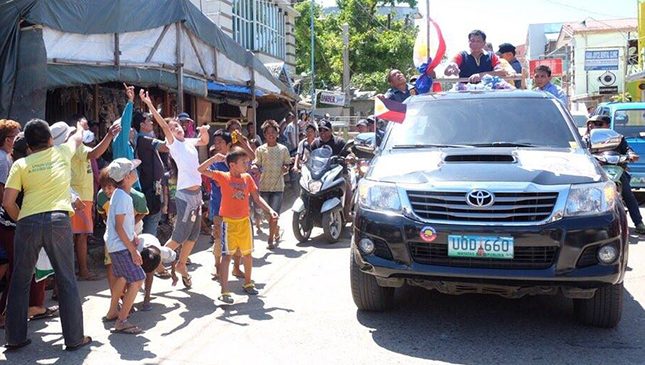 The ballots have been tallied, and Rodrigo Duterte will be the 16th president of the Republic of the Philippines. As you know, the man's selling point has been radical change--so radical, in fact, that he is expected to ask public officials under his administration to refrain from using luxury cars, according to a report by GMA News. Instead, Duterte could encourage government leaders and employees to ride austere vehicles, perhaps to create an image of public service and not an aura of power and entitlement.
Duterte is known to personally use a pickup--an Isuzu model, if we're not mistaken--in Davao City. He is also a motorcycle enthusiast.
Good decision, we say. While he's at it, we implore the presumptive president to also abolish the much-abused protocol plates. Time for scumbags in government to plummet back to earth and live among us like regular folk.
Now, what do you think is the best type of vehicle for government officials under the Duterte administration? A reliable ride that is affordable but also not too spartan (let's give our authorities a measure of courtesy in this department). We can think of at least five vehicle types that could serve this purpose:
* Subcompact sedan (Toyota Vios, Hyundai Accent, Honda City)
* Subcompact MPV (Toyota Avanza, Suzuki Ertiga, Kia Carens)
* Pickup truck (Isuzu D-Max, Chevrolet Colorado, Ford Ranger)
* Van (Hyundai Starex, Nissan Urvan, Toyota Hiace)
* Midsize SUV (Ford Everest, Mitsubishi Montero Sport, Isuzu MU-X)
The latter two (van and midsize SUV) may not be that inexpensive, but they're still relatively cheaper than German SUVs or Italian supercars that have been spotted sporting government protocol plates. The idea, really, is to send a clear message that government officials exist to serve the people, not to steal from them.
What do you think? Take our poll below.
Photo from the Rody Duterte Facebook page
What vehicle should government officials under the Duterte administration use?
✓
Subcompact sedan (Vios, Accent)
✓
Subcompact MPV (Avanza, Ertiga)
✓
Pickup truck (D-Max, Colorado)
✓
Midsize SUV (Everest, Montero Sport)