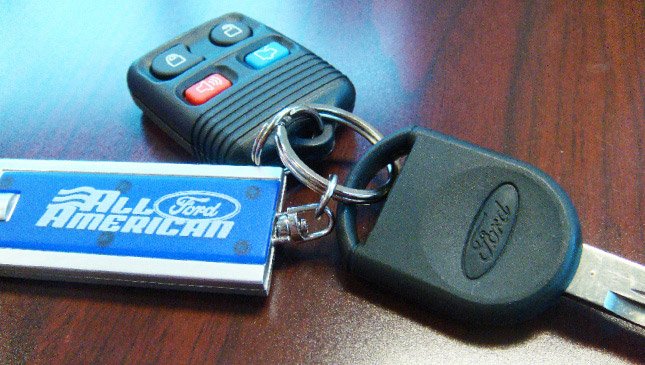 For someone who worked his way to become a car-magazine editor, you'd be surprised to know I didn't grow up around cars. Mine was a family of very modest means. My parents and I commuted to work and school. My father's exposure to horsepower was quite a literal one--his favorite pastime was betting on racehorses. In fact, one of my weekly chores as a kid was to buy him this horse-racing program called Dividendazo.
Allow me to tell a story about my father from 2008. Virgilio Sarne, 65 at the time, still hadn't owned a single car in his life. But he had always been fascinated by steeds. He had once drawn an equine charging toward the finish line. The image was so lifelike you could almost feel the sinews throbbing. One look and you knew it could have only been penciled by someone who dreamed of horses even in his sleep. Thankfully, I didn't come out looking like one--although my very forthright friends insist this is a legitimate subject for debate.

When my folks migrated to the United States in 1995, I had just begun my job as a motoring journalist. My father left the Philippines without ever having experienced the manly joy of purchasing a car. The only vehicles that had graced our garage were a couple of passenger jeepneys owned and managed by my paternal grandmother. There's no doubt in my mind now that had my parents been around when I started bringing home various test vehicles, they would have felt nothing but pride--or fear for my safety, as our neighborhood in Baclaran was a place carjackers would fit right in.

Since leaving, my father had never returned. He had a fear of flying, which was further compounded by the attacks on the World Trade Center in 2001. I got to visit my parents in Hackensack, New Jersey--their new home--for the first time in 2000 when I attended Ford's deep-dive program, and again in 2002 when I went to the New York Auto Show. Each time, my father would talk about buying a car, asking me to help him pick the right one. Each time, I'd casually shrug it off, thinking he was just concerned that I didn't have a car to drive around in.

Six years would pass before I could pay them another visit, courtesy of the BMW X6 press drive that I attended in April 2008. During my stay with them, I had a Lincoln MKX arranged for my use around the area. I did so because I didn't want my father worrying again about my means of transportation and seriously considering the purchase of a new car on account of it. But even in the MKX's luxurious embrace, he again asked me to accompany him to the car dealership. And this time, he already had a specific car in mind: a Ford Mustang.

I didn't know what to make of my father's wish. If he was serious--which he was--this could potentially be a lethal blow to my self-esteem. There I was in the prime of my life (I think) driving a Honda Jazz. How was I supposed to feel about my sexagenarian father driving an American muscle car (or pony car, if you want to be technical about it)? It was like having your old man take up boxing as a sport when your means of sweating it out was badminton or Nintendo DS Lite.

So I dissuaded him and tried to shift his attention to small Japanese sedans, under the guise of environmentalism and practicality. In truth, I just didn't want to feel like a wimp when I got back to driving my tinny hatchback. Thus, I put off the trip to the Ford showroom until I was already leaving and couldn't go with him anymore.

So no Ford Mustang for Papa, and intact machismo for me.

And then I returned to New Jersey a few months later, taking a side trip from San Francisco where I'd just driven the new Lexus RX350. I was confident we had already laid to rest any thoughts my father had entertained about getting a Mustang. I was wrong. No sooner had we left the airport--he and my uncle Rommel fetched me using the latter's Nissan Altima--than he started asking me again if I could go with him to the dealership. And yes, it was still a Mustang he wanted. I could see he had fallen so in love with the idea of driving a Mustang that he must have already been seeing Steve McQueen whenever he looked in the mirror.

And then I thought to myself: "What is your problem? Your father is pushing 70 and he has never ever owned a car. This is his one dream. He has always loved horses and now he has a chance to own the fairest of them all. How dare you block that dream from coming true all because you're deeply concerned about your macho image."

"What the heck," I mentally replied. "Let's go for it."

We went to a dealership located just a couple of miles from my parents' house. It was called All American and sold mostly Ford vehicles. I was expecting to see long faces considering the slump the car industry had been going through. But the mood was okay, business as usual. We were welcomed by a jolly Korean salesman named Jimmy Um, who had been working in the dealership for 15 years.

We went inside after informing Jimmy that my father was looking for a brand-new Mustang. Jimmy tried to sell us a Shelby, whereupon I nearly slugged him. My father driving a base-model Mustang would make me look like a dork; him driving a Shelby would take away whatever was left of my self-respect.

We told Jimmy we wanted a 4.0-liter V6 Coupe unit with automatic transmission, preferably silver in color. He entered a room and came back with a happy announcement: "We have one, exactly what you're looking for."

We then drove to the warehouse using Jimmy's Ford Explorer. Inside the stockyard sat a quiet silver steed. I knew at that instant it was my father's car. You could sense a palpable excitement in my old man. At last, every childhood dream he'd had about cars was materializing at this very moment.

The Mustang had a sticker price of $23,075. Jimmy shaved off a few thousand dollars under Ford's employee-pricing promo. He also offered another $500 in rebate. When he asked my father how the payment would be made, Steve McQueen said: "I'll pay in cash." Incredibly, he had saved every dollar he could for this momentous occasion.

After the paperwork had been accomplished, my father was handed the keys by his new Korean friend. His horse was already waiting for him outside. Dreams do come true, I thought.

A week later, back at the airport as I was preparing to board my return flight to Manila, my father told me: "You know, I didn't buy that car for myself. I bought it for your mother. She had been dreaming of owning a car one day."

Ah, love, it turns out, is still more powerful than a 210hp pony car.
Continue reading below ↓
Recommended Videos
First published in the March 2009 issue of Top Gear Philippines, this piece has been slightly revised for online posting.