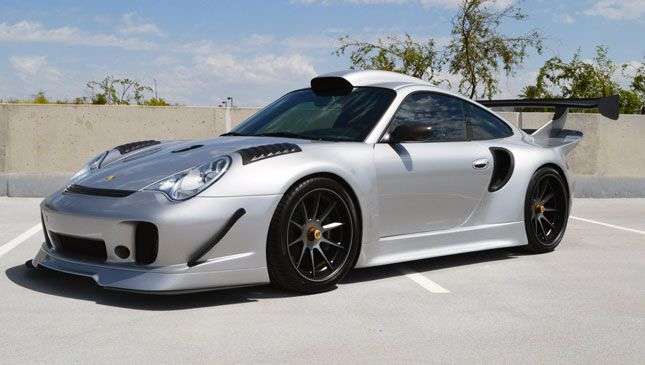 What am I looking at?
One of McLaren Scottsdale's most interesting offerings. The US dealer has in stock a very rare, highly modified, and hugely powerful Porsche 911 GT2 for sale, and though it is quite indecently expensive, it brings with it a great many customizations, which we shall attempt to detail here.
ADVERTISEMENT - CONTINUE READING BELOW ↓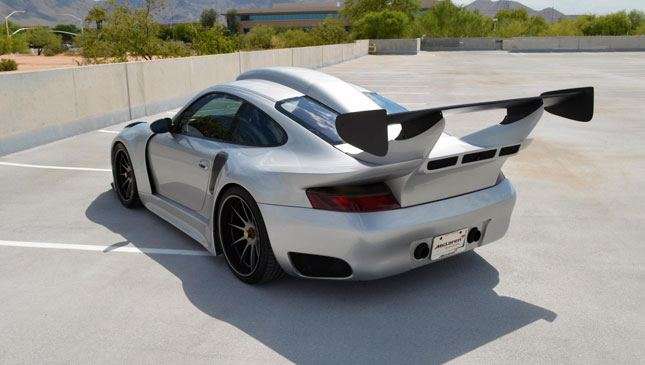 I can see a ROOF SCOOP.
Correct. The exterior has been fitted with a custom 'Lexan' rear window with an integrated scoop.
Let's be honest here–almost everything is made better with a roof scoop. Tell us we're wrong.
ADVERTISEMENT - CONTINUE READING BELOW ↓
Recommended Videos
You're not wrong. What else has it done?
How much time do you have? This thing has its very own build thread that details its life (it's been put together in California), but we'll start with the power, because there's lots of it and it must be discussed.
It features a 3.8-liter engine, but uses Mahle cylinders and 'skirtless' race pistons, gets an RSR crank, Carillo lightweight racing forged rods, GT3 Cup heads, cams and valve train, throttle bodies, and a carbon throttle actuation system from Porsche itself, along with a pair of Garrett GTX30R water-cooled turbos.
With ceramic bearings.
And custom tubing.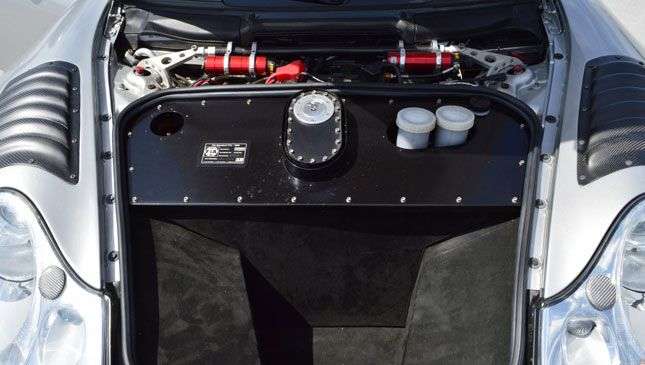 ADVERTISEMENT - CONTINUE READING BELOW ↓
Erm, anything else?
Yes. Lots. There are custom fabricated aluminum plenums and runners, aluminum fuel rails with fuel dampers (sized for E85 fuel), a custom, stainless steel exhaust system, MoTec engine management with launch and traction control, and a lightweight race battery.
And a fire extinguisher.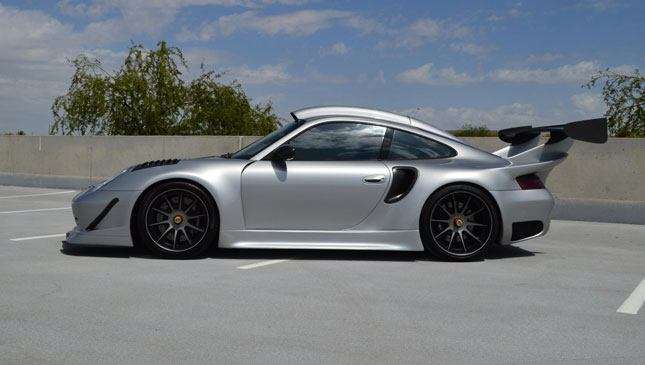 But what does all of this even MEAN?
ADVERTISEMENT - CONTINUE READING BELOW ↓
On normal pump fuel, you're looking at the very thick, very scary end of 1,083hp at the wheels. The rear wheels, of course.
But run it on E85, and you get a Koenigsegg Agera RS-rivalling 1,160hp.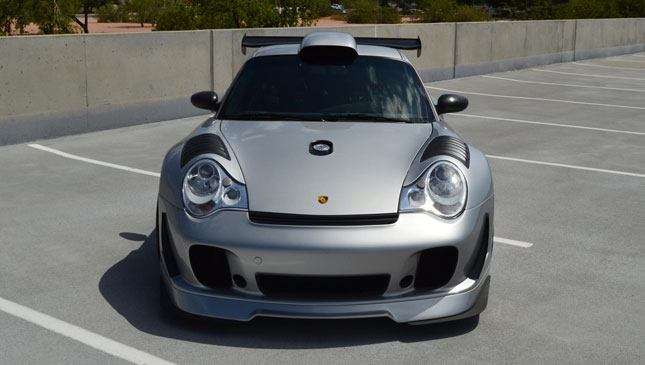 I need to lie down.
No time to sleep. There's plenty more left to cover. The synchros on the gearbox are steel, it's got a lightweight Guard GT limited slip diff, heavy duty bearings, a lightweight clutch and flywheel, and a few bits from the Porsche factory.
ADVERTISEMENT - CONTINUE READING BELOW ↓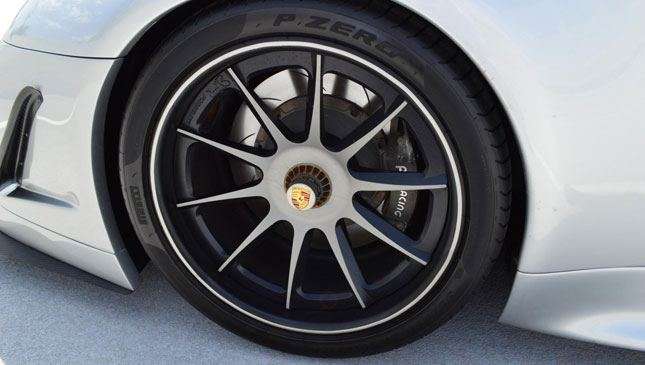 Such as?
RSR uprights, RSR centerlock wheel assemblies, Brembo RSR lightweight brakes, and the factory RSR electric power steering.
Then there's the factory RSR racing stabilizer bar, carbon cooling ducts, full carbon underbody cladding (with a custom rear air diffuser), 19in front and 20in rear wheels via Forgeline, and ERP/Eibach springs and suspension.
ADVERTISEMENT - CONTINUE READING BELOW ↓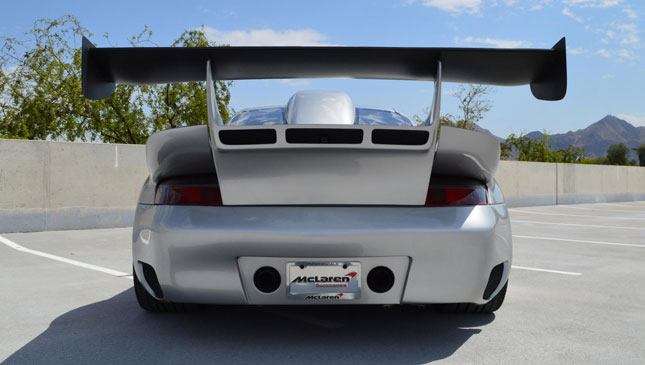 I get it–it's been hugely modified. Can I go now?
Not yet. We need to talk about the exterior. Because it sports a full custom DP Motorsports carbon Kevlar body kit.
We're talking front and rear bumpers, hood, rear deck lid, integrated wing supports, a rear wing that'd make you weep, new front and rear arches, rocker panels, that all-important ROOF SCOOP, a front splitter, and some mirrors.
ADVERTISEMENT - CONTINUE READING BELOW ↓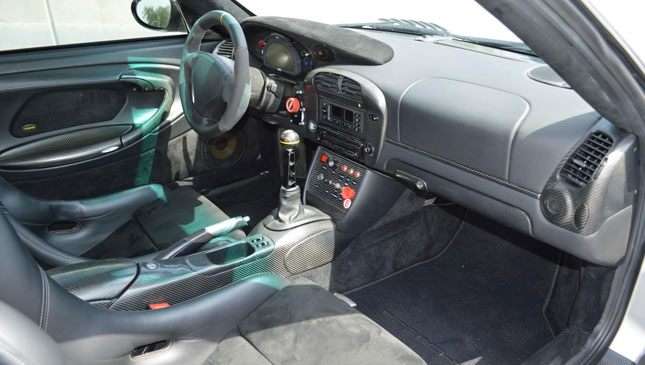 I'm fully on board with the roof scoop.
Good. Because once you get on board (see how we did that?), you'll be sat in Porsche carbon Kevlar race seats with five-point harnesses, ogle over black Alcantara-covered surfaces across the dash, panels, headlining, instrument surround and steering wheel, notice the MoTec electronic dash, and marvel at the Kenwood stereo system.
ADVERTISEMENT - CONTINUE READING BELOW ↓
There are more things, but we suspect your patience is running thin.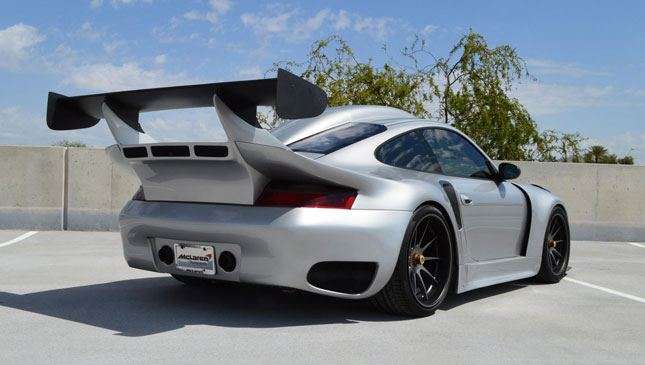 Nah, woken up now. How much is it?
It's on offer at McLaren Scottsdale, which is in Arizona, for $299,900 (about P14.89 million). Which, in the big scheme of things, is a lot of money for a modified Porsche 911 GT2.
ADVERTISEMENT - CONTINUE READING BELOW ↓
But then this is no ordinary Porsche 911 GT2. And it has over 1,000hp. And it has a roof scoop. And it looks like nothing else on the road.
And in all seriousness, the level of engineering madness that's been thrown at this thing is worth marveling at.
One final point: In the build thread we mentioned earlier, the user who built this GT2 said "it throws flame on each shift."
That alone is worth the $300k, right?
Have a look at the ad here.
NOTE: This article first appeared on TopGear.com. Minor edits have been made.