A pair of open Porsche 911s wouldn't ordinarily be the enthusiast's choice. But these are no ordinary open 911s. These are 911 Speedsters, and that makes them a purer, more athletic breed than your average Stuttgart tanning bed.
Below, on the left: The very first example, a 1988 G-Series 911 receiving the run-out special treatment courtesy of a voluptuously styled Speedster. On the right: A 2019 991-gen 911 receiving the run-out special treatment via...exactly the same thing.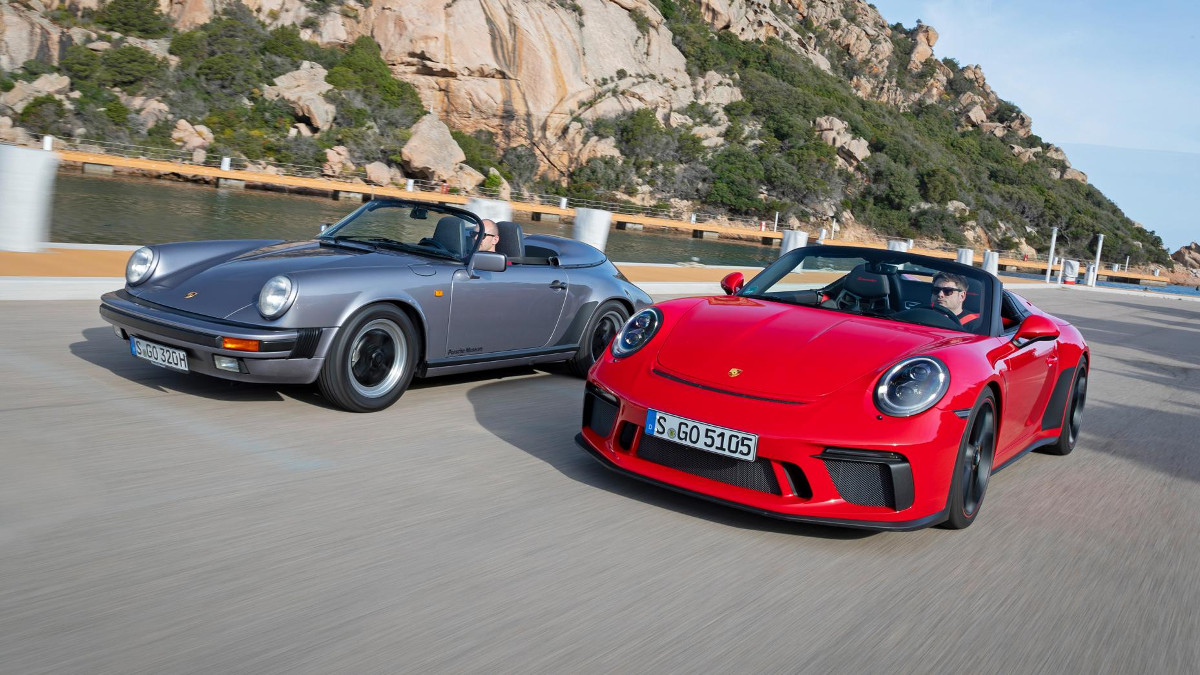 There are differences, of course. Width. Power. Speed. The usual things that have swelled enormously in all performance cars across the previous three decades (228hp playing 503hp, if you're interested).
Continue reading below ↓
Recommended Videos
But also focus. The G-Series iteration may have had some thoughtful engineering poured into it, but the gradual hard-coring of Speedsters since has seen this latest 991 version gain a full 4.0-liter flat-six from the 911 GT3 track toy, revving to the same ear-scrambling 9,000rpm, as well as all of its trick four-wheel steering and auto rev-matching.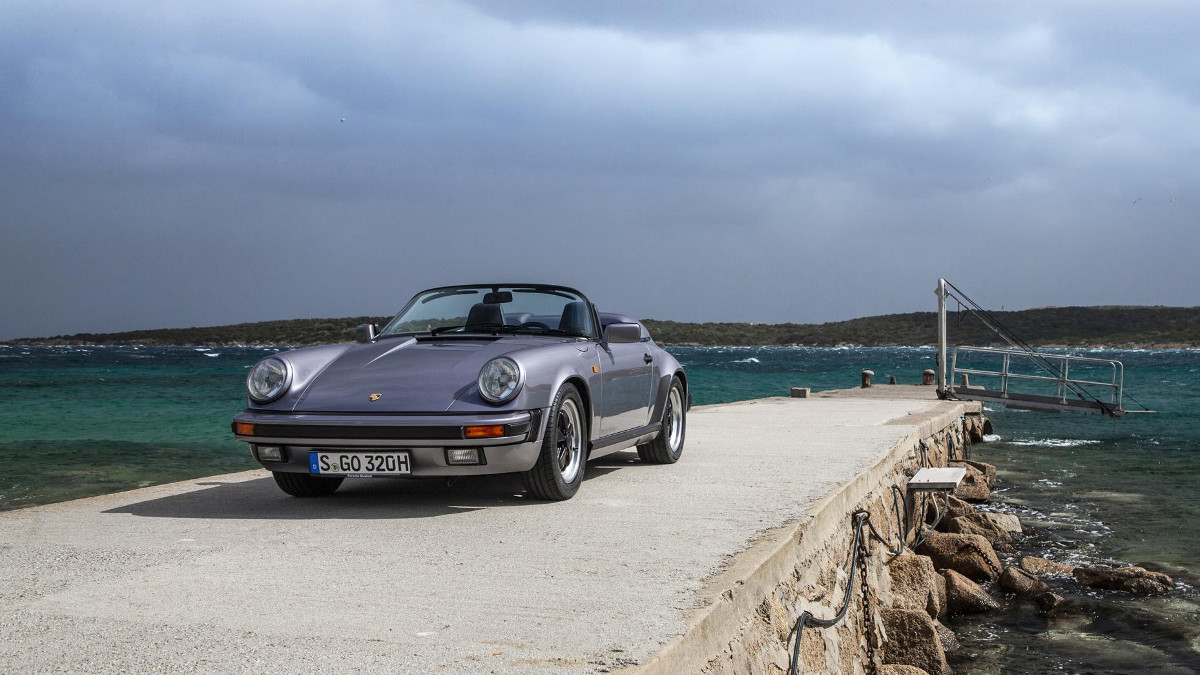 The older car certainly encourages a more laid-back style. Its five-speed manual gearbox is not tight or short in its throw, and really appreciates a leisurely shift. Bang gears home as quickly as the 991 encourages, and I suspect its wand-like lever would snap clean off were it not for timeless German engineering.
The steering is achingly slow and heavy, too, and a far cry from the telepathically quick responses of its 31-year-younger relation. Throwing the G around with the aggression modern 911s relish wouldn't just be disrespectful—it'd seem downright foolish.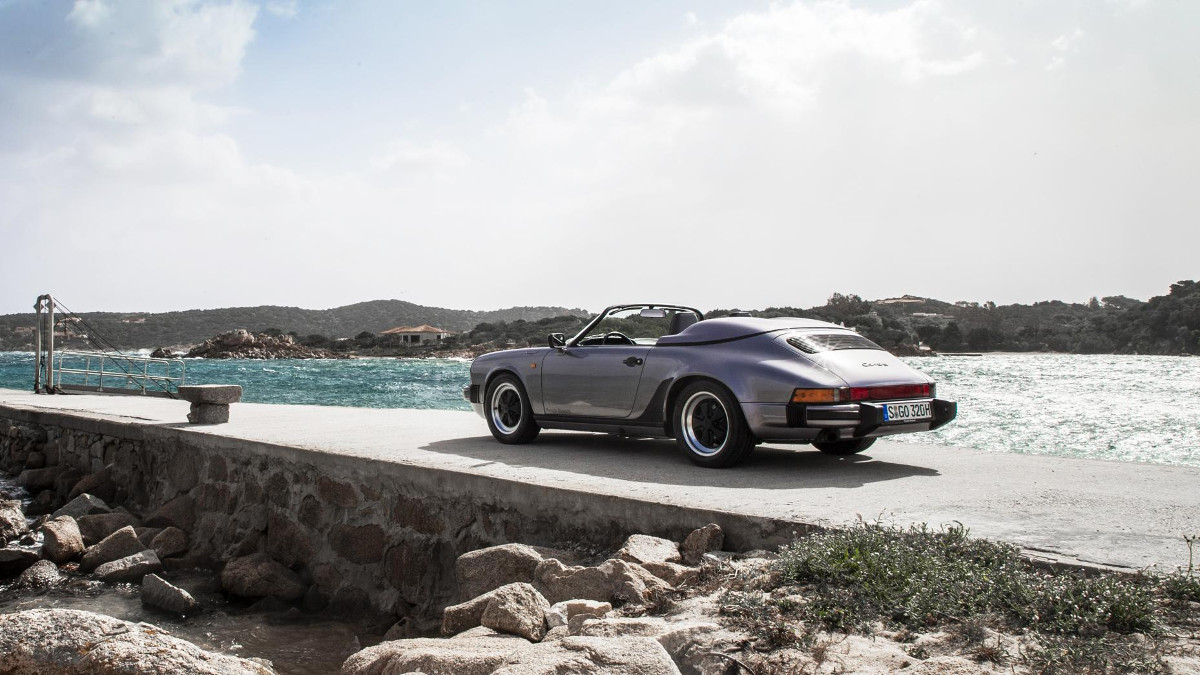 But only to a point. The sharp, genial controls of the 991 may amply evidence the constant evolution Porsche bestows upon its signature car, but the more your confidence builds in the G, the more common ground you find between the two.
While the G feels more tangibly rear-engined, you can use similar techniques to manage the pair's weight distribution, reaping similar rewards. You do so without safety nets and the flattering chassis systems in the '80s example, but you also do it at much friendlier speeds and—with a paltry 6,300rpm to chase—alerting far fewer people of what you're up to.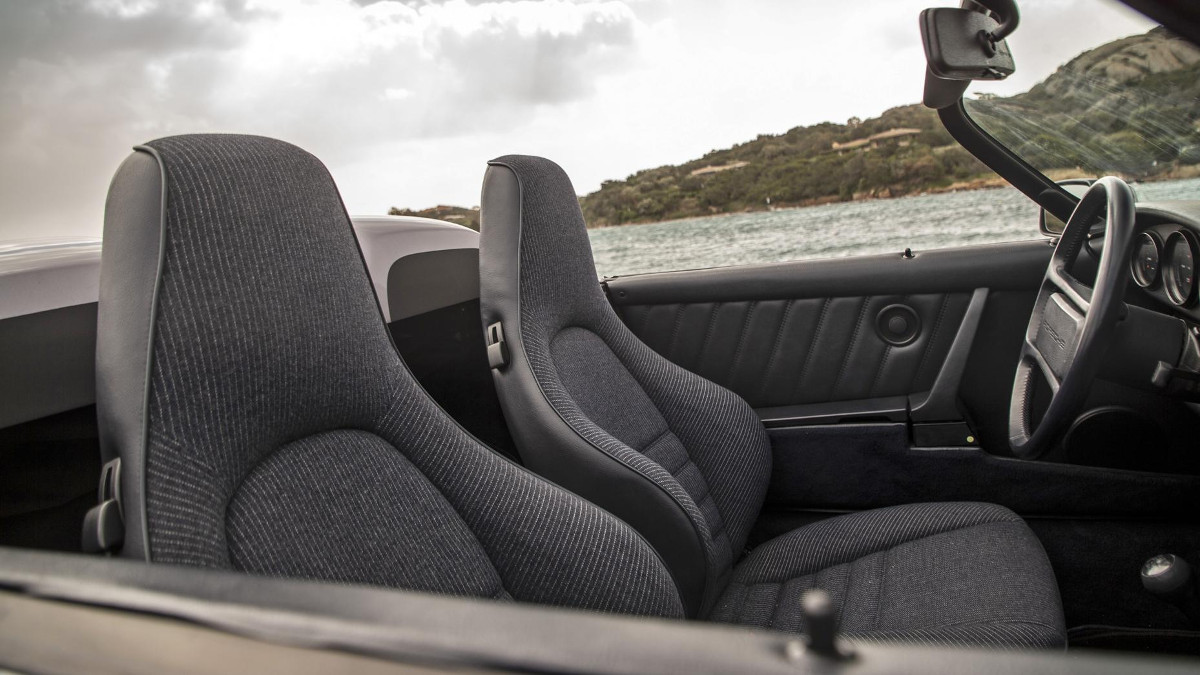 After years of driving Porsches dripping in initialisms like PTV, PASM, and PCCB, it's undoubtedly a step back in time and you feel a much more vital part of the car's operation.
And you're much less distracted while operating it, too: While the 991-gen car can be specified without air con and satnav, 75% will have them and so all the modern fripperies of cars—and the multitudinous buttons and screens they bring—will be present and correct. Its ancestor feels like a full digital detox beside it.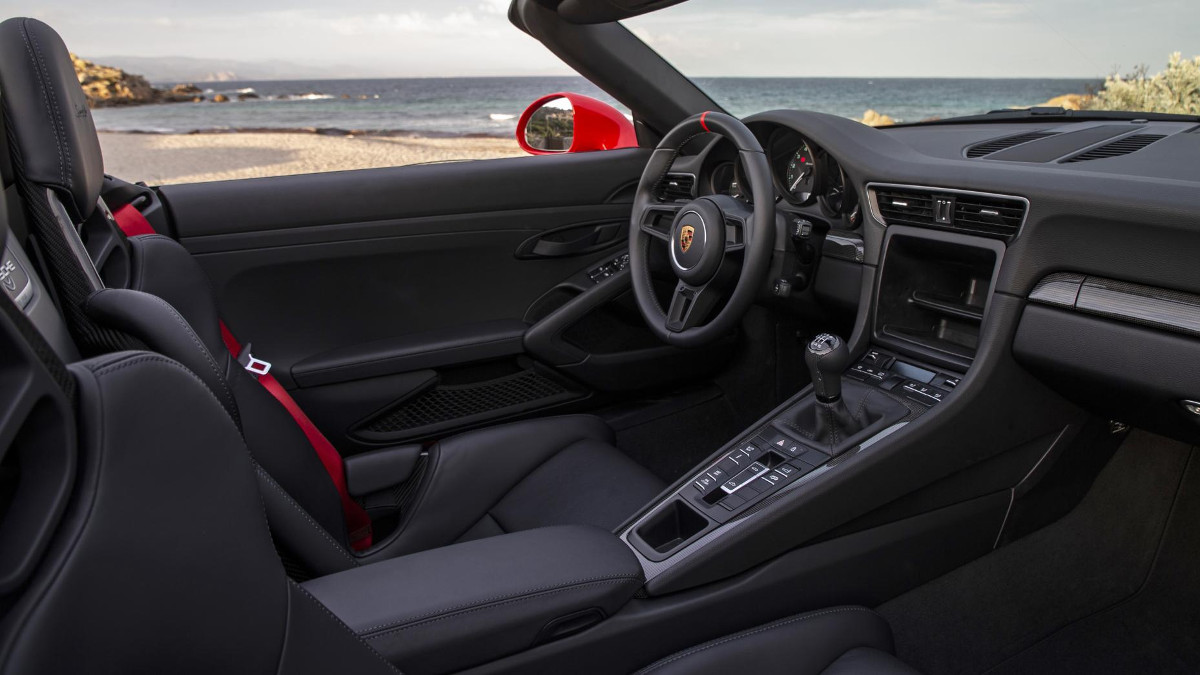 Don't go thinking its 2019 equivalent is some kind of softie, though. Every Speedster that's followed the G-Series has gained increasing influence from Porsche's go-faster products, leading us to the current day where, to all intents and purposes, you're looking at a GT3 convertible.
If that sounds like sacrilege, know that the Speedster uses some of Porsche's most exquisite engineering to ensure it's every bit as thrilling as its track twin, exhibiting none of the sogginess you'd normally expect from a car that's had its roof chopped.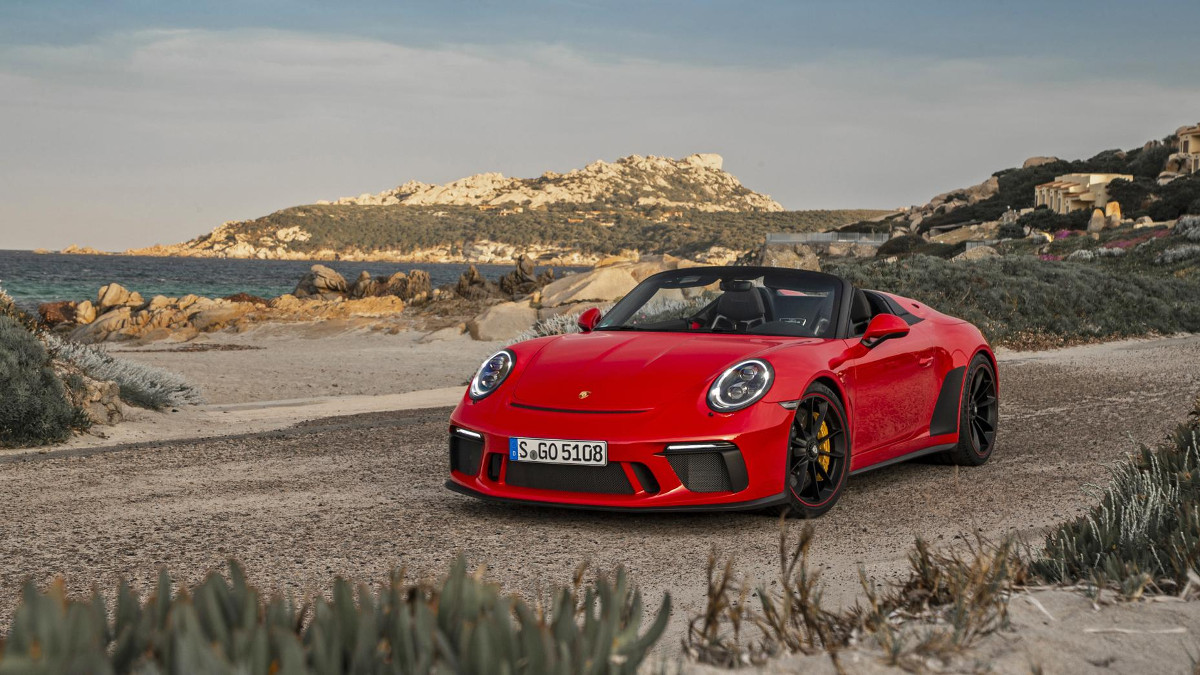 It costs a staggering £211,000 (around P13.8 million)—almost twice a 991 GT3—but the depth of engineering that's gone into making it just as stiffly structured almost makes that look like a bargain.
The A-pillars are completely new to account for a slenderer roof than on regular 911 cabrios, while some exquisite soldering has created an exhaust system lighter than a GT3's despite the addition of a particulate filter that keep this gloriously screaming engine tucked under ever-stricter emissions regulations.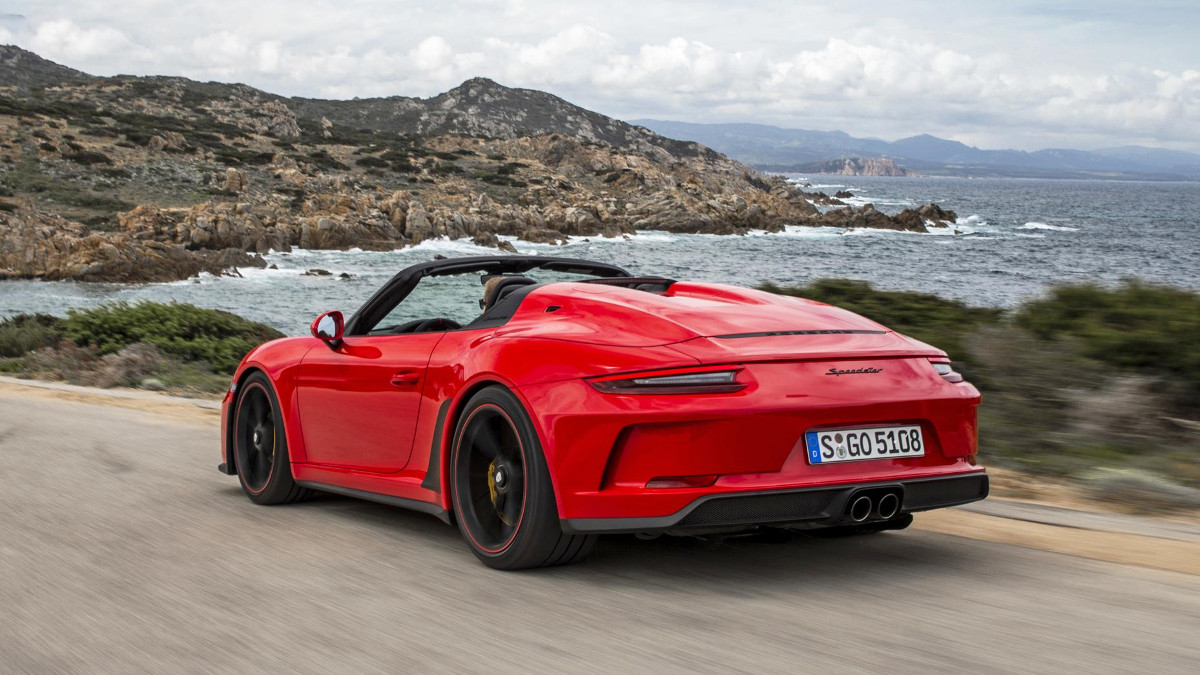 It really does scream, too. Where the creamily delivered torque of the G slows your pulse and encourages you to calmly soak up the sun, the frantic top-end delivery of the 991 plugs directly into your nervous system and makes you drive like the apocalypse is hurriedly chasing you down.
Hanging on for the full 9,000rpm is so much more satisfying with a manual gearbox, too. It takes guts to wring out every last rev when there isn't a clever electronic brain waiting to change up for you, and as you shift from second to third, ears practically bleeding, I defy you not to feel physical pleasure run down your arm. It's a car finessed and sharpened beyond the nth degree and every single one of its controls is perfect.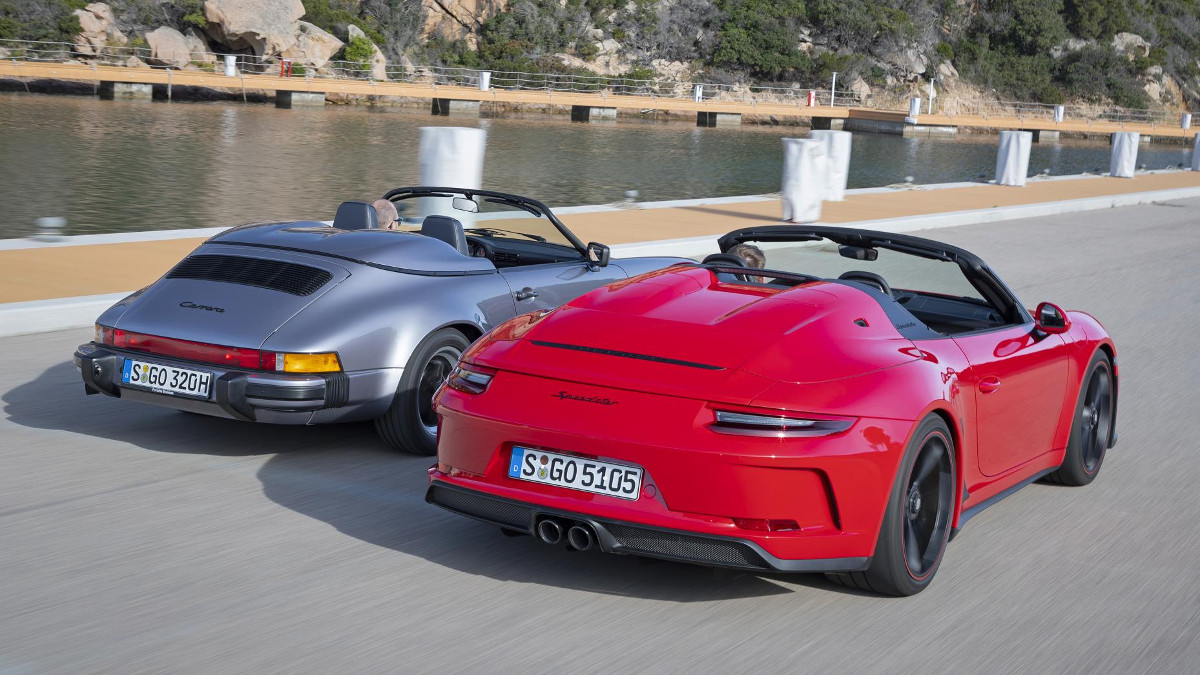 The grip limits are so staggeringly high that you'd be foolish to ever slide this thing around on the road, but rarely has that mattered so little. It's a thoroughly pleasant car to just potter in, changing gear for the hell of it and playing tunes with the exhaust.
But you're missing out if you don't extend its abilities as far as you dare. The fact Porsche has vehemently refused to offer PDK shows this really is a car best driven with intent. Much less hardcore in its makeup, the same can't quite be said of the G.
NOTE: This article first appeared on TopGear.com. Minor edits have been made.