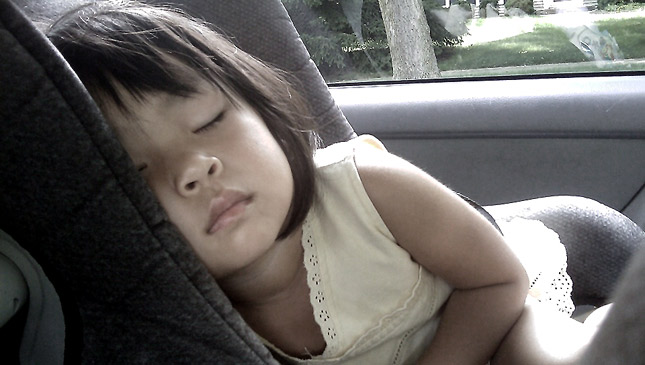 A few weeks ago, a video of a two-year-old left alone inside a vehicle went viral. Social media went wild, as expected. We'll leave the parenting lectures to the experts and the expert wannabes. We're just thankful that the toddler sustained no injuries.
At the back of our minds, however, was the question: What are the legal implications of forgetting (or leaving) a child inside a vehicle? When you drive out your car on the day it's coded, you are pulled over for violation, given a ticket and required to pay a fine. But what happens when your memory—or good lord, your judgment—fails you and you forget (or abandon) your bundle of joy alone inside a parked vehicle?
As with any violation, there is a corresponding punishment, right? To be sure, we asked our legal columnist, Atty. Robby Consunji, about the matter at hand. First off, we clarified if such deed may be violating a law in the Philippines.
"I can sense it is child abuse," Consunji said. He further explained that under Republic Act (R.A.) No. 7610, also known as the Special Protection of Children Against Abuse, Exploitation and Discrimination Act, 'child abuse' refers to the maltreatment, whether habitual or not, of the child. He added that it may include any of the following:
(1) Psychological and physical abuse, neglect, cruelty, sexual abuse and emotional maltreatment;
(2) Any act by deeds or words which debases, degrades or demeans the intrinsic worth and dignity of a child as a human being;
(3) Unreasonable deprivation of his basic needs for survival, such as food and shelter; or
(4) Failure to immediately give medical treatment to an injured child resulting in serious impairment of his growth and development or in his permanent incapacity or death.
Leaving a child (defined in R.A. 7610 "as a person below 18 years of age or those over but are unable to fully take care of themselves or protect themselves from abuse, neglect, cruelty, exploitation or discrimination because of a physical or mental disability or condition") inside a vehicle unattended may be considered violating Section 10 of said R.A. In addition, Consunji and his associate Zesyl Avigail Francisco cited such act can be classified as a "circumstance that gravely threatens or endangers the life, safety or normal development of the child (R.A. 7610)."
The penalty, though, is unclear in the R.A. "There is no specific provision in the law that punishes parents or guardians for leaving the child alone in the car," said Consunji. "Under the law, the penalty that may be imposed is for committing other acts of neglect, abuse, cruelty or exploitation and other conditions prejudicial to the child's development."
Consunji and Francisco added: "Section 10 of R.A. 7610 provides that any person who shall commit any other acts of child abuse, cruelty or exploitation or be responsible for other conditions prejudicial to the child's development including those covered by Article 59 of Presidential Decree No. 603, as amended, but not covered by the Revised Penal Code, as amended, shall suffer the penalty of prision mayor in its minimum period (six years and one day to eight years)."
In the United States, the average number of children that die per year due to heat after being forgotten inside a car is 37, according to child safety advocacy group Kidsandcars.org. That's about four deaths per month, and it's not entirely because of negligent parenting. Apparently, when parents' routines change, they forget certain things, like their children strapped in the back seat.
The statistics must have triggered an alarm that a bill was passed in the U.S. Congress called Helping Overcome Trauma for Children Alone in Rear Seats Act of 2017 or Hot Cars Act of 2017. The bill proposed that the Department of Transportation require all passenger motor vehicles below 10,000lbs. to have a system that alerts drivers to check rear seats after the engine is turned off.
Unfortunately, in the Philippines, we do not have something similar to the Hot Cars Act. "Lack of awareness regarding the possible dangers of leaving a child alone inside the car is one reason we do not have a similar law/regulation," Consunji explained. He pointed out that the most recent motor vehicle regulation was the use of seatbelts.
"There is a need to revisit the necessity for legislation of specific rules and regulation regarding the use of motor vehicles in general," he advised.
Whether a punishment is clearly stated in the law or not, be a responsible driver and make it a habit to check your passenger seats. Never leave a living creature—human or pet—unattended inside your vehicle.