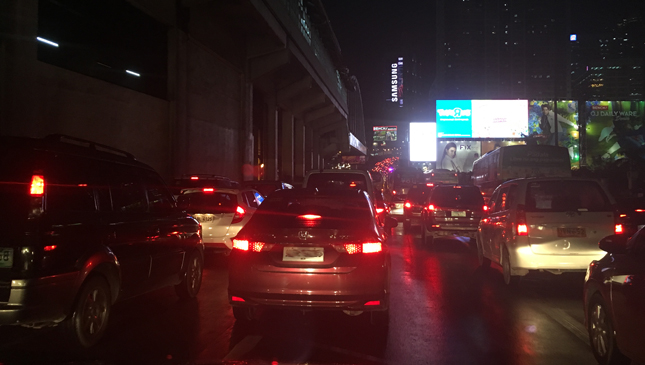 In case you've been living under a rock, the MMDA has recently rolled out the dry run of its rush hour driver-only ban and expanded high-occupancy-vehicle (HOV) lane on EDSA—from Magallanes to North Avenue. Oh, and that HOV 'lane' is now the entire width of all the private vehicle lanes combined. Even the Senate has called for the suspension of the ban. 'Single' motorists are outraged and everyone else is dumbfounded by the controversial move. Heck, even fake news is circulating about this pressing motoring issue.
However, in a sea of negative Facebook comments and reactions, we came across these two very poignant status updates today. The first is by Junep Ocampo, former motoring editor of the Philippine Star. He writes:
Continue reading below ↓
Recommended Videos
I can think of a thousand ways why the ban on driver-only cars on EDSA will not work. But instead of doing that, I have decided to use my energy positively. I will now do my part and start thinking of ways of not using my car when I am its only occupant. There's a P2P bus route now available in Nuvali. Maybe I can try that. Or maybe I can just use Skype or FB Messenger when meeting with clients and associates instead of driving all the way from Laguna just to attend meetings. I am taking this prohibition as an opportunity to be creative. Yes, it may be a small sacrifice, but I hope this can help my country solve the problem of traffic. And who knows, by voluntarily removing my car on the road, I can give room for those who need the road more.
Three ways that we can help fix traffic:
1) Don't use our car. Use public transportation.
2) Promote carpooling in our offices or schools. Kung lima ang may kotse, isa lang ang magdadala each day. Makikisakay na lang yung iba.
3) Don't leave at all. Try telecommuting or work from home.
Former Top Gear PH motorsports editor Mikko David had this posted on his wall:
So my cousin and I have chosen to be productive members of society. The MMDA's HOV dry-run is happening—whether we like it or not. We decided to participate in the experiment by providing real-time traffic data during our morning, rush-hour drives to work along EDSA until August 20. We'll record our starting time and location, take some snapshots of the usual EDSA southbound chokepoints like Cubao, Santolan, Ortigas, Boni, Guadalupe up to Ayala. And then record our arrival times at our destination along Rufino. The info should guide not only the MMDA, but also motorists who traverse the same route during rush hour. Hopefully, it will help the authorities assess this latest traffic management program using real-world information. You can do the same...Or you can choose to complain. Up to you.
Notes:
1) For the past couple of months before this HOV experiment, it took me a minimum of 2 hrs (and often times, more) to traverse EDSA from QC to Makati if I left anytime past 6:30am.

2) East Avenue to Santolan was an hour's worth of travel time before. Today, it was about 40mins.
Junep and Mikko are good guys who prefer to see the glass as half-full. And really, who knows what will happen within the next few days. One thing is for sure, though: Rules and regulations will always change, but having the right attitude through it all does help in keeping us sane. That's something to ponder as this story develops.