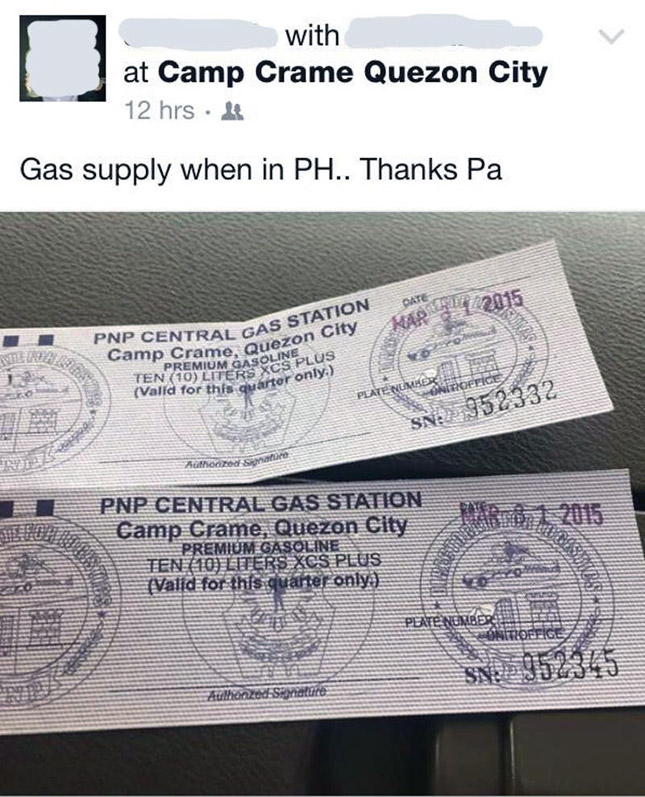 On February 20, we shared on our Facebook page the social-media post of a young man who bragged about a pair of Philippine National Police fuel vouchers given to him by his father. Philippine Star has now reported that said father has been dismissed from duty because of the misconduct.
According to the report, the offending cop was a supply officer of the PNP Internal Affairs Service, with the rank of Senior Police Officer 4. IAS Chief Director Alexander Roldan revealed this information to the newspaper, but withheld the name of the officer in question, as investigation is still ongoing.
The report says that "the policeman faces the criminal charge of misappropriation of funds and grave misconduct as an administrative case." The fuel vouchers--it is now very clear--shouldn't be passed on to civilians.
PNP spokesperson Chief Superintendent Generoso Cerbo Jr. is quoted in the report as saying "gas slips are issued to PNP units and are supposed to be only for government vehicles."
This should now put to rest the discussion as to whether giving away these fuel vouchers is legitimate or not. Not a few people hit us for making an issue "out of nothing." Many even claimed that the fuel vouchers were benefits or incentives given to police officers, and that the officers could do with them however they pleased.
While we feel bad that the cop was relieved from duty, we applaud the PNP's decisive action. A wrong is a wrong--it doesn't matter whether it's big or small. We live today in a society that is so corrupt that wrongdoings are already considered normal. Enough.
Those sensible individuals who were repulsed by the social-media post and made their sentiments known, can now rest easy knowing that misdeeds in our midst can still be rectified if principled people take a stand.