According to Nathaniel and Callum Seviour, director brothers of Retropower in Leicestershire, 'bespoke' is too small a word to explain what they do.
"When a client has that first consultation, we ask so many questions," says Cal, his older brother nodding along vigorously. "What cars have you had before that you like? How do you want it to drive? What are you going to use it for? Is it supposed to be a daily or regular driver or just a weekend or track car? How do you want it to feel, not just look...we're more than just a 'pick a color and interior fabric' kind of place..."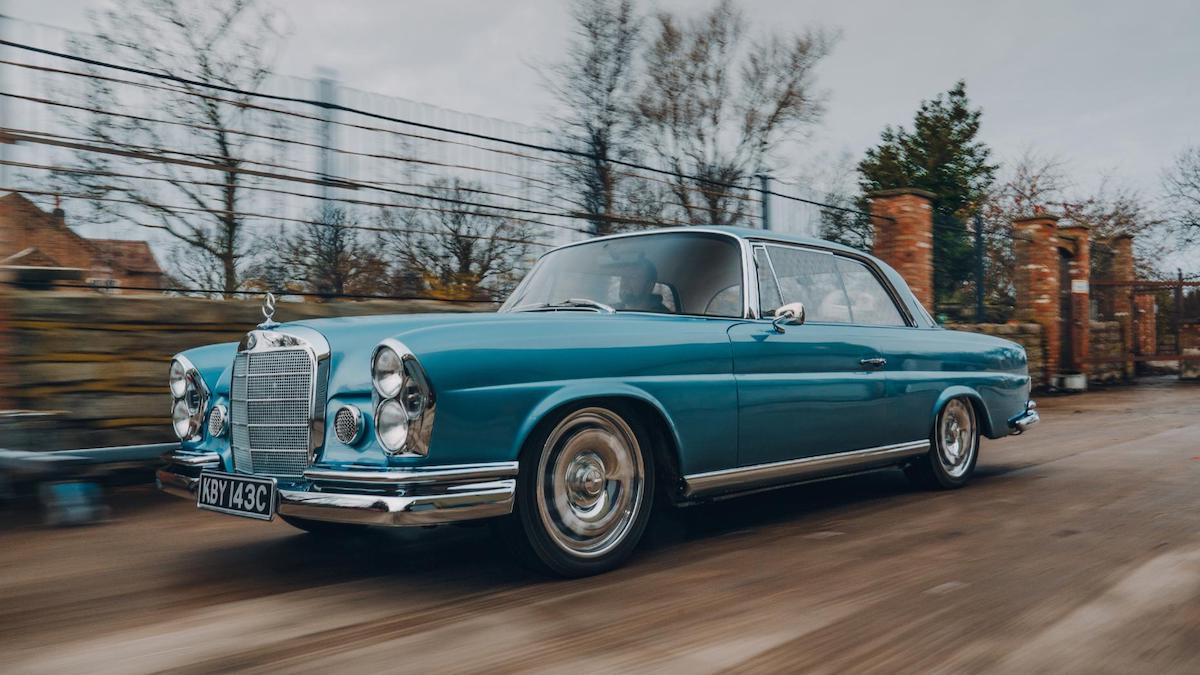 He isn't kidding. Even though the company huddles in an unassuming set of buildings on a farm just outside Hinckley, the projects it has on the go are the stuff of retro-fever dreams, idle fantasy, and half-cut pub banter.
Not so much plain restomods as full-on genetic engineering. This is the eugenic modeling of machines: breed desirable traits together to improve the result, and a good-natured two-fingered salute to convention. If it works for the customer, then Retropower will put it to work.
Hence you get projects like Kaiser, a 1969 W108 Mercedes-Benz with Jaguar subframes, air suspension, and a venerable LS V8 from a Corvette.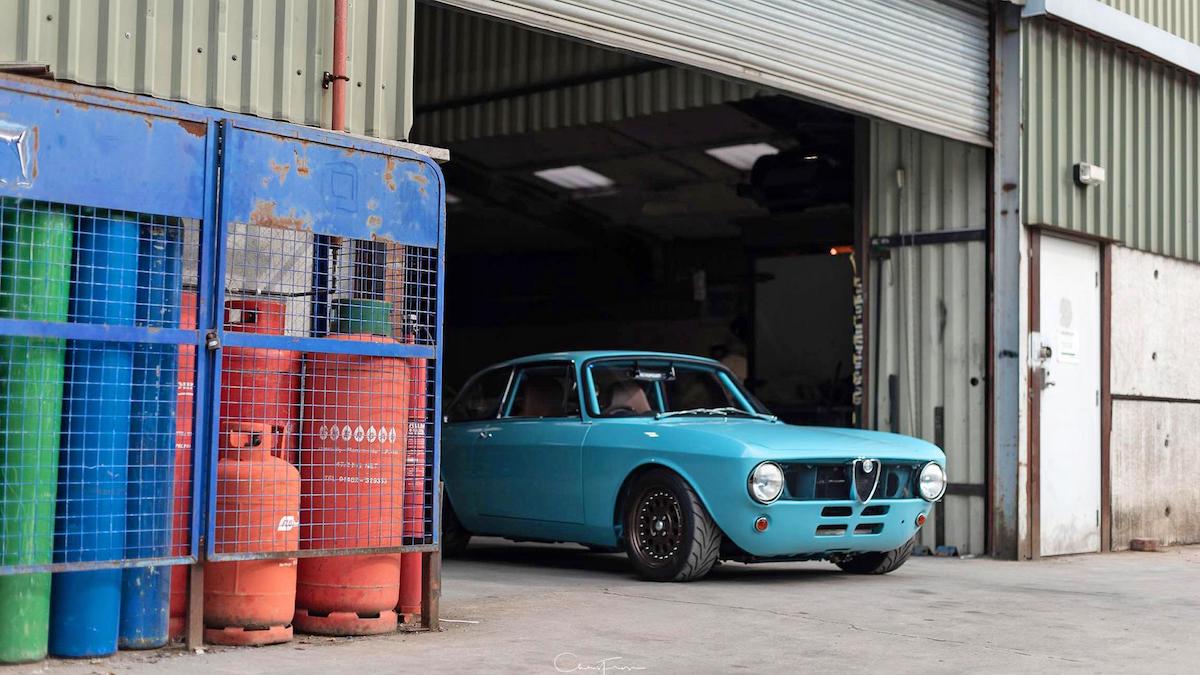 There's a similarly LS'd Jag XJC whose joy is in its relative subtlety and gutted and rebirthed interior. An Alfa Romeo GT Junior whose owner required it to be "faster around a track than any M-badged BMW," so it's painted in a very rapid shade of VW light blue and features a 300hp+ 2.7-liter naturally aspirated Millington Diamond motor (engines more commonly used in competition Escorts), a Sadev six-speed, and a Cosworth rear end. A pretty thing, outside and in, and apparently more than capable of the go to match any BMW show.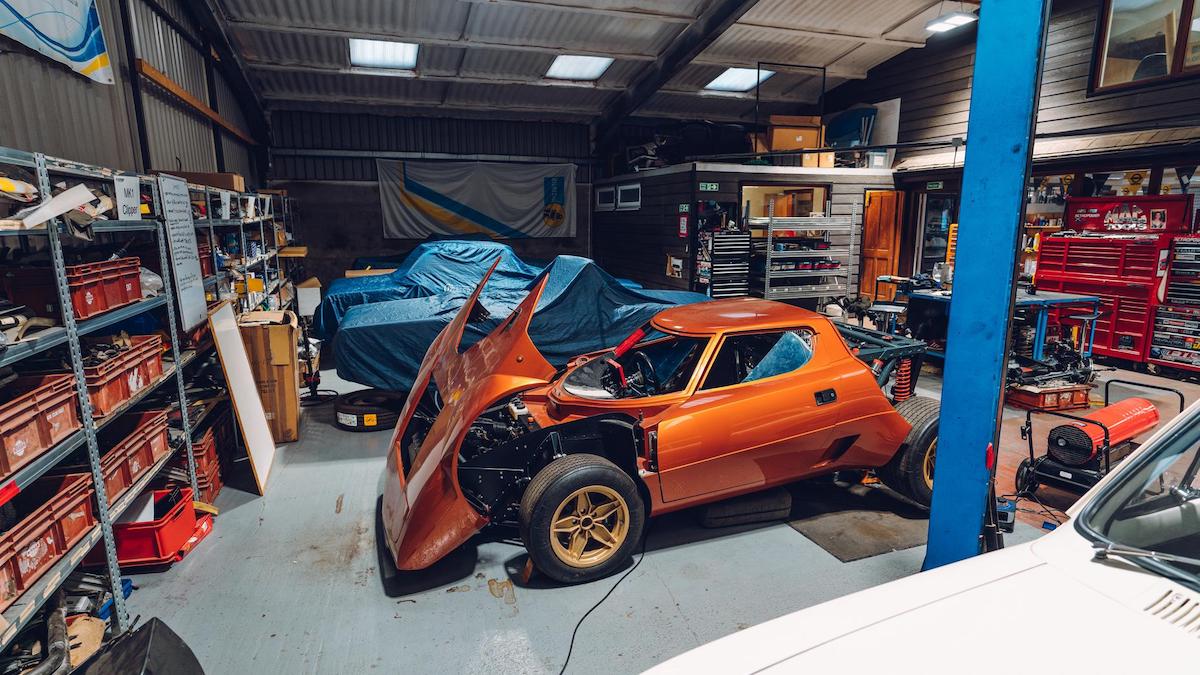 And it doesn't stop. Hunched partly disassembled under a cloth—and sporting some amusing oil-drum rear tires—is a Lancia Stratos HF Volumex emerging from a reworked Lister Bell kit, sporting a supercharged 24-valve Alfa Busso V6.
A delve into the thinking here? The Stratos isn't influenced by the usual Group 4 rally cars, but the '70s Stratos Zero Concept—Marcello Gandini's ode to a form that looks like it'll slice a pedestrian off at the knees. These are thoughtful cars, with inspiration from directions you may not expect.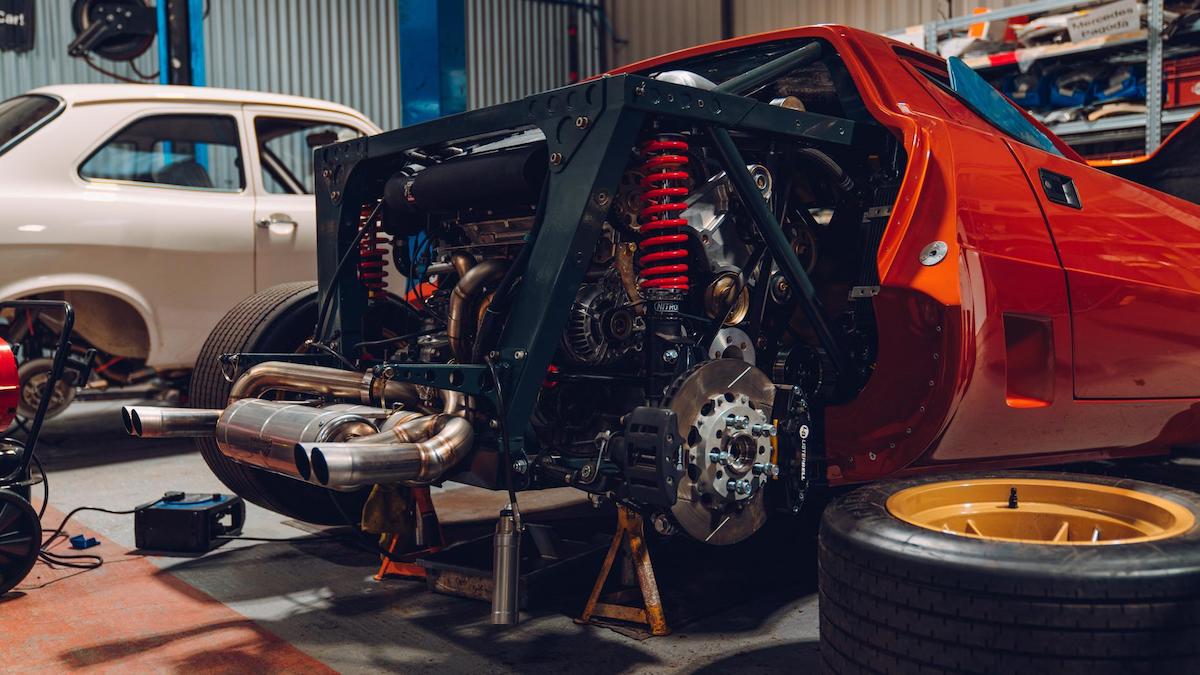 "We make a great team," says Nat. "In basic terms, I'm the engineering side, and Cal deals with the design—he makes it look right and I make it work. And we hardly ever argue...maybe a bit...but nothing serious. We just want to mess with cars—if it can be a business, then that works."
There's a strange thing going on here. Both Nat and Cal are lovely people, who give the impression that Retropower just happens by happy accident. Yet that's completely at odds with the ruthless application apparent on the actual cars.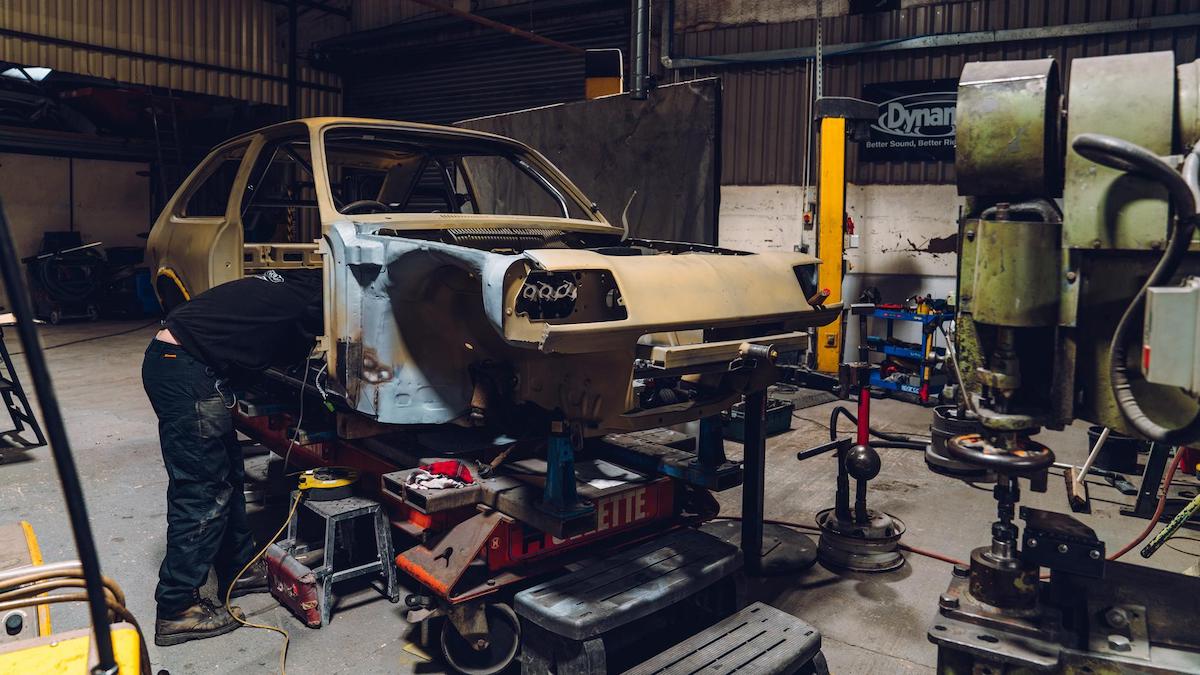 Nat is a mechanical engineer who's worked for various high-end manufacturing outfits, now responsible for the fabrication and engineering, and Callum, an ex-bar manager (and long-time casual restorer and modifier of interesting things) who takes care of design, oversees assembly and wiring. There's a team built up around their core skills that takes care of everything else, from bodywork to paint to interiors, and if there's one thing that stands out, it's the quality of the work. And the attention to detail.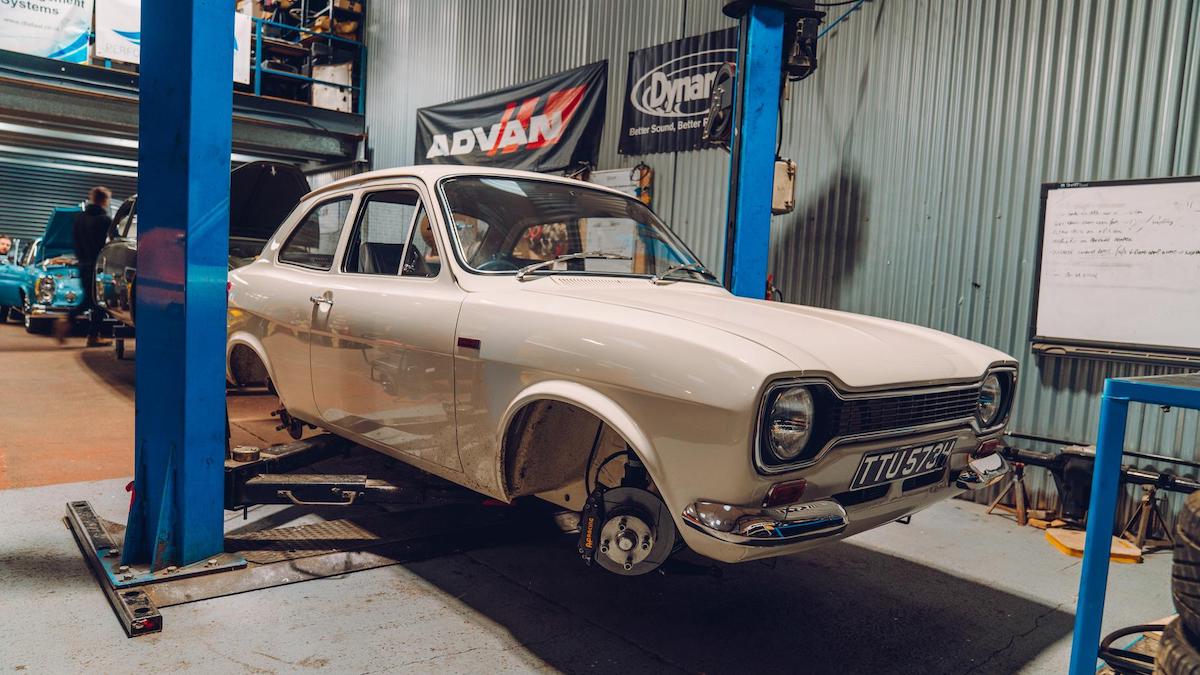 And it's the kind of thing that gets noticed. How about a commission to build none other than Gordon Murray's ideal MkI Ford Escort? Murray's new megacar—the V12-powered, son-of-F1 GMA T.50—is a window into the designer's mind. Obsessive weight saving, forensic attention to even the most banal of minutiae, intelligent yet out-of-the-box engineering solutions to problems already worn intellectually thin by big corporations.
It's a manual with that 650hp naturally aspirated Cosworth V12. It has a refined and improved version of the Brabham BT46B Fan Car ground-effect tech and it's tiny, packaged down to sinew and skin and not much else. And he asked Retropower to build him a car. When you get the king of engineering detail and nuance on the phone, don't you just worry that it's going to be a nightmare?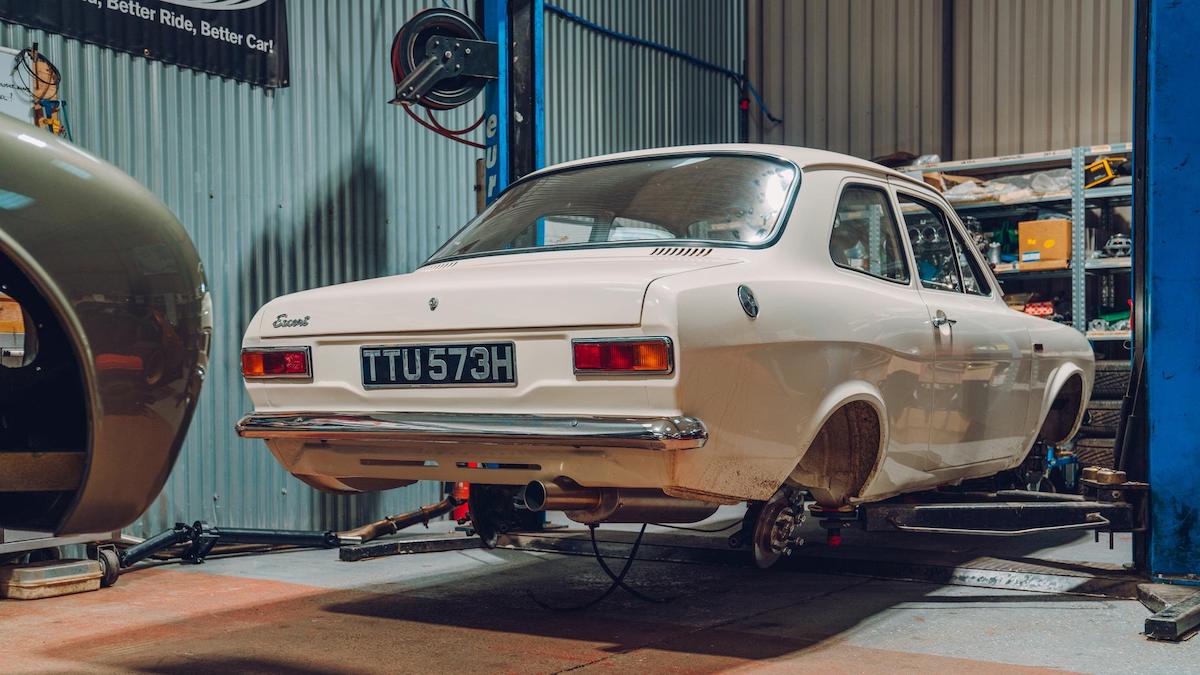 What resulted is a very clean, very subtle MkI sporting a 2.3-liter Cosworth Duratec and divisive independent suspension for the rear end instead of the usual live rear axle—something that Nat convinced Gordon into because he wanted a decent ride on British B-roads.
There are heated seats and improved HVAC, steels and a slim body, but no radio. It's a pared-back ode to what Retropower does and what Murray wants as a car to use, rather than a slave to convention. This is fitness-for-purpose rather than contrarian for the sake of it, though. Callum again: "We make cars that interest us. That make us smile. That's why there's so much different stuff here—we could make more money repeating ourselves...but where's the fun in that?"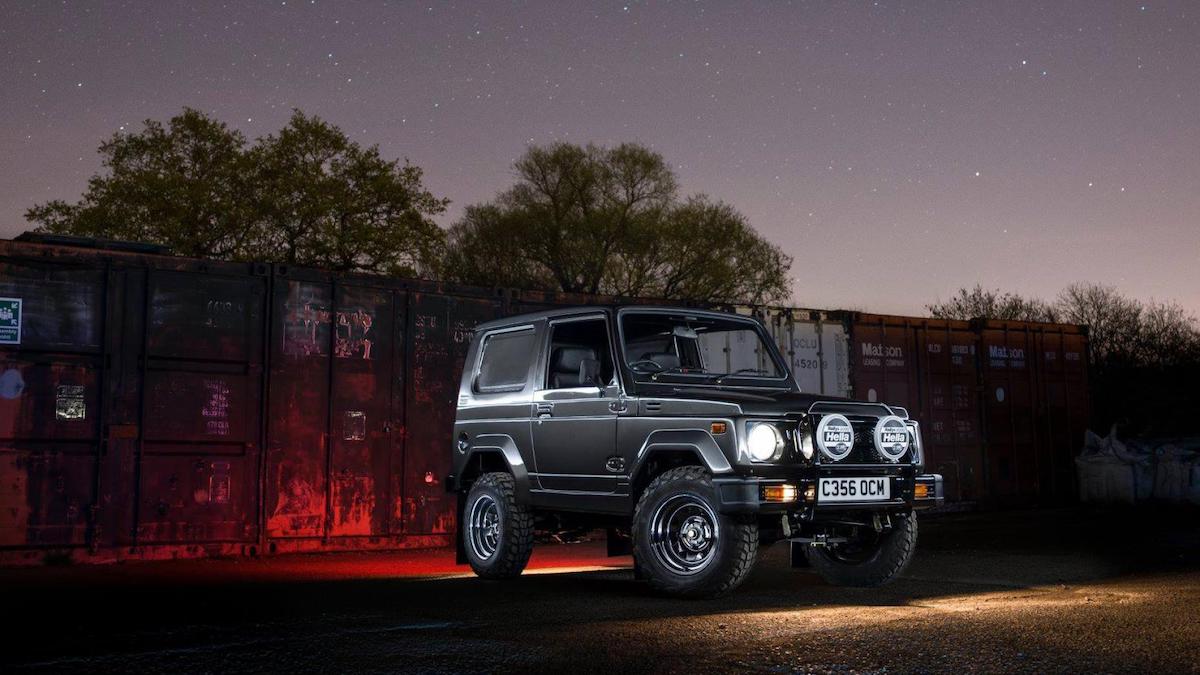 He's got a solid point. Retropower, it has to be said, does not make it easy on itself. Each car requires specific skills and input, addressing a whole new set of engineering and aesthetic challenges. Never repeating yourself means that cars take time.
And deep pockets—budgets are agreed, but each Retropower project is costed by the hour, so final bills can be somewhat variable. Even the stuff that doesn't look too complex turns out to be DNA-deep remastering. Take the Suzuki SJ413 GTi build, for example. A reworked SJ with widened steel arches and the engine from a Suzuki Swift GTi—on individual throttle bodies, obviously—stuffed under the hood.
It's got around 125hp, but it apparently makes for a hot hatch experience in a completely inappropriate shell. And yes, the team messed with the suspension so that it doesn't just fire itself at the scenery at the first hint of a curve. You thought the little New Jimny was retro-fabulous? Just take a look at this thing.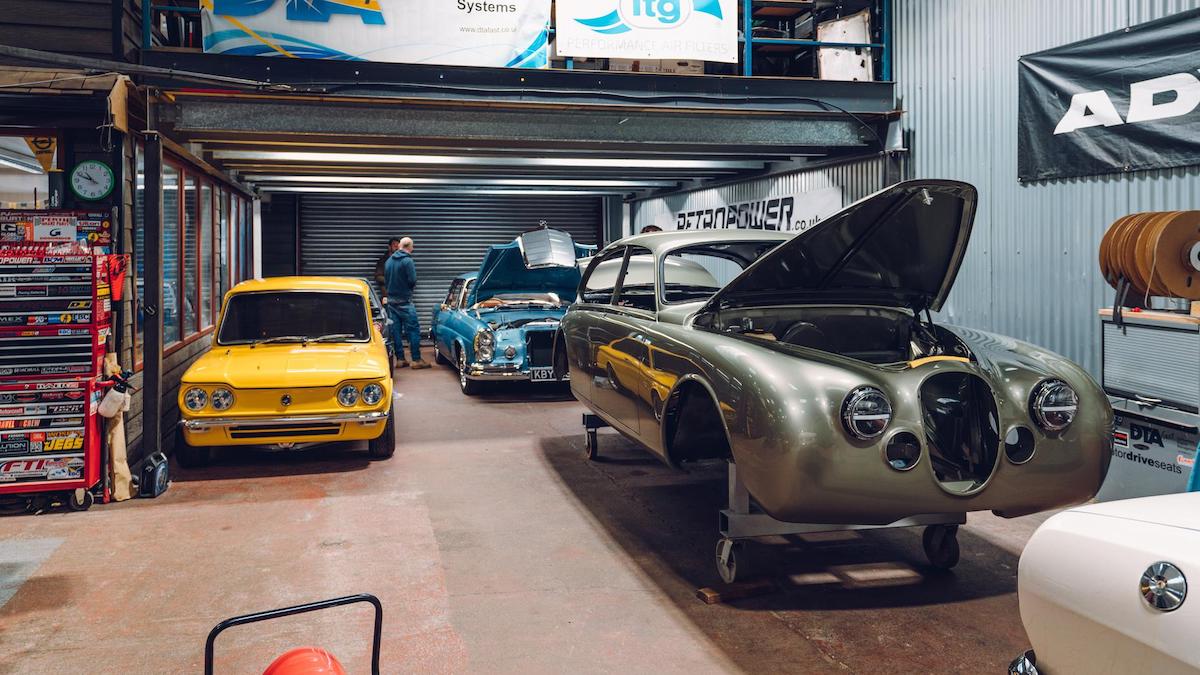 Then there's Project Utah, a 1966 MkII Jag (the name a nod to the car's original prototype designation, fact fans), a big-bodied classic that's been tweaked and smoothed with surgical precision. There are now wheel spats—which look, frankly, like they should have been there in the first place—and a 2JZ six-pot on Jenvey throttle bodies is due under the hood. And yes, you did read that right. Heresy or genius?
But that's the joy of this place. This is a group of people driven by passion rather than bottom lines, joy rather than margins. They could make more money by churning stuff out—but they don't. Retropower does what most of us only talk about—makes dreams reality. And it does it with a warmth and enthusiasm that has you desperately figuring out what car you'd present to Nat and Cal for their own unique twist. And it turns out Callum is right: For Retropower, 'bespoke' really is too small a word.
NOTE: This article first appeared on TopGear.com. Minor edits have been made.