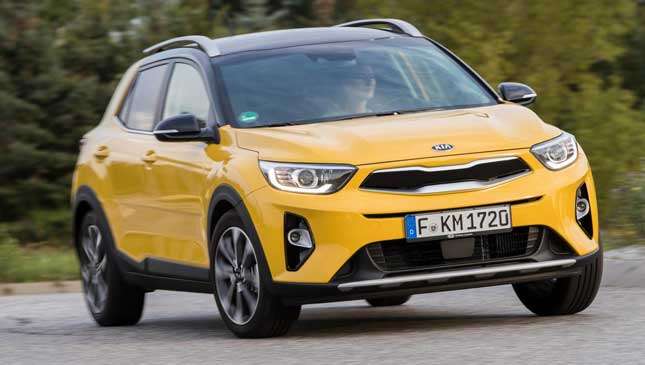 Overview
What is it?
What's a Stonic? Well, Kia says that it's a portmanteau word, meant to mix and match the vocal elements of speedy and tonic. Which sounds just a mite daft to these ears, but if Volkswagen can get away with combining Tiger and Iguana for Tiguan, well, anything goes.
Aside from the phonic jumble, a Stonic is Kia's new compact crossover, a rival to the Nissan Juke. It's easy to be a bit sniffy about cars from this class, mostly because they tend to be a bit style over substance; pricier than their supermini base and no better at family duties thanks to small rear seats and small trunks. Yet the so-called B-SUV market already accounts for 1.1 million sales across Europe, and it's expected to be the biggest segment of the car market by 2020.
Continue reading below ↓
Recommended Videos
The Stonic is based on the same platform and engines as the recently launched Kia Rio supermini, and while that means it wasn't at the front of the queue when they were handing out personality, at least from a mechanical point of view it has some provenance. In an attempt to give it some funky, urban character Kia has created a chunky, square-ish body for the Stonic.
It's a largely successful job, slightly reminiscent of a Skoda Yeti, making good use of Kia's family 'Tiger' grille and slim lights, with the bulk and height of the front end rather well disguised. The back is quite tidy too, with a neat detail in that the C-pillar seems to wrap over the back of the roof. That's more obvious when you have a contrasting roof color, but choose carefully as some color options (there's a particularly bright yellow) will look better in the brochure than on the street. White looks too plain, but there are nice metallic grey and red options.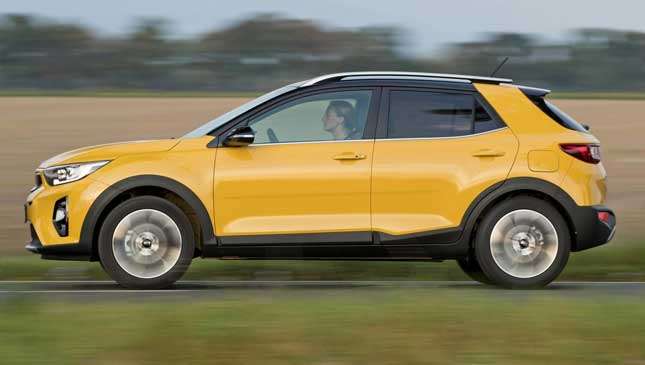 Driving
What is it like on the road?
The B-SUV segment is not one that's overflowing with driving talent. If we say that the Fiat 500X is among the best cars in the class to drive, you'll begin to understand what we mean. These cars are essentially superminis with stilts, and dynamic capability is generally a good way down the list of priorities compared to, say, styling, roof-rail fittings, or jazzy seat trim.
So if we say that the Stonic is one of the better small crossovers to drive, that may sound like damning with praise so faint you'd need an electron microscope to find it. To be fair to the Stonic, though, it's none too shabby. The steering, as it is in the Rio, is too light and too devoid of feel to actually have any fun, but around city streets, on the open road and the highway, the Stonic felt… fine.
Not exceptional, not especially engaging, but without serious vice, and with some quite good points. That light steering and the square-edged styling make it feel quite nimble through tight gaps and narrow twists, and while you do need the optional parking camera to help you see past that thick C-pillar, it's easy on the nerves in confined urban agility tests.
We would raise one potential question mark over ride quality. With the standard-fit 17-inch alloy wheels, the Stonic did feel a touch firm on its German launch, occasionally bouncy. It may be that it's a car that struggles to cope fluidly with bumps and lumps. But that would make it far from unique in its class—choosing stylish wheels can compromise comfort.
Of the engines, the 1.0-liter three-cylinder turbo gasoline engine is the undoubted star. It spools up quickly and smoothly, and has diesel-like economy and emissions figures. It's not the cheapest engine by any means (the basic, but rather underwhelming 100hp 1.4-liter gasoline fills that role), but it's the one that feels best suited to the Stonic, and vice-versa.
You could go for the torquey 1.6 CRDi diesel, but while that's refined at a steady cruise, it's noisy when you ask for extra go, and for the Stonic's in-town role, gasoline is surely the better option these days.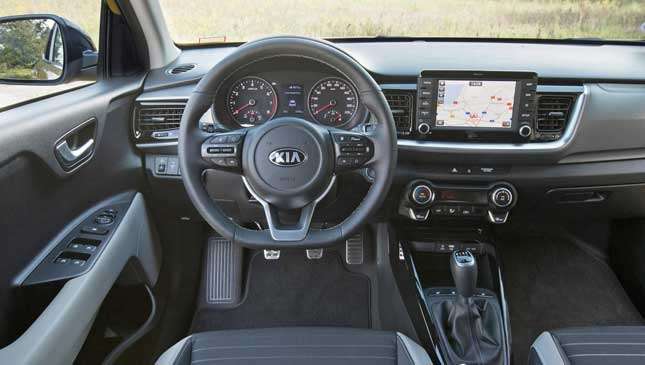 On the inside
Layout, finish and space
Seeing a bit of the Rio's interior in here? Hardly surprising, as the Stonic and Rio are as closely related as Kim and Kourtney. Probably easier to live with, though.
Anyway, the Stonic basically takes the Rio's cabin, adds a little height and some flannel-shirt ruggedness, and works pretty well thanks to that. It has decent front seats (comfy and supportive), clear instruments and everything seems reasonably well-bolted together. The materials used aren't that great though.
Almost every plastic panel feels hard and scratchy, while the exterior door handles feel flimsy, too. Space in the back seats will be adequate (just about) for kids up to and including tall teenagers, but adults will find things a bit cramped. As with almost every car in the class, the Stonic's trunk is just too small—352L is not enough for a family of four on a weekend away, but at least if you fold the back seats down, the 1,155L on offer should be enough for a weekend road trip. As with the dynamic setup, there's nothing much on the inside to be especially impressed by, but there are equally no glaring errors.
As is the Kia way, there's good standard equipment, including a neatly integrated seven-inch touchscreen (which comes with Apple CarPlay and Android Auto) with good, clear satnav. Air conditioning, parking sensors, and Bluetooth are standard across the range.
All the safety kit isn't, though. Stability control is standard, as is hill-start assist, but you have to upgrade from an entry '2' model to a First Edition if you want autonomous emergency braking, blind spot warning, or driver attention assist. First Edition models also get fake leather and contrast-color interior highlights, the worth of which is debatable.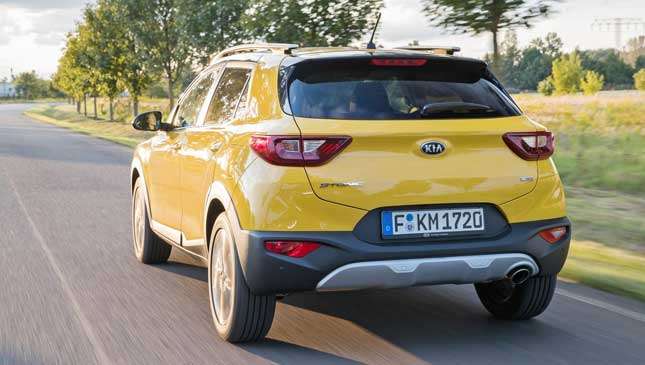 Verdict
Final thoughts and pick of the range
As far as the B-SUV segment goes, the Kia Stonic is a likeable addition. As we've become accustomed to, Kia has nailed the design element and it's a good-looking, if slightly generic, small crossover that manages to look quite different to the small hatchback upon which it's based. It's fine to drive and well-made (even if the cabin is just too cheap in places).
The problem, though, is the price tag. No matter where you look in the Stonic range, you are effectively paying a price premium for a Rio supermini that's wearing lift shoes. Doubtless, the Stonic is going to sell well, simply because any small SUV will sell well right now, and it's a decent car as far as it goes. There's better, for less money, just across Kia's showroom floor, though.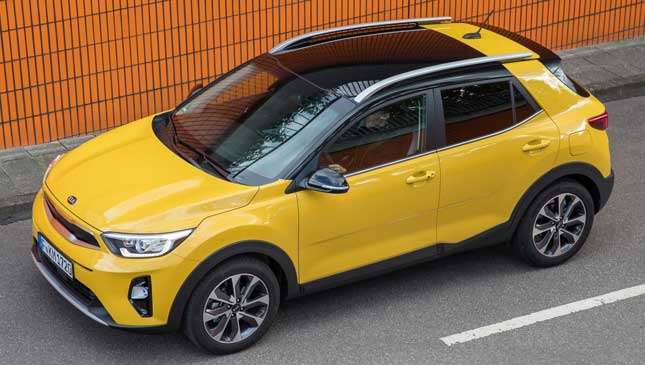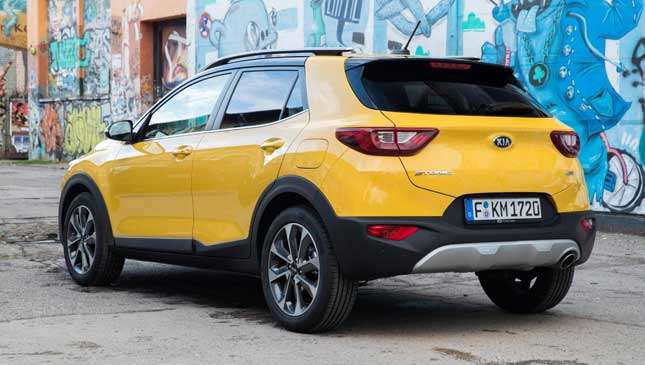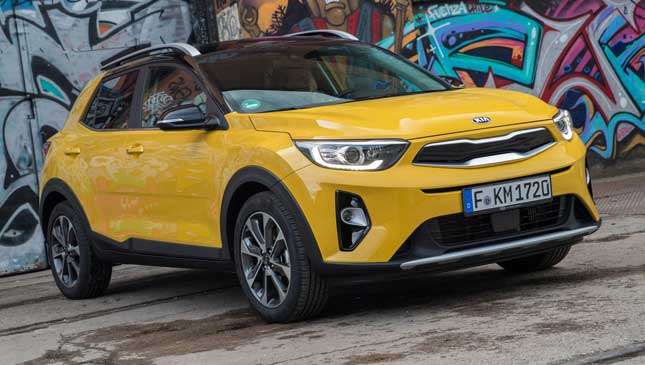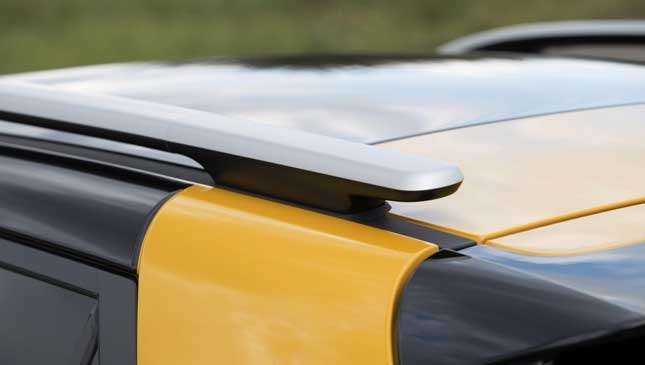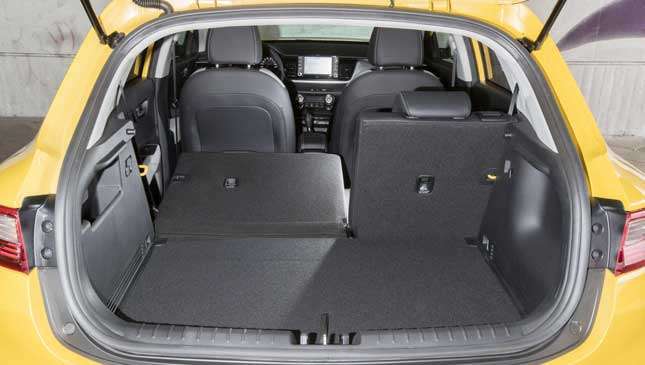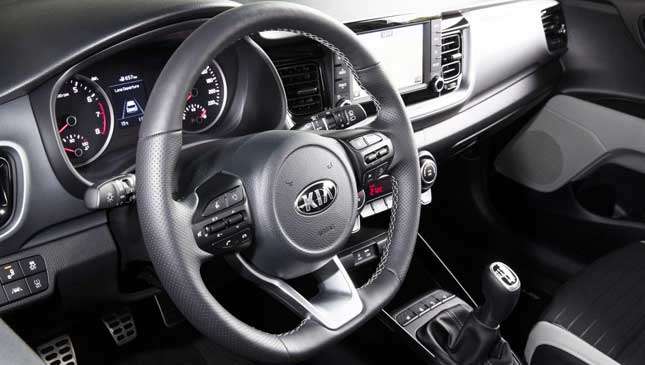 NOTE: This article first appeared on TopGear.com. Minor edits have been made.