Thanks to mobile apps like Waze, people no longer have to purchase a dedicated GPS navigation system for their cars. Instead, smartphones on either iOS, Android, Windows Mobile or Blackberry operating systems can use the built-in GPS system to turn their handset into a navigation device.
The problem with Waze, however, is that it requires online connection, which means you'll need a data plan in order to use it. And unless you're subscribed to the so-called unlimited plans--and particularly if you're a prepaid subscriber--you're bound to spend a lot of money.
With the Navitel app and its offline maps courtesy of local GPS system developer and manufacturer carNAVi, you can now use your smartphone as a GPS navigator without needing to turn on its data connection.
So, with Navitel currently being offered with a free 30-day trial, we just had to try it out for ourselves.
The interface of the Navitel app is much like the standard stand-alone GPS units that let you search the place you're driving to using different options--like what classification it falls under (food, shopping, etc.)--through its specific address or through its coordinates down to the latitude and longitude. Once you've selected the location, the app will then provide you with a route on the app telling you what road to take. The app also has an audio guide that lets you keep your eyes on the road while it tells you where to turn or how far it is before you need to change direction.
Continue reading below ↓
Recommended Videos
But we've noticed a few problems with the app.
On our daily drive to the office, we pass by a major road construction along V. Mapa Street in Santa Mesa, Manila, specifically between its intersection with Valenzuela Street and V. Mapa Extension in front of the Don Bosco School. With the road limited to Manila-bound traffic coming to Mandaluyong, the traffic going to Mandaluyong has to be rerouted past the Bacood Park and through Bataan and Lingayen Streets until you exit on 3rd Street just beside the Our Lady of Lourdes Hospital.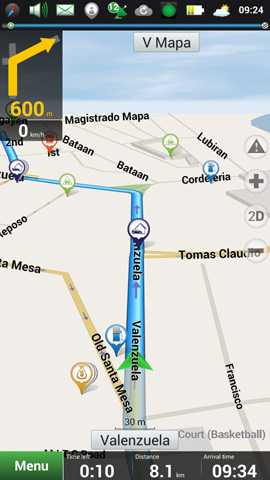 Since the route is part of our daily commute, we know the detour without having to consult a map or a GPS. If you're new to the area though, you might need to depend on the Navitel app. If that's the case, you'll be in trouble because the app will direct you to take the very road that is only open to Manila-bound traffic. That means you'll have to circle around back again, or take a totally different route. Since we're familiar with the area, we knew which alternate routes to take so we deviated from the commonly used detour, which the app suggested we take next. As the app attempted to recalculate for another route, it incessantly kept suggesting that we turn around and go back to its suggested route instead for the next 600m as we traversed Lubiran Street. It was only when we reached Bagumbayan Street did the app get back on track with another suggested route.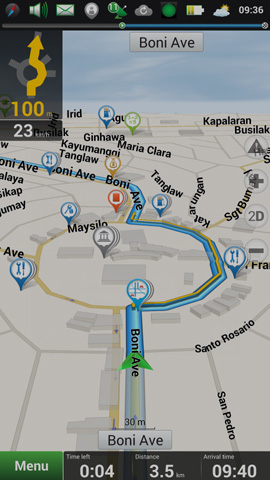 The Navitel app again functioned normally when we drove on Aglipay and then Boni Avenue until we reached the Maysilo Circle around the Mandaluyong City Hall. As in any roundabout in any left-hand-drive country, you'd normally merge right and go around it until you turned left onto the road you needed to take, which the app suggested we do. However, with the geniuses in local government creating what may probably be the world's first two-way roundabout, you're advised to merge left instead and go around until you reach the eastern arm of Boni Avenue, which you're then required to take because of the road and drainage work on the inner side of Maysilo Circle. From there all the way to the Summit Office, the Navitel app worked just fine.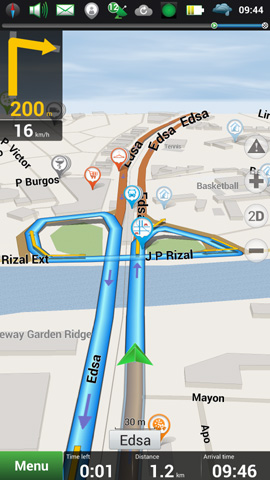 On its own, the Navitel app is good since it frees you from the traditional paper map, which means you can keep your hands on the steering wheel. The voice guidance feature is also a plus since it tells you exactly where to go, down to the distance of the intersection you need to make a turn at, so you can keep your eyes on the road.
However, you can't be too dependent on the app 100% since it's only as good as its most recent update, and it's no match against any road construction. The roadwork on V. Mapa has been going on since July, and it's not indicated on the carNAVi map--disappointing considering the app has been available since late August. Making this even troublesome is that, while the Navitel app promises "reliable offline navigation," it also says that it requires an Internet connection for "map updating...and other online services." Well, our smartphone is practically connected online 24/7, and we're now on the 14th day of the 30-day free trial, but we've yet to see the app discourage us from going against the traffic flow on V. Mapa.
We suggest you take advantage of the free 30-day trial offer just to see if this app works for you. If you're perfectly satisfied with it, you can get permanent access to the app's Philippine map for P1,100.