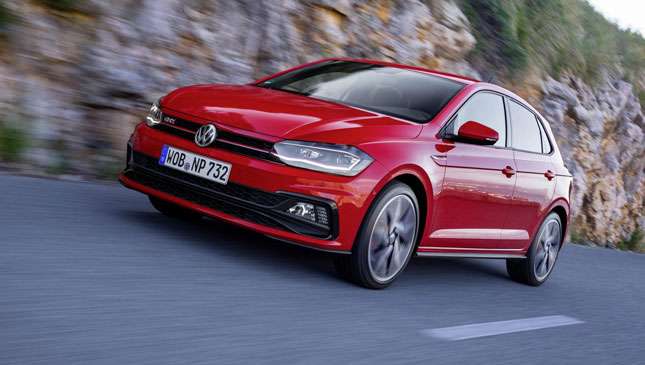 Yay, the fast one.
Oh yes. New Polo means new Polo GTI—and this is good news for many reasons. Chief among which is a man called Karsten Schebsdat, Volkswagen's Head of Chassis Engineering & Dynamics. He had a hand in the first Ford Focus, then he went to Porsche for a bit and did GT3s and much besides. Now he's at VW leading a team whose credits include the Golf GTI Clubsport S and Up GTI. Make no mistake, this is a man who knows how a car should handle.
ADVERTISEMENT - CONTINUE READING BELOW ↓
Give us the headlines.
First thing you notice is how much bigger it is. 'Cause it's based on the new MQB A0 platform, the new Polo is a chunky 7cm longer, 7cm wider and 2cm taller than the old one. Its proportions, stance, and aesthetic scream Golf. And so does the engine. It's the entirely familiar 2.0-liter turbo from the Golf GTI and Golf R et al. Here it makes a nice 197hp and 320Nm,, which is enough for 0-100kph in 6.7 seconds and 237kph. Fast enough, but those of you who've driven a fast Golf will feel short-changed. Feels a bit hamstrung—which of course, it is.
ADVERTISEMENT - CONTINUE READING BELOW ↓
Recommended Videos
At launch the only available gearbox is a six-speed DSG, but a manual will follow before long. This is excellent news.
Why's that?
Because the DSG has issues. Even locked in manual mode it'll still upshift (impressively swiftly, at that) for you. And if you coincidentally pull a paddle as it starts to swap cogs you get two gears instead of one, taking you, say, from second to fourth in a split-second and killing any momentum you might've built up. Annoying. As is the kick-down switch, which is super-easy to accidentally trigger when you put your foot down. Left to its own devices this is a decent gearbox—smooth and quick-shifting, if a little indecisive—but we'd hold-off for the manual. Karsten tells us it'll be 20kg lighter over the nose, too, which is nice.
ADVERTISEMENT - CONTINUE READING BELOW ↓
Message received.
Not to worry. Karsten's head is awash with numbers that prove the new Polo GTI is measurably better than the car it replaces. Factually, quantifiably, unarguably more capable than the old one. Because Germans love that kind of thing.
He tells us it has different front suspension knuckles to the regular Polo, that the steering is totally different and that the anti-roll bar bushes are 350(!)% stiffer. Front lateral stiffness is up by 55% over the old GTI, he says, and the bespoke twist-beam rear-axle is 60% stiffer. Roll angles are down 10% from its predecessor, he adds, as our eyes glaze over and we sink to the ground in a daze brought on by an unending barrage of unarguable German logic.
But 'measurable betterness' doesn't always equal more fun.
True. Two suspensions are available—a 15mm lower, stiffer conventionally-damped setup with revised springs, dampers and ARBs is standard, but you can order 'Sport Select' suspension which also gives two-mode switchable (not adaptive, they stress) damping. We tried the latter, and we're pleased to report it's really quite good.
ADVERTISEMENT - CONTINUE READING BELOW ↓
This is not as pointy, frenetic or playful a car as a (now old) Fiesta ST or 208 GTI by PS, but it is very capable indeed. Rides well in either of its modes (on smooth, Spanish roads anyway), changes direction with a real sense of poise and agility and steers faithfully, with a degree of feel and reasonable weighting. Grip is good, and because the chassis has been engineered for neutrality it resists understeer pretty well (unless you're driving like a tool). Body control is up there, too.
GTIs have never really been about balls-out fun as much as they have about everyday refinement and composure, and sure enough the Polo follows the familiar party line. It's not as much outright fun as either the Fiesta or 208, but certainly fun enough to please the kind of people who'll buy it. And of course, it's more comfortable/usable day-to-day than either of those two. It's not really fair to compare interiors or tech because those cars are a generation behind and soon to be replaced, but the Polo does well here nonetheless.
ADVERTISEMENT - CONTINUE READING BELOW ↓
Looks a bit boring…
From a distance you'd have no idea it was anything other than a regular Polo. Its body kit is a subtle one—the most obvious exterior enhancement are the big wheels. Inside it's as per the new Polo, bar the tartan upholstery. In all, very good, if a bit plain. But surely that's the point…
What?
Small hot hatches are traditionally young people's cars, but the Polo GTI is particularly adult. Which of course has always been its great success or crippling flaw, depending on which way you want to look at it. A 50-year-old would feel at home in one of these, when he/she probably wouldn't in a Fiesta or 208.
You could have a Polo over a Golf GTI and it would keep you just as happy for just as long, but there's an argument to be made that you may as well just buy the Golf, that you'd regret it if you didn't somehow find the extra money and buy the car everyone really lusts after. Or save your money and buy an Up GTI, which is juvenile, playful, and therefore entertaining in a way the Polo just isn't.
ADVERTISEMENT - CONTINUE READING BELOW ↓
In all, this is a reasonably fun (not-so) little car. It's earned our respect, because it's technically very capable. VW nailed the brief it created for itself; this is as good as a fast Polo has been in (my) living memory, and super close to the bigger Golf. But it's not entirely free from the reputation that's dogged it for generations—that it's simply too grown up for a hot hatch of this size.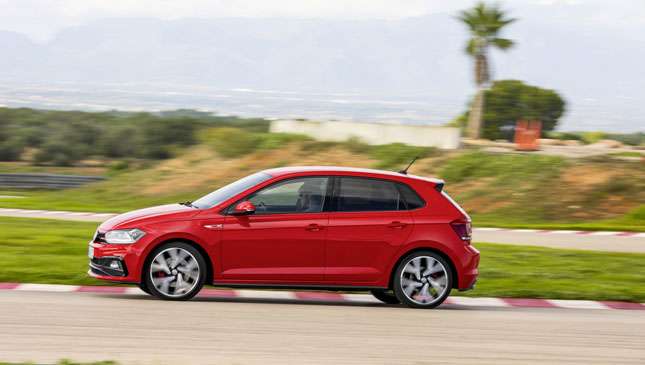 ADVERTISEMENT - CONTINUE READING BELOW ↓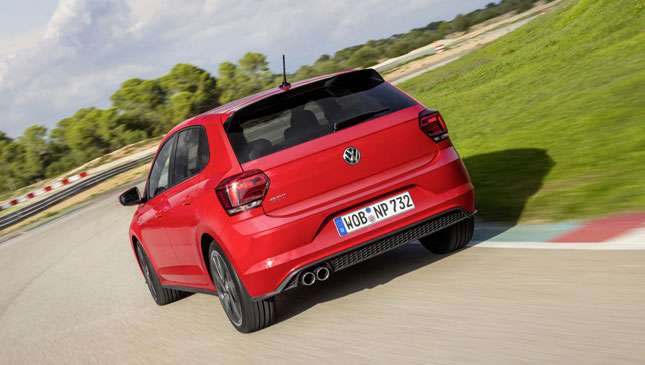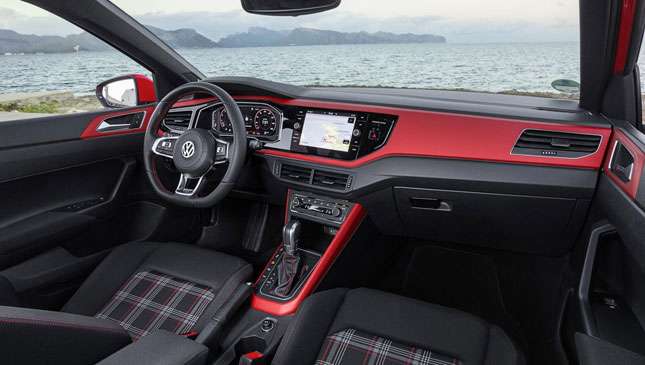 ADVERTISEMENT - CONTINUE READING BELOW ↓
NOTE: This article first appeared on TopGear.com. Minor edits have been made.