NKY 888. This alphanumeric combination is one I'd never forget, made memorable during what was supposed to be a routine ride home from University. This happened in a different semester than my previously-mentioned Social Science class—if you caught my earlier piece here.
My southbound route of Katipunan, JP Rizal, White Plains Avenue was mostly downhill, and usually uneventful. But not on this particular afternoon. A minor accident occupied the northbound lane, and motorists were trying to squeeze past in both directions. The car in front of me stopped to let incoming traffic through, and rather than ride past on the gutter, I decided to stop as well—I was never in a hurry to get home. Rolling to a stop, I straddled my bike on the right side of the road, then it happened.
NEED-TO-KNOW FOR CAR OWNERS:
Everything you need to get your LTO registration in order
Driving an unregistered vehicle? Here are the fines and penalties
ADVERTISEMENT - CONTINUE READING BELOW ↓
My bike lurched forward gently, with a soft metallic crunch. The force wasn't strong enough to knock me off the bike, but was still concerning. I glanced back to see my rear wheel, embedded into the front bumper of a Mitsubishi Lancer. Behind the wheel was a driver, staring at the accident across the street, instead of keeping her eyes on the road. She was blissfully unaware that her car had used my bike to stop. It was only when I called out to her that she realized what had happened. I motioned for her to wait as I extracted my bike from her car, my rear wheel looked more like a potato chip than anything else. I laid my bike gently on the ground by the side of the road, like an injured friend, and then turned my attention to the car. Or rather, to where the car was.
ADVERTISEMENT - CONTINUE READING BELOW ↓
ADVERTISEMENT - CONTINUE READING BELOW ↓
Recommended Videos
The red L-Type Lancer was already down the road, headed toward Temple Drive. I stared in shock and disbelief, and committed its license plate to memory. Those feelings turned into frustration and anger, as I surveyed the damage to my bike. The rear wheel was destroyed, but thankfully the frame and everything else (myself included) were intact. It was some sort of consolation, I guess.
I flagged a taxi to get home, and loaded my bike dejectedly in the trunk, its rear wheel sticking out in a tangle of spokes, rim, and rubber.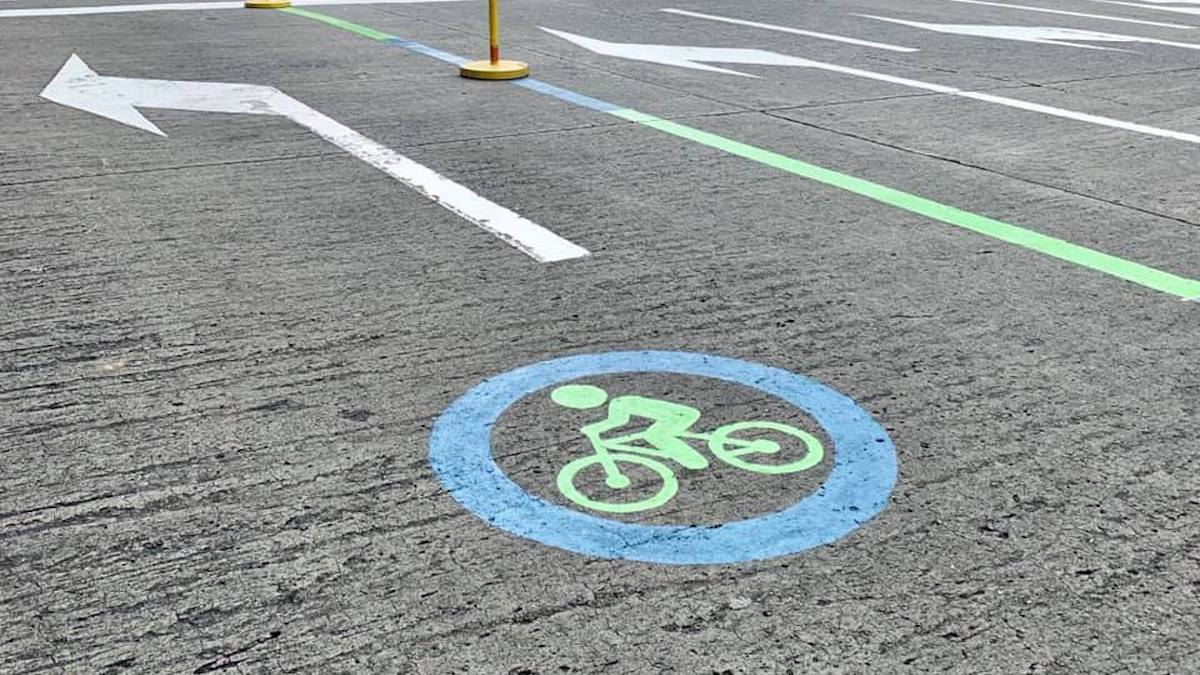 ADVERTISEMENT - CONTINUE READING BELOW ↓
A lot has changed in the almost 30 years since that afternoon—and that's just from a cycling and mobility standpoint. Various advocacy groups have been campaigning for safer roads, cleaner air, greener cities, and more bicycle lanes, with varying levels of success.
One highlight would be the sight of almost 10,000 cyclists taking over EDSA, during The Firefly Brigade's Tour Of The Fireflies—an annual ride to raise awareness on air quality and road safety—virtually turning the northbound lane of the thoroughfare into one giant bike lane. It was empowering to join those rides. For once, the bicycle ruled the streets, much to the chagrin of motorists stuck at affected intersections, blowing their horns in futility as wave upon wave of cyclists rode by. Ah, how I miss those days.
In terms of infrastructure development, it has mostly come in fits and starts. The patchy network of bicycle lanes along EDSA paled in comparison to what has been done in Marikina and Iloilo; seemingly random locations for bike parking; closures of certain roads for carless days.
ADVERTISEMENT - CONTINUE READING BELOW ↓
"Share The Road," has been a humble plea, rather than a battle cry, of many a bike commuter. It seemed cyclists were not recognized (literally and figuratively) as legitimate, fellow road users by motorists, and that we just add to an already stressful environment. If only they swapped their steering wheels for handlebars.
Some may have actually done so. Thanks to the pandemic, the resulting lockdowns and limitations to public transport capacity have turned cycling, a traditional leisure activity, into a necessity. The bicycle boom was real. Even when supply chains were disrupted (or stocks ran out), people fixed up old bikes, or bought pre-loved ones. LGUs and transport planners took action. Contiguous networks of bicycle lanes were established—a huge improvement from the earlier implementations along EDSA (which were actually on the sidewalk!).
We also have more places to park and secure our bikes, bike-sharing initiatives, and even bicycle repair stations now. Less vehicular traffic gave space for the bicycle movement to grow, and we cyclists finally had our share of the road, a semblance of infrastructure.
ADVERTISEMENT - CONTINUE READING BELOW ↓
But that is just the first step. Integration with the grand scheme of things is the crucial follow up, and should not be subject to the infamous Filipino 'puwede na' or 'ningas cogon' traits. For starters, all cyclists should learn how to ride safely, just as all drivers should learn how to drive safely. All road users should respect bike lanes (not to mention lane dividers, crosswalks, yellow boxes…the list goes on). I've had my fair share of being squeezed in by cars, overtaken by motorcycles, even encountering counterflowing cyclists—on the bike lane! Metal bollards, concrete barriers, or rubber strips would not be necessary if everybody knew what those lines on the road mean. If Filipino drivers can follow a four-way stop in Subic, why can't they do so every day, everywhere else? I still have faith that we can do so.
NEED-TO-KNOW FOR CAR OWNERS:
A, B, A1, B2: What do the new driver's license restriction codes mean?
How much do driver's license applications and renewals cost?
ADVERTISEMENT - CONTINUE READING BELOW ↓
I think we have more than enough road rules (which reminds me, I need to renew my driver's license this year), so I will dodge the enforcement debate for now. Instead, there should be a way to incentivize those who choose cycling, or alternate forms of mobility, to get around. Local bike shops and clubs are in the best position to provide those—starting with riding clinics, or free coffee when a member reaches a commuting mileage milestone. Weekend coffee rides are actually a thing, the human-powered equivalent to the Sunday drives of sports car or motorcycle clubs. Pro tip: if you're craving for a nice cup of coffee, and you find yourself in BGC or in Makati, follow those cyclists!
As with any system, there has to be a feedback loop. We need to learn from successes and failures, and make the necessary improvements. Our return to what feels like normalcy has brought back challenges both new and familiar. Motorized traffic is slowly reclaiming the streets. Fuel prices are fluctuating like cryptocurrency. Number coding schemes are being revised. All these have made the bicycle—and other "green" forms of transportation—more relevant and important.
ADVERTISEMENT - CONTINUE READING BELOW ↓
I think we're headed in the right direction, as long as we all keep our eyes on the road.
Author's footnote: With the help of some LTO connections, I was able to find the registered address of "NKY 888", but decided against doing anything about it.
Top Gear Philippines is now on Quento! Click here to download the app and enjoy more articles and videos from Top Gear Philippines and your favorite websites.