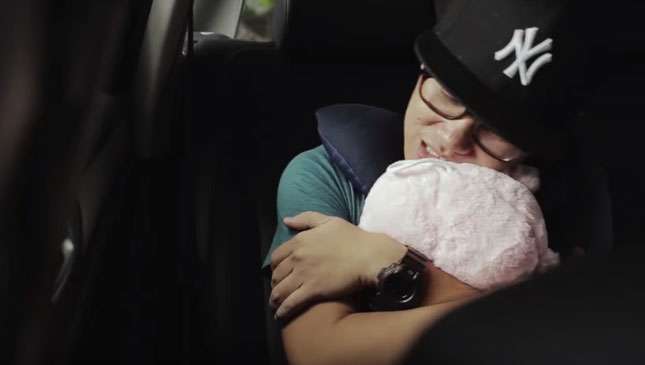 Come on, admit it. We've all dozed off in the back seat before on a long road trip. It's okay. In fact, we're actually going to share with you five tips on how to maximize your in-car slumber. Just be sure that you're not the designated co-driver riding shotgun. Your job is to help the driver, not count sheep. So, without further ado:
1) Bring the right sleeping gear. Everyone has their own preferences and quirks to help them sleep at night, whether it's the way you arrange your pillows or how you leave your left foot uncovered by your blanket. Bringing along a pillow, blanket, earplugs, and your teddy bear helps you mimic those conditions as much as possible.
Continue reading below ↓
Recommended Videos
2) Find a comfy spot. All that sleeping gear won't amount to much if you're not comfortable in the first place. The perfect spot to nap will differ from car to car, so choose wisely before you set off. Take note if the car has dark tint or not, because the intensity of the sunlight will also affect where you sit.
3) Stay hydrated. It's hard to sleep well when your stomach is growling or your tongue is bone-dry from thirst. Having some snacks and water in the car won't just satisfy your cravings, but they'll also ensure that you'll go to sleep with a smile.
4) Empty thy body. Have you ever laid in bed at night, wondering if it's worth getting up to go to the bathroom? It's one thing to do it when you're at home, but the stakes are much higher when you don't know how far away the next restroom is. Before you set off and at each rest stop, make sure you relieve yourself in whatever ways you need to. It's pretty hard to sleep when you're holding something in.
5) Pretend you don't know how to drive. If you want to continue snoring all the way to your destination, then this one is key. By feigning helplessness, you delegate all the driving to someone else. If you really need to convince them, act as if the mere sight of the steering wheel sends shivers down your spine. But if the others catch on to your act, don't expect them to be too happy about it. You'll still be sleeping during your next road trip, but in a bus this time.