More often than not, simplicity is the way to go. There's a certain appeal to uncomplicated colors, especially when done right. No unnecessary textures, finishes, or shines--just a nice, solid color.

Apart from its different finishes and glosses, Anzahl also features a Solid Color collection, its most basic foundation for color combinations.

If you're going for a basic shade that's easy to manage, Anzahl's Solid Colors are available in 35 ready-mixed hues. You could also mix these solids to come up with a truly unique color composite.

Create a bluish green by mixing a hint of Anzahl Threne Blue to Anzahl Sun Green, or combine the right mixture of Anzahl Sun Green and Anzahl Sun Yellow to create an apple green hue. One might also choose to tone it down by mixing Anzahl White or turn it up by mixing Anzahl Metallic Silver.

Anzahl's collection of Solid Colors is formulated with a special two-component polyurethane system, from primer, basecoat color and topcoat clear. This makes every color yield a professional finish of lasting quality. All in all, the Anzahl Solid Color series truly sets a perfect tone for expressive auto enthusiasts.

Check out the available colors to see your options: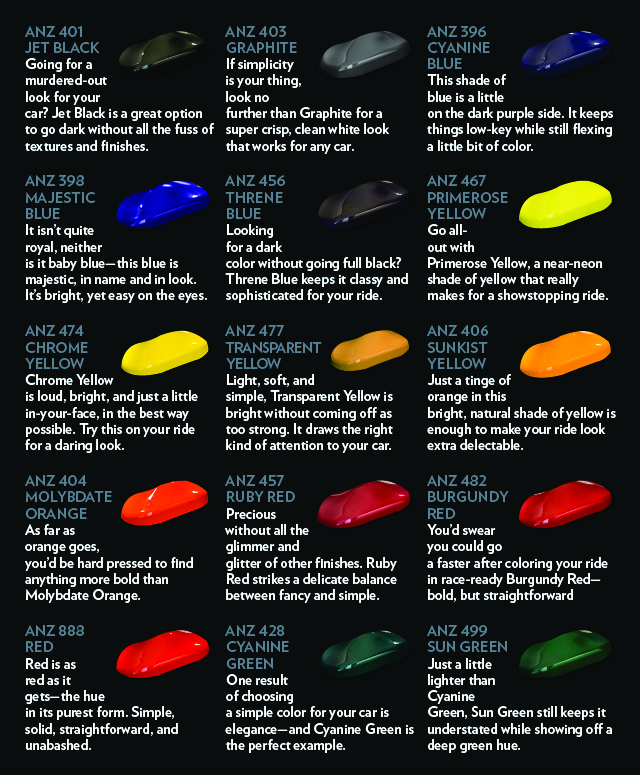 To know more about the Anzahl Solid Color Collection, visit Anzahl's Facebook page.
More From