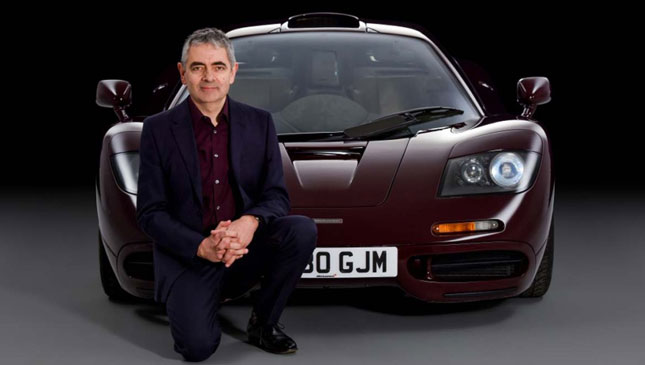 If you're a couch potato, chances are you're familiar with Mr. Bean. You know, that dude who makes the world laugh by acting like a big kid and isn't one bit shy about it. That character, of course, is comic actor Rowan Atkinson--a huge star in his native United Kingdom.
But while he may look funny and amusing driving around in a colorful classic Mini as Mr. Bean, you might be surprised to find out that this man is a serious car aficionado. He was, until recently, the proud owner of one of the world's coolest supercars of all time: the McLaren F1. And he decided that it was time to sell.
While most cars may lose value after being in use for a good number of years, Atkinson's McLaren is different. He took delivery of the F1 in 1997 for £540,000. He then proceeded to put in roughly 64,300km. Apart from the relatively low mileage (considering it's 18 years old), the car gained notoriety for having crashed twice. One of the noteworthy incidents was in 2011, when it crashed into a hedge in Oxfordshire. It made headlines as the repair bill allegedly cost £910,000--supposedly the largest-ever automotive repair bill in history.
So how much did Atkinson ask for one of the rarest and most sought-after cars on earth (and which he crashed twice)? A whopping £8 million (P561.5 million)! With the help of respected car dealer Taylor & Crawley, there was a lot of interest in the car. While reports refuse to reveal the exact sum the car ultimately sold for, sources say that everyone, including Atkinson, was happy with the sale.
And the lucky (or unlucky, depending on how you look at it) bloke who bought it is a Briton who must surely be ecstatic with the acquisition. Imagine owning one of the most coveted supercars of the past 45 years that packs an earth-pulling 627hp. This record-shattering figure allows the car to blast from 0 to 100kph in just 3.2 seconds, and hit a top speed of 388kph. And this is a car built in the '90s, mind you.
As for Rowan Atkinson, he must be smiling all the way to the bank as the amount is still way up there with vintage '60s Ferraris--the only cars on record that cost more.
Photos by Tim Scott