We're all trying to make the most out of our time and be productive while we're locked up during quarantine, making do with the books, gadgets, and useful materials we have at home.
For others, though, being productive may not be as easy. Take photographers, for example—it's not that easy to create content when there's basically nothing and nowhere for you to shoot. Automotive photographers, in particular, would just run out of material given how everyone's forced to stay indoors these days. Without cars, there won't be any photos. Trust us, we at Top Gear PH would know.
Then again, shooting real cars isn't the only option you have—if you have some die-cast and scale-model cars at home, you can try having a go with those. You might even end up with some amazing results, just like the photos of the scale model Lamborghini you see above. Believe it or not, that's a shot of a tiny Huracan on a treadmill.
The photos were taken by Kunal Kelkar, a professional automotive photographer based in India, for his photoset entitled 'The Art of Racing in the Rain'—yes, that movie. Kunal told us that he was supposed to be in Europe for a number of shoots throughout April, and that included one with Lamborghini in Italy. Unfortunately, in light of the COVID-19 pandemic in both Italy and India, none of his scheduled shoots for the entire month pushed through. In fact, shooting cars out on the streets was off the table altogether.
ADVERTISEMENT - CONTINUE READING BELOW ↓
"My mind was constantly going on and on about the fact that I would have been photographing a Lamborghini in Tuscany, and I think that's what inspired me to try and do something creative with the 1:18-scale Lamborghini Huracan replica," Kunal said.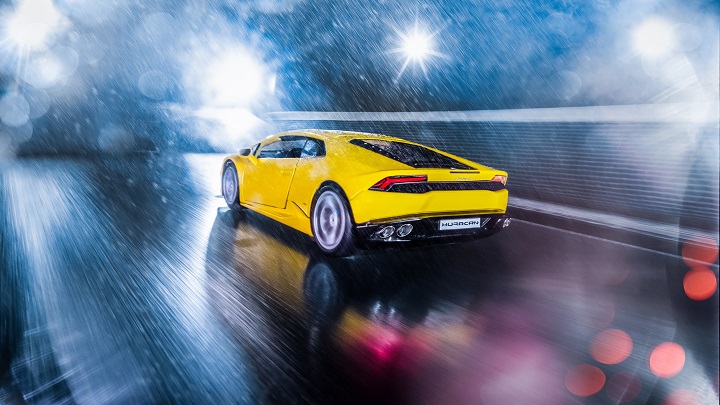 The idea came to him when he realized that the belt of his treadmill at home looked very similar to a road in motion, which he said anyone who takes tracking shots regularly would be familiar with. He figured he could place a small car on the treadmill and take photos of it that look like the real thing—and that's exactly what he achieved.
Kunal was kind enough to send us some behind-the-scenes images of his shoot, and there you can see his interesting setup. He used a simple spray bottle to create the rain effect in the images, and the results are nothing short of what he had hoped for—anyone can easily mistake the Lambo in the photos for the real thing.
ADVERTISEMENT - CONTINUE READING BELOW ↓
Recommended Videos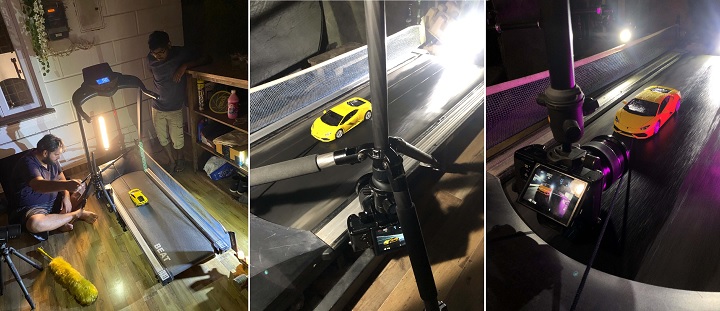 Kunal told us that while he has worked with a lot of European carmakers in the past, this was his first try at shooting a scale model. He said that he will try shooting more scale models in the future, as he sees this as a good way to experiment with lighting setups that could help when photographing real cars.
"The lockdown really made me think that although I may be an automotive photographer, I am at the core of it a photographer. Instead of just waiting to get out there to shoot cars again, why not expend some creativity—especially in terms of using limited elements—to come up with something cool? I urge other photographers to use this time to channel their energies and explore different aspects of their creativity," added Kunal.
What do you think of Kunal's output? You can see more of his photos below. If you liked these, you should check out Anthony Schmidt's portfolio, too. Thank us later.
ADVERTISEMENT - CONTINUE READING BELOW ↓