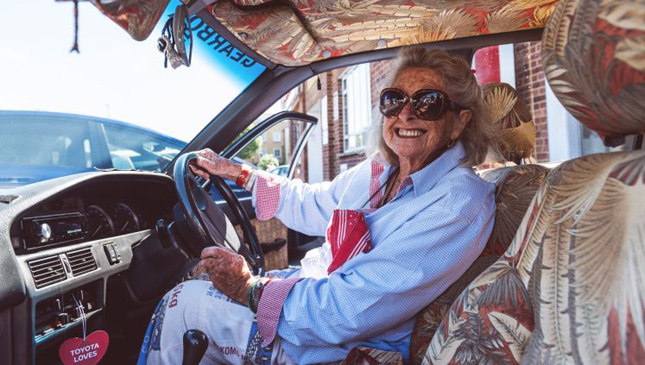 Eight decades old. That's how old Julia Albu was on July 17, 2017, when she embarked on 12,000-kilometer road trip from her home in Cape Town, South Africa, to her daughter's place in London, England.
Without taking into account Julia's senior age, the length of the journey alone is already an achievement—and it's one which only the most dedicated of drivers can lay claim to. But just as equally-impressive is the car she accomplished this feat in: A 1997 AE96 Toyota Corolla named Tracy.
ADVERTISEMENT - CONTINUE READING BELOW ↓
"Well, I was listening to a talk show on the radio in my kitchen at home and the host was remarking about how much a well-known public figure had spent on cars for his wives. I was incensed about this expense and thought it was ridiculous," Julia says, explaining her motivation. "So in the spur of the moment I called the station and told them zthat I was 80 years old and that my Toyota was 20 years old. We're a combined age of 100 and we're both 100%—so much so that I'm going to drive it to London to see my daughter.
ADVERTISEMENT - CONTINUE READING BELOW ↓
Recommended Videos
"My partner of 33 years had recently died, I was broke and I couldn't knit. But I thought that if I could research how to do it and team up with my favorite charity, I might be able to do some good for the world."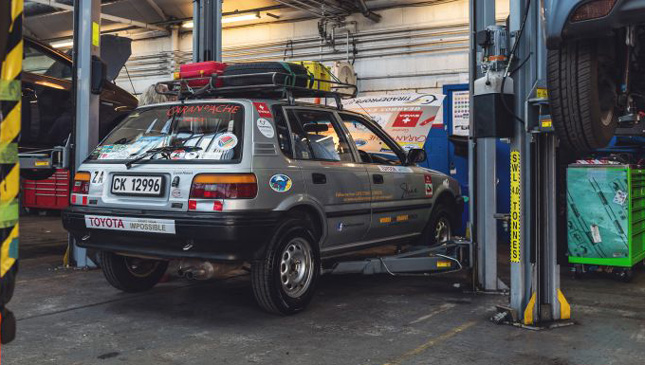 ADVERTISEMENT - CONTINUE READING BELOW ↓
Spur of the moment might be a major understatement, we think. But as determined as she was, some preparations were still in order. Tracy's suspension was lifted to give her some extra ground clearance, tires were replaced with bigger ones, and her interior was spruced up a bit. Other than this, Julia's Toyota remained stock—something very important to her. After Tracy's servicing, she set off.
During one part of her trip, she had to drive back 10 hours between Kenya and Ethiopia because she didn't have enough paperwork to cross the border between the two countries. "Fortunately, I've been very laid back about the whole trip and promised myself never to be in a rush to finish the journey.
"Another huge challenge was the fact that I had no money. But I met some very wonderful, hospitable people via my blog who offered to put me up along the way, and they were always fascinated to hear about Tracy," she added.
ADVERTISEMENT - CONTINUE READING BELOW ↓
Her voyage also took her through some pretty unforgiving terrain--including the Sahara, which Julia had to overcome without a guide to reach her destination. "My guide didn't have a passport, so I was forced to drive from the Ethiopian border all the way to Khartoum on my own," she said, describing the ordeal. "But I had my radio blaring and I was singing along and didn't experience any problems. I didn't speak the language, of course, but the Sudanese people were always very kind in pointing me in the right direction."
ADVERTISEMENT - CONTINUE READING BELOW ↓
Ultimately, Julia says, her trip wasn't highlighted by any of the scenic locales she passed through, but by the individuals and communities she met along the way. "I remember just one time I saw a group of women walking along the side of the road in Ethiopia. They all had this most amazing halo of plaited black hair on their heads. So I stopped the car to say hello and to distribute some chocolate biscuits and a handful of the 2,000 pens I had been given by the literacy charity.
"I took some photographs of us and one of the ladies showed her appreciation for my gifts by opening this kind of pocket around her waist to share her meal with me. I've no idea what it was we ate, and it certainly didn't look very appetizing, but it was so kind of her to show such hospitality to a stranger. After sharing lots of hugs and kisses, we parted as friends. There were so many experiences like that," Julia said.
ADVERTISEMENT - CONTINUE READING BELOW ↓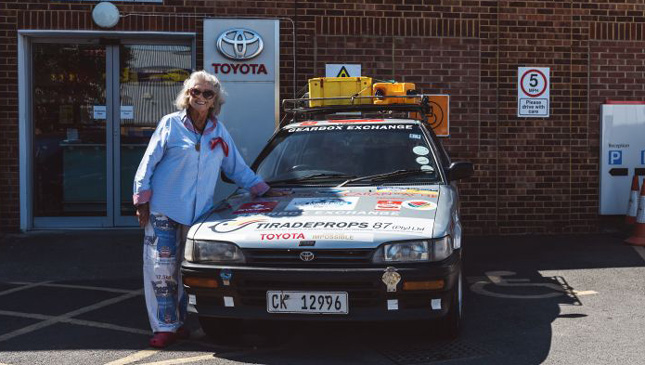 As for Tracy, well, Julia says she handled herself pretty well over the course of 12,000km. "Like a dream," she said, describing her Toyota's performance. "Let me tell you something: I think Tracy is the best car on the road. I've looked at what people use to drive through Africa—I've met and talked to them all now—and I wouldn't swap my Toyota for anything else. I never had a breakdown or a flat tire or anything."
ADVERTISEMENT - CONTINUE READING BELOW ↓
What's next for Julia and Tracy? For starters, they're going to make the drive back to South Africa. Asked if there's any part of her that would rather take a flight back home, Julia says no.
"Driving is the best way to see a country; you waste such a lot of time at an airport. My preference is to meet, greet and eat with other people. When you drive you can take your time, smell the smells, and enjoy being with others. That's what I've really enjoyed and that's what makes me want to drive Tracy all the way back home again."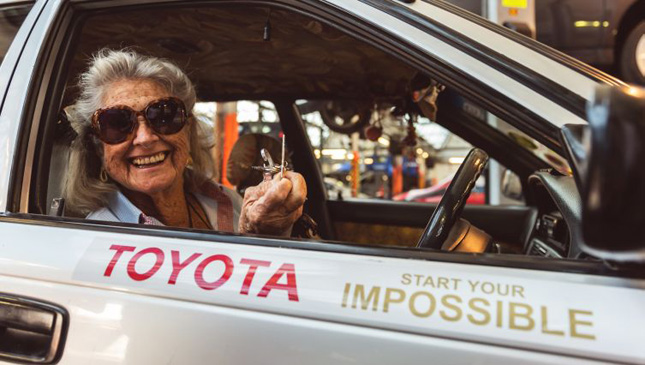 ADVERTISEMENT - CONTINUE READING BELOW ↓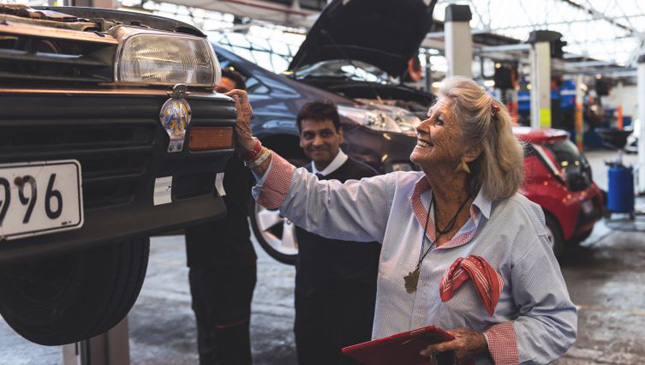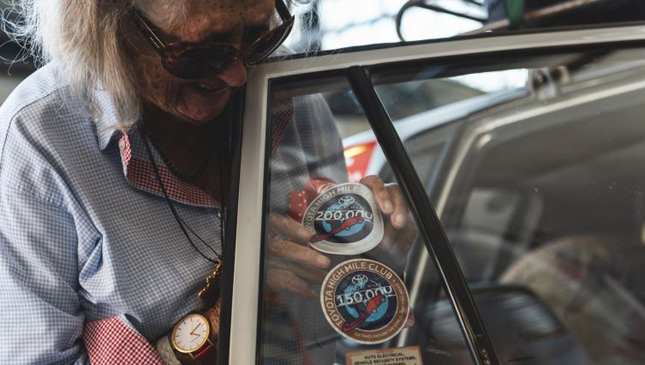 ADVERTISEMENT - CONTINUE READING BELOW ↓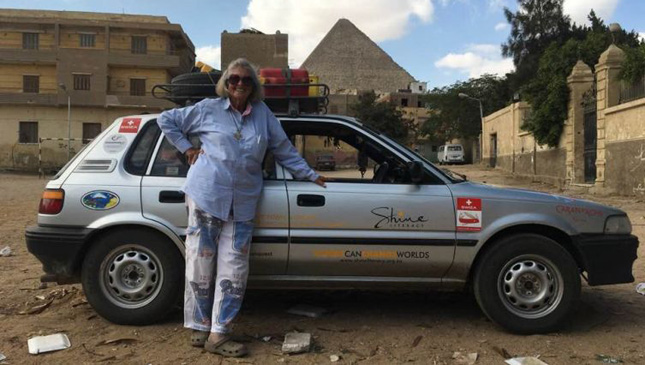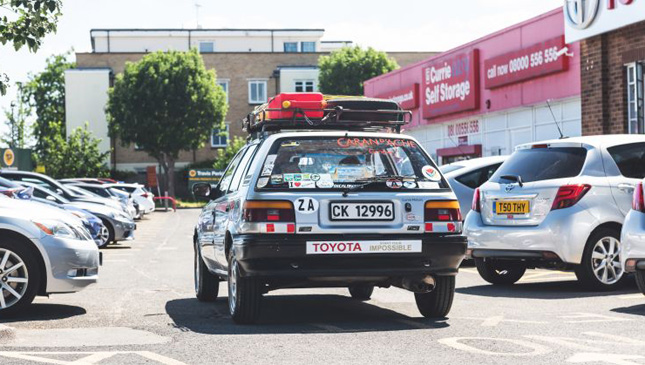 ADVERTISEMENT - CONTINUE READING BELOW ↓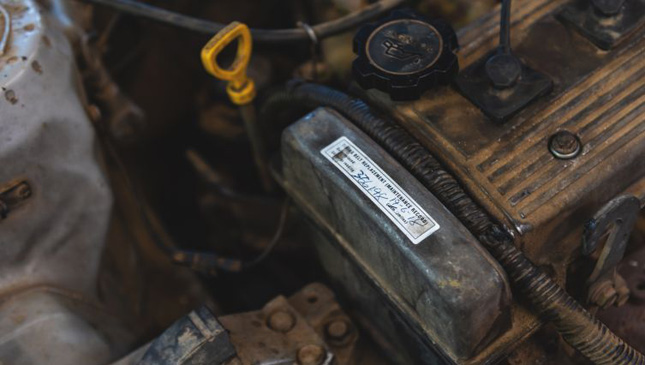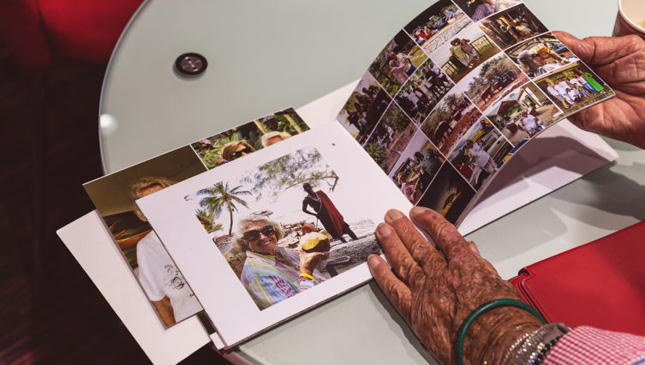 ADVERTISEMENT - CONTINUE READING BELOW ↓