1) Gibson/Pontiac Firebird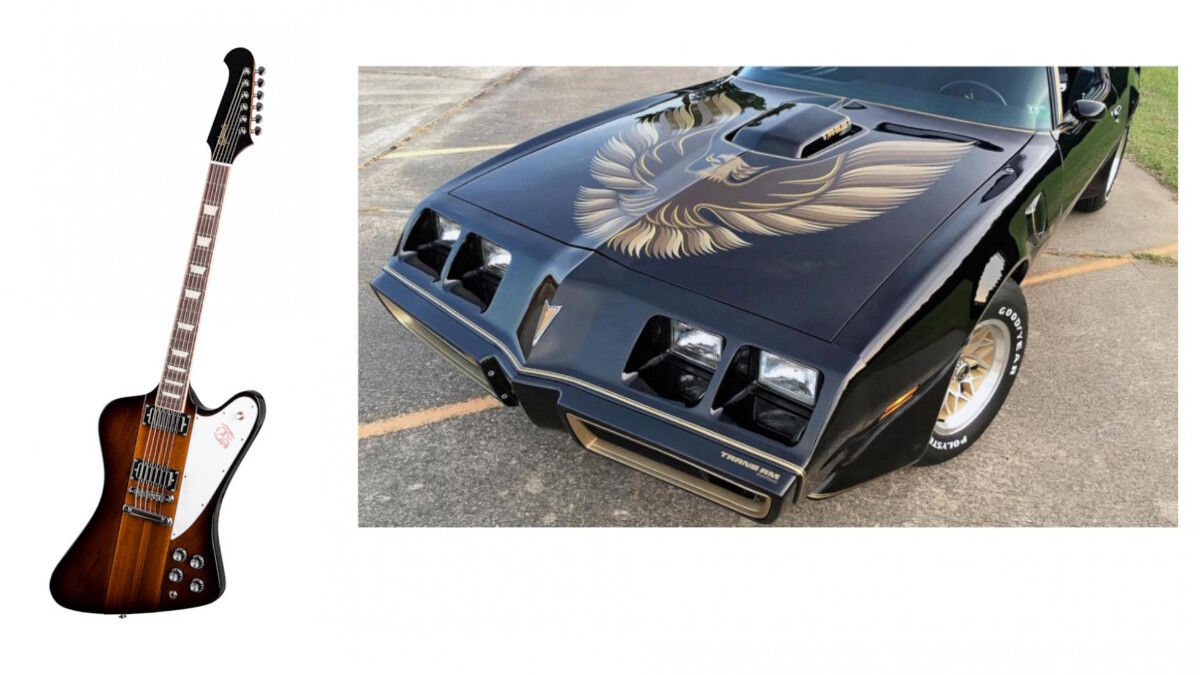 Between the two big players in the electric guitar business—Gibson and Fender, in case you were curious—there's a fairly simple rule: For thick, heavy guitars with high-output roar, go Gibson. For sharper bite and sculpted offset bodies, go Fender. But then there's the Gibson Firebird, which is the most Fenderish Gibson we can name. And also (don't hurt us) the coolest. Its neck-through construction, reverse headstock, and mini humbuckers is why the Firebird V is just behind the Fender Jazzmaster on our 'Why, God, do we not own one?' list.
Oh, and it just happens to be designed by Ray Dietrich, a...car designer. And it came out before the Pontiac Firebird. Ahead of its time in so many ways.
2) Fender Jaguar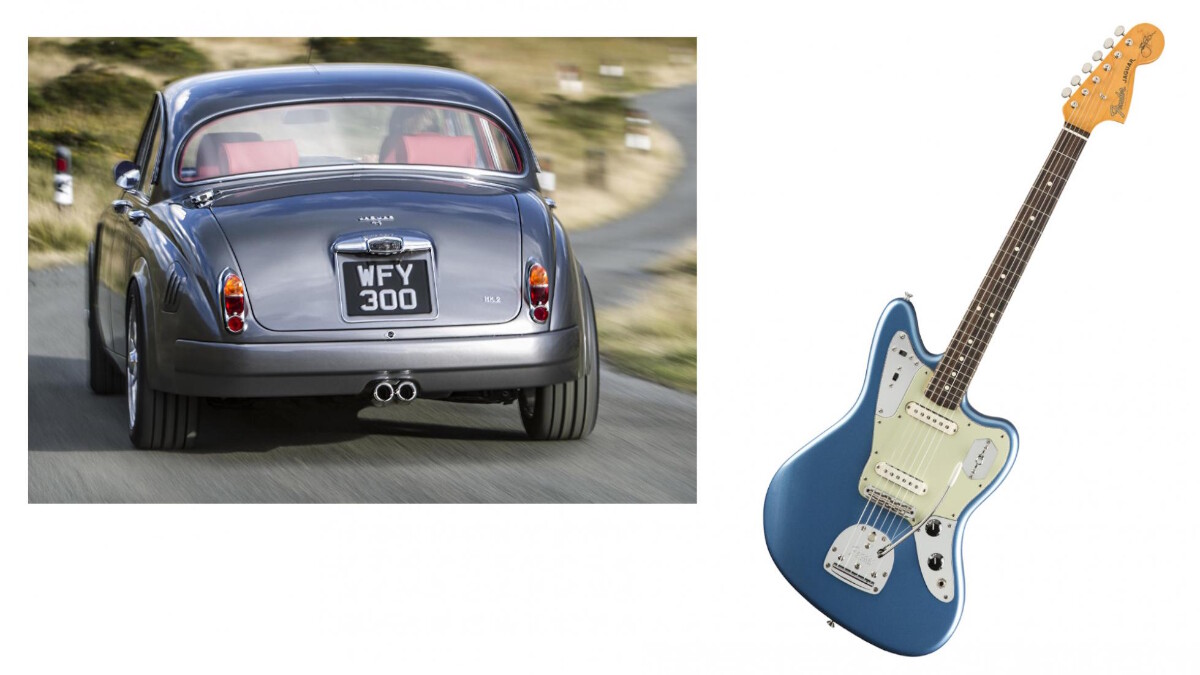 ADVERTISEMENT - CONTINUE READING BELOW ↓
Ever heard of 'gear acquisition syndrome'? It affects all guitarists, from the bedroom hobbyists to Joe Bonamassa. Seriously. Heaven for us is free rein through his stock of Fender Tweeds. But we digress.
Gear acquisition syndrome happens when you spot a new guitar/amp/pedal and realize your life won't be complete without one. That's what happened to us, anyway, and we overpaid like you wouldn't believe for a Daphne Blue 2002 Fender Jaguar with a matching headstock.
Now, if only we'd had the presence of mind to direct that acquisition syndrome toward an old Jag Mark II 3.8 back when they were cheap.
3) Mercury/Fender Marauder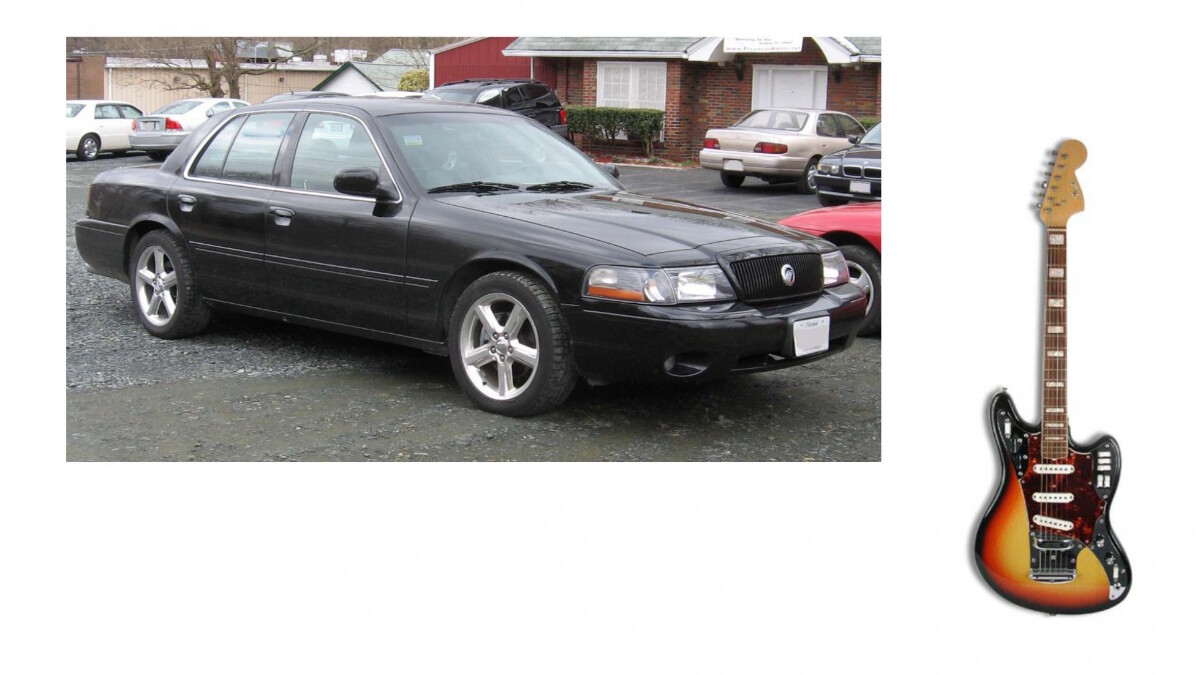 Okay, this is just a damn cool name. Say what you will about the switch-fest that was the original Fender Marauder, but we just want the ability to say we own one. And those switches weren't just for one-upmanship on Gibson—or the already feature-laden Jazzmaster and Jaguar guitars—they were going to offer more control from the guitar body than any guitar before. And most since, now we think of it.
ADVERTISEMENT - CONTINUE READING BELOW ↓
Recommended Videos
Yes, we did say 'going to.' That's because Leo Fender sold the business before the Marauder went past prototype stage and new owner CBS clearly wasn't keen on such a complex design.
The 2002 Mercury Marauder, on the other hand, is basically a Ford Crown Victoria that went to prison for a little while and came out lean, jacked-up, and particularly angry. Needless to say, we want one of those, too.
4) Gibson/Ford Thunderbird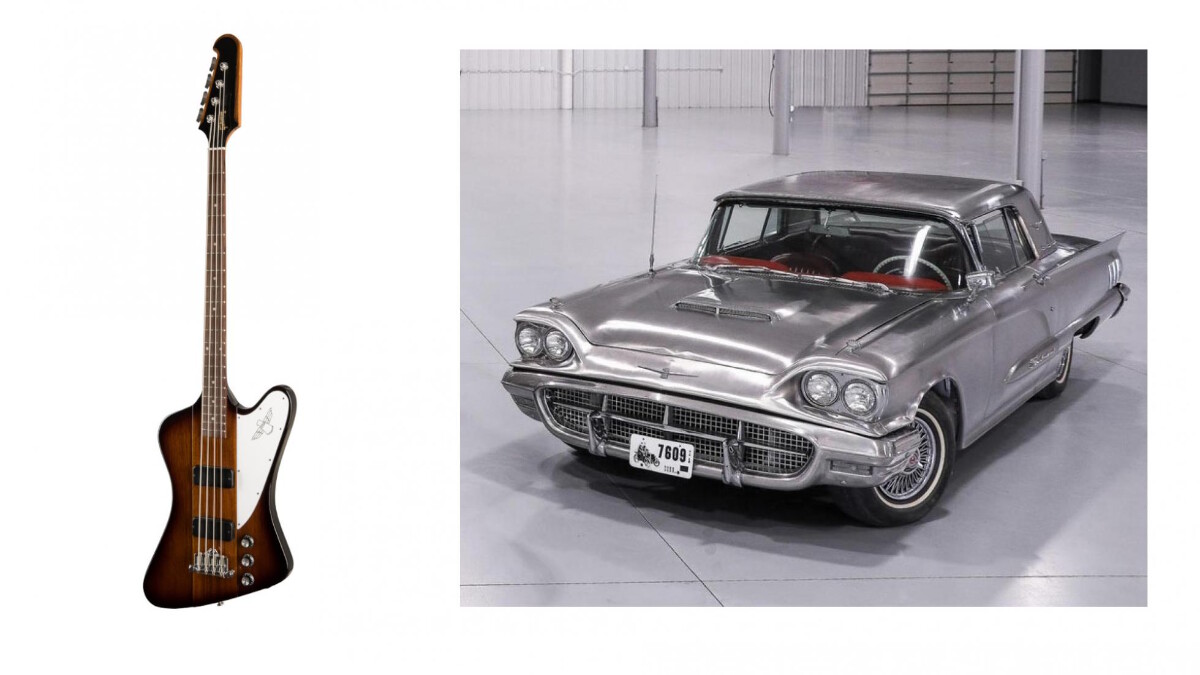 Is it against the rules to include a bass? We think not, because they're awesome, as evidenced by Geddy Lee, Les Claypool, Thundercat, Cliff Burton, Bootsy Collins, John Entwistle, and the 50 or so we didn't name because we're trying to be something approaching brief. Also, it's called a bass guitar. Come on.
As you can see, it's basically a Gibson Firebird, just with four big strings instead of six smaller ones. Fine, there are a bunch of other differences, but we're trying to talk about musical instruments on a car website and we don't want to lose anyone, so we're keeping things as simple as possible.
ADVERTISEMENT - CONTINUE READING BELOW ↓
The Ford T-Bird needs no introduction. As Ford's top-tier, grand-touring luxury car, it was so spacious and luxurious that Ford's high-end sub-brand Lincoln used it as the basis for its Continental personal luxury car.
5) Fender/Ford Mustang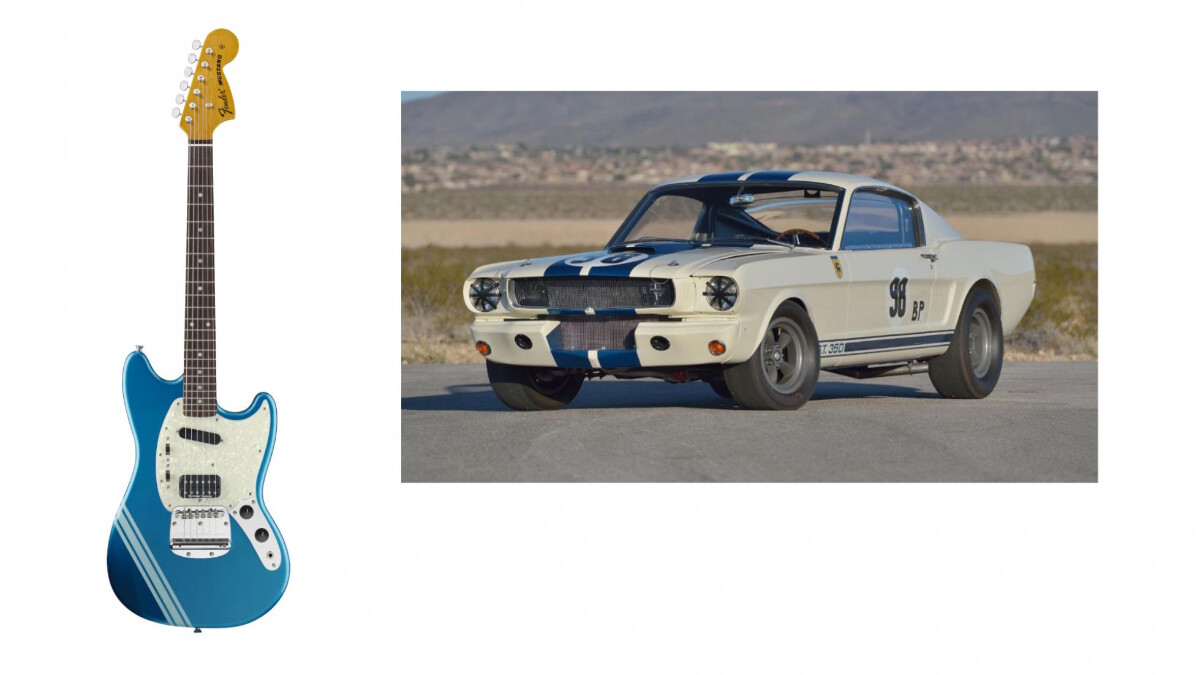 Here's a coincidence for you lot—Ford introduced its Mustang in April 1964, which used fairly humdrum Falcon parts to create an ultra-desirable, era-defining car. And in August 1964, Fender introduced its Mustang, which built on the base of fairly humdrum student guitars to create a small-size sonic wonder.
Is it interesting that Fender had definitely already planned to call its guitar the same thing as an epoch-shifting Ford product that coined the pony-car category? We certainly think so. 
6) Framus/Lamborghini Diablo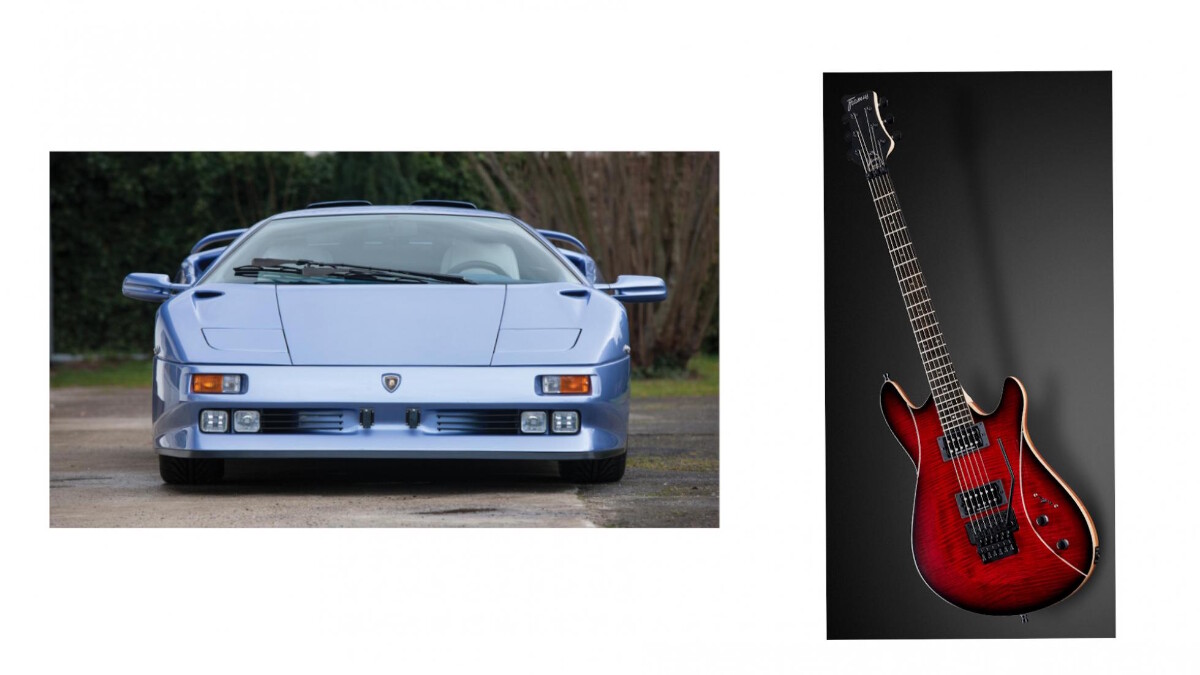 You may not have heard of Framus, but we're betting you've heard of the other Diablo. Yes, naming your latest creation after Beelzebub seems to be pretty popular, whether you're a builder of Italian supercars or German guitars.
The Diablo is probably where most of us came in with our adoration for Lamborghini, blending an increasingly savage V12 that could trace its roots back to the Miura with all-wheel drive and...pop-up headlights. Man, we miss the good old days.
Similarly, the Framus Diablo looks to be designed purely for '80s hair-metal shredding, but we're sure you could use it for other types of music. You could also use a sledgehammer as a fly swat.
7) DeSoto/Fender Coronado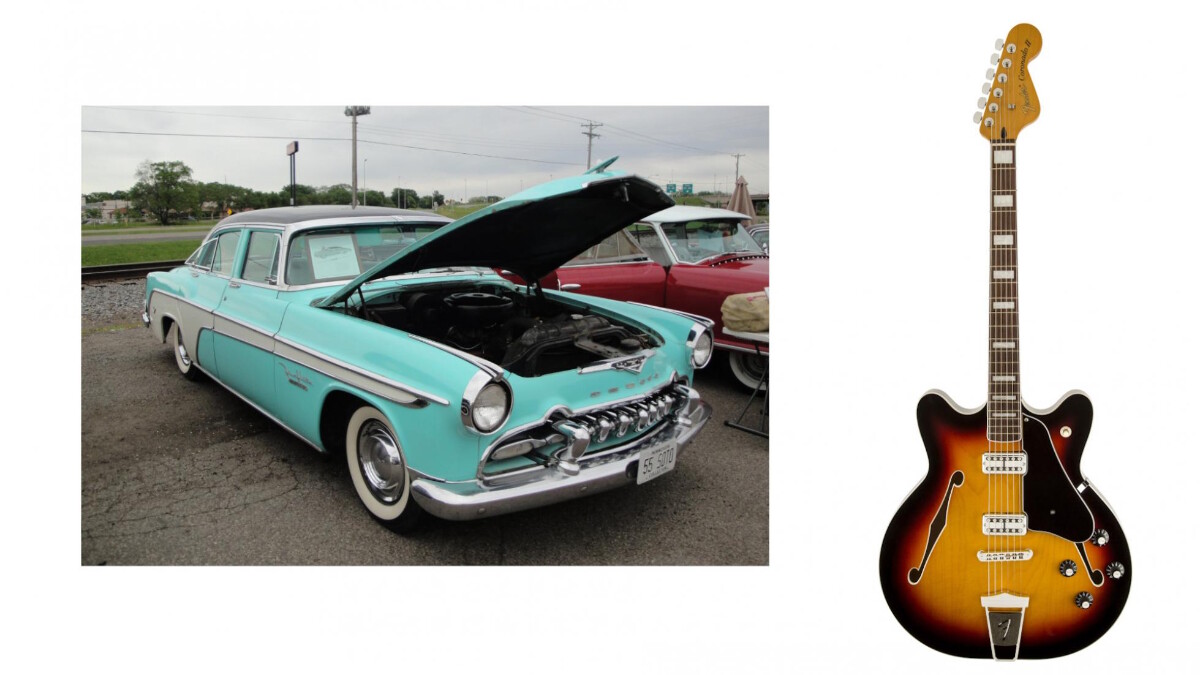 ADVERTISEMENT - CONTINUE READING BELOW ↓
If you're not so familiar with '50s automobilia, you might confuse DeSoto for an Italian carrozzeria. But DeSoto was started in the '20s by none other than Walter Chrysler. And he was born in Kansas and built cars in Detroit. It eventually did what so many car companies do and folded, shuttered by its parent company. But before it did, DeSoto released a hot apple-pie slice of Americana in the Fireflite.
You'll notice that Fireflite is not Coronado. But that's okay—we haven't taken complete leave of our senses. The Fireflite Coronado was a so-called 'Spring Special,' a midyear tart-up to keep people interested in the Fireflite. And we'd love to say it worked, especially given how gorgeous it is. But, by the early '60s, Chrysler canned DeSoto and that was that.
Fender's Coronado didn't really fare much better, to be honest. Arch-rival (oh, the puns, people) Gibson had cornered the arch-top hollowbody market, and Fender had to find a way to sneak away a few sales. The least Fenderish Fender ever was the result, and it resolutely failed to draw sales away from the already established Gibson ES series, let alone Rickenbackers or Gretsches.
8) Gretsch/Ford Falcon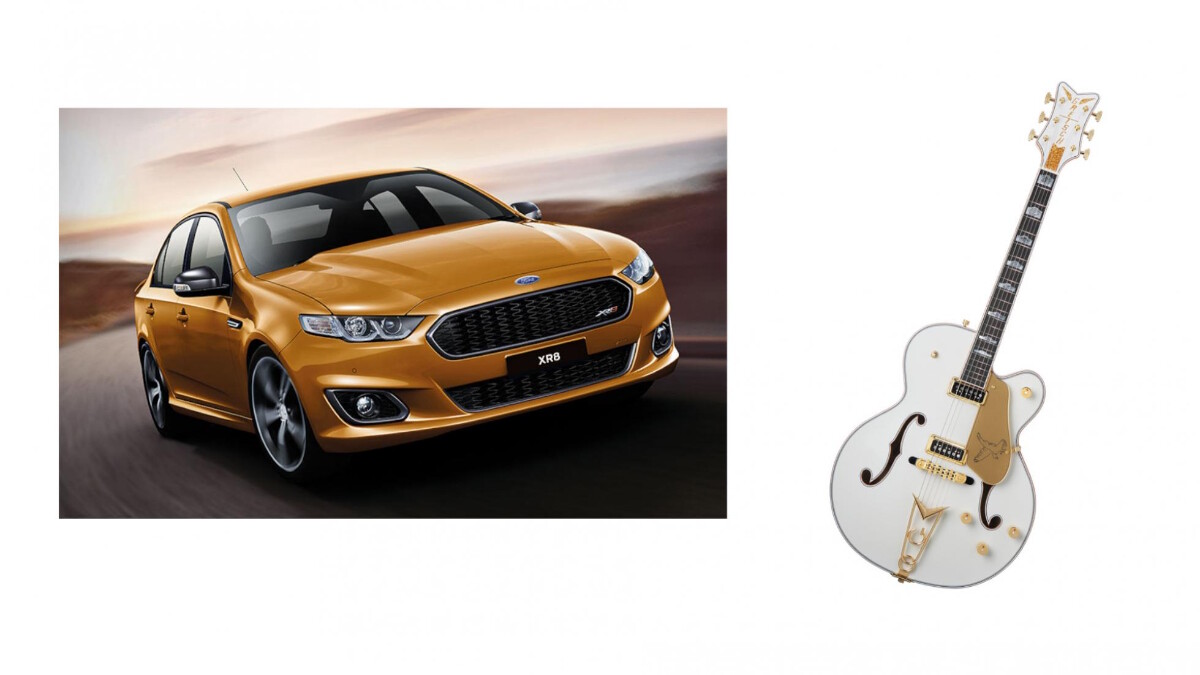 Our first car was a white Ford Falcon, with a straight-six engine, a five-speed gearbox, fa our-speaker stereo, and two increasingly bald tires from all the powerslides we kept doing.
In retrospect, our parents would have been better off buying us a Gretsch White Falcon instead. It's much less likely to spit us out of a roundabout backwards, and, unless we're very much mistaken, doesn't need to be walloped on the dashboard to start it. Unlike our old Falcon.
9) Fender/Oldsmobile Toronado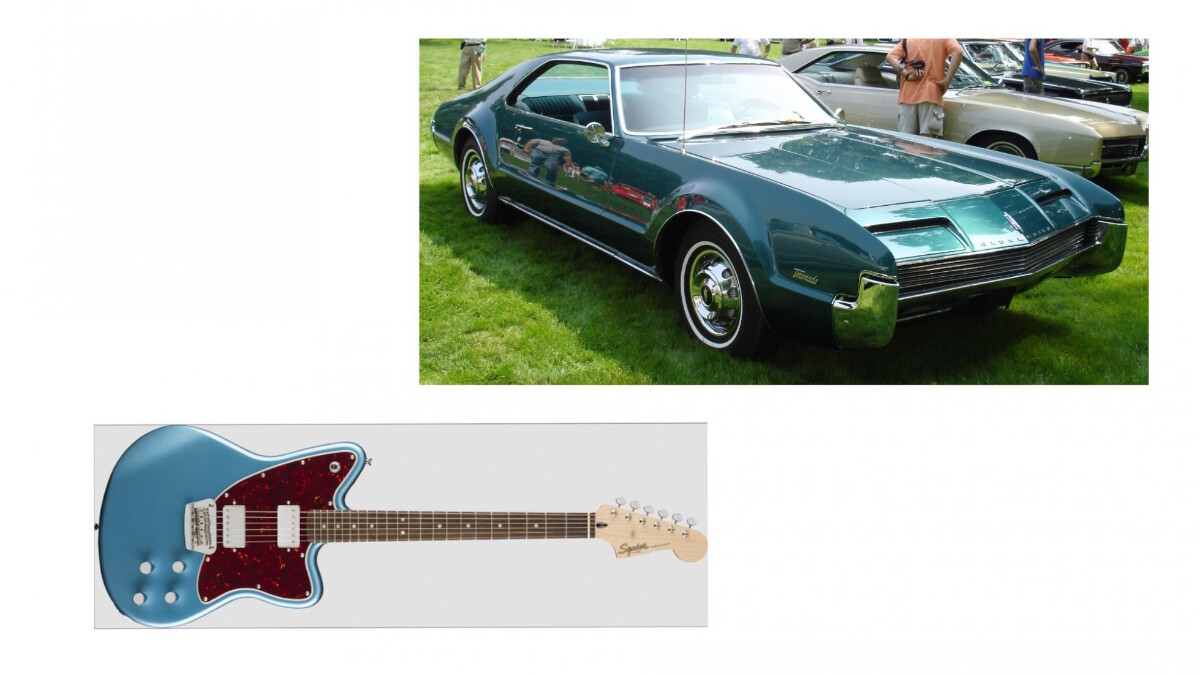 Not to be confused with the Coronado (as if you would, right?), the Toronado is an Oldsmobile from an era when: a) Oldsmobile was still a car brand and no one thought it weird that the name insinuated that it was mobility...for old people; and, b) American two-door coupes were only slightly larger than aircraft carriers.
ADVERTISEMENT - CONTINUE READING BELOW ↓
The Toronado, on the other hand—at least, as far as we can tell—is Fender's attempt at making a Gibson Les Paul, with a pair of humbuckers, each sporting individual volume and tone knobs. If it looks like a Fender, but doesn't quack like a Fender...you've got yourself a Toronado.
NOTE: This article first appeared on TopGear.com. Minor edits have been made.