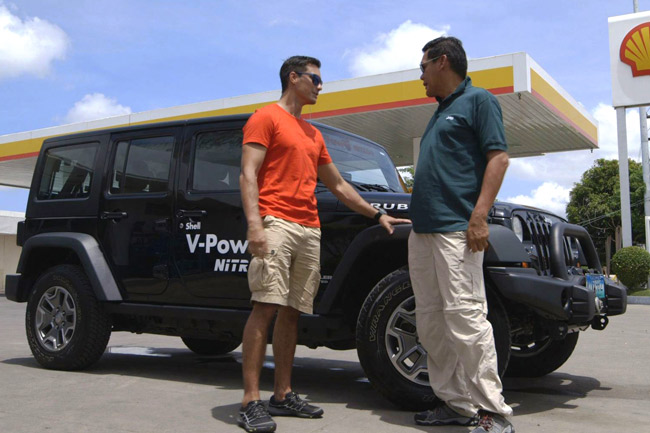 Our country may not be the massive landmass that North America or Europe is, but trust us when we say that you will never get tired of driving around the relatively tinier Philippines. We've been driving cars out of town for 10 years, and we still look forward to every road trip or location shoot.
Now, it seems Pilipinas Shell and Television Culture Shock Productions share our belief about the exciting destinations our country has to offer. The two entities have partnered to create the second season of TEN, a travel show hosted by Filipino-Canadian Jason Godfrey. This season, 10 fascinating destinations will be featured, with the help of Shell V-Power Nitro+ and different media personalities.
We were able to watch a special screening of TEN, with two of our writers included in the early episodes. Our associate off-road editor Beeboy Bargas drove up Mt. Isarog in Camarines Sur with Jason, in a Jeep Wrangler fueled by V-Power Nitro+ Diesel. Beeboy was clearly in his element navigating rough terrain and tricky routes.
In a more relaxed setting, our columnist Aris Ilagan, who is also an avid motorbike rider, took Jason riding with him using a 1,170cc BMW motorbike. The BMW was fueled by V-Power Nitro+, of course. After their tandem ride (good thing they didn't pass through Mandaluyong) to Batangas, Aris and Jason enjoyed a relaxing dive in the waters of Anilao.
Continue reading below ↓
Recommended Videos
Catch these fun episodes as well as the rest of TEN Season 2 on AXN. The episodes air starting on September 26 (8pm), and continue every Friday after that, with replays every Saturday (6pm) and Sunday (9am).
And our macho contributors won't be the last you will see of the Top Gear team on TEN. Our Traffic Stopper and online managing editor Tracy Carpena will shoot her segment with Jason soon. Don't worry, we'll announce when her episode will air. Like you, we're also excited to see how Tracy will fare in her TV debut.