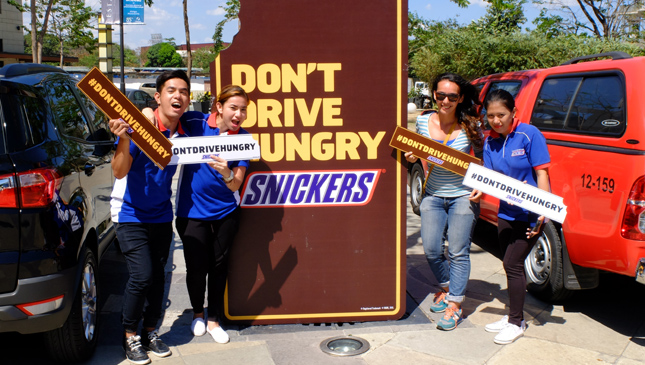 It goes without saying that being hungry sucks. But driving hungry? It can make you want to sideswipe the next jeepney that tries to cut into your lane--and we all know who'll always be on the losing end of that situation.
Seriously, driving hungry can be pretty stressful, and may even have an effect on your manners behind the wheel. Luckily, Snickers is here to help out. The popular chocolate maker reminded motorists over the weekend to keep cool on the road this summer by giving away temporary "Don't Drive Hungry" conduction plates.
Yes, where our government failed, a nut-filled chocolate bar delivered. The special plates were given away together with car stickers at the Capital Commons car park last Saturday. To avail of the freebies, all car owners had to do was register online or on the spot. Plates were printed inside a small tent at the venue, and the entire process took only 15 minutes.
Mars Southeast Asia marketing manager Fui Ching Phua said the company conceptualized the event because "you're not yourself when you're hungry."
"Given the traffic situation in the Philippiines, hunger can make drivers do crazy things," Phua said. "By giving out these temporary license plates, we want to remind drivers to drive safe by not driving hungry."
We're already hoping that the company holds another plate giveaway soon. Frankly, we were a little surprised the event venue wasn't overrun by plateless cars. At the pathetic rate the government is handing out the real ones, you would think the scene could resemble something straight out of Mad Max.
Photos by Drei Laurel