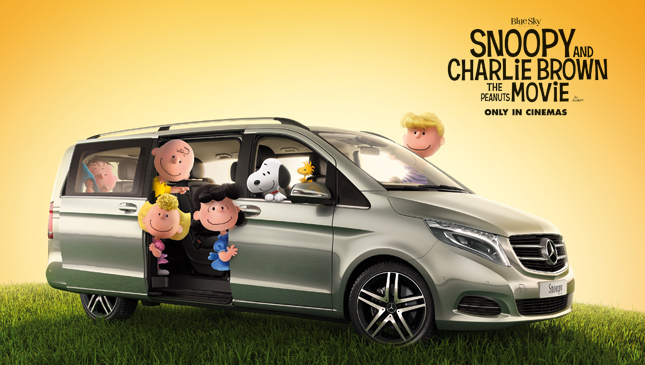 If the world had a favorite dog, it would arguably be Snoopy. Sure, there are other beloved canines out there. Yet there is an undeniable charm to this smart, white beagle that has endeared him to countless generations for over six decades now.
Since his first appearance in a comic strip in 1950, Snoopy has gone on to star in numerous films, television specials and, of course, comic strips. He has even gained quite a number of friends, most notably Charlie Brown. While Snoopy may treat Charlie Brown with disdain at times, one cannot deny his loyalty toward the world's favorite human master. Now, this long-standing relationship is set to take on a new adventure in the upcoming flick The Peanuts Movie--in 3D, no less.
The Peanuts gang--Snoopy, Charlie Brown, Linus, Lucy, Sally Brown and other cool and quirky characters--will embark on crazy misadventures in this epic film. And they are about to do so in style (in a Mercedes-Benz V-Class, to be exact).
ADVERTISEMENT - CONTINUE READING BELOW ↓
And why not? Snoopy is the kind of guy that dreams big, imagining that he's an award-winning novelist (even if he hasn't exactly finished any). Hasn't he fought his arch-rival, the Red Baron, up in the skies more than we can count? Given all that, having stylish wheels like the V-Class isn't such a stretch.
To celebrate the film's release, Mercedes-Benz and 20th Century Fox will go on tour in Germany, beginning on November 27 in Rostock and Luebeck. And they will do so along with a specially designed V-Class, complete with Peanuts stickers. The tour is part of a massive 360-degree marketing campaign. This will likewise include a cool video clip showcasing the Peanuts gang and their new V-Class.
Both Mercedes executives and the film producers agree that the V-Class is the perfect vehicle for Snoopy and his friends. Its mix of safety, comfort and style embody what the Peanuts gang stands for--a closely-knit bunch who will stick together in spite of seeming differences.
ADVERTISEMENT - CONTINUE READING BELOW ↓
Recommended Videos
The Peanuts Movie will open in German cinemas on December 23, and in our theaters early next year. We're eager to see our childhood cartoon characters come alive on the big screen. After all, who doesn't love Joe Cool and his equally cool buddies? Now, they're even more hip, thanks to the Mercedes van. In the meantime, check out the commercial as we eagerly await their arrival.
If you're viewing this on a mobile device and can't see the video, please click here.