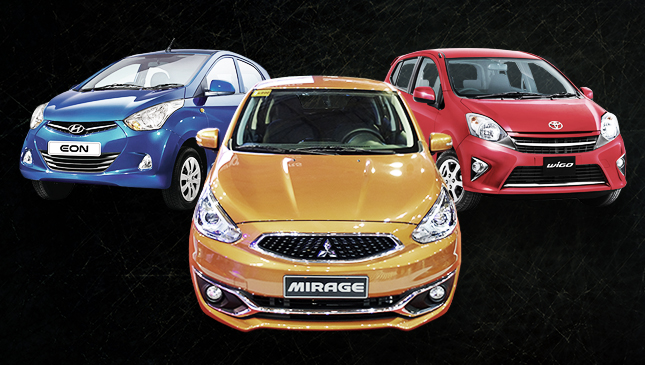 Face it. Unless you've been #blessed with wealthy (or overly generous) parents, you probably won't be driving out of the dealership in your dream car. And that's not a bad thing. Saving enough money to buy an awesome ride after years of breaking your back is a pretty big accomplishment. Until then, however, you'll have to settle for something more practical and more affordable.
Now this is where mini cars come in--low-key, small, fuel-efficient and, most important, cheap vehicles that won't draw oohs and aahs, but will handily get the job done. If you're on a budget, chances are one of these will be the first set of wheels to roll into your garage.
Below, you'll find three of the most popular models in the segment--the Hyundai Eon, the face-lifted Mitsubishi Mirage and the Toyota Wigo--pitted against each other spec-by-spec in an easy-to-digest table. First-time car buyers should find this particularly helpful.
ADVERTISEMENT - CONTINUE READING BELOW ↓
Don't end up regretting your first car purchase. Read, analyze and decide which car best suits your motoring needs. And even if you're not shopping for one, let us know which of these cars you prefer via the poll at the bottom.
Infographic by Audrey Faye Lacsamana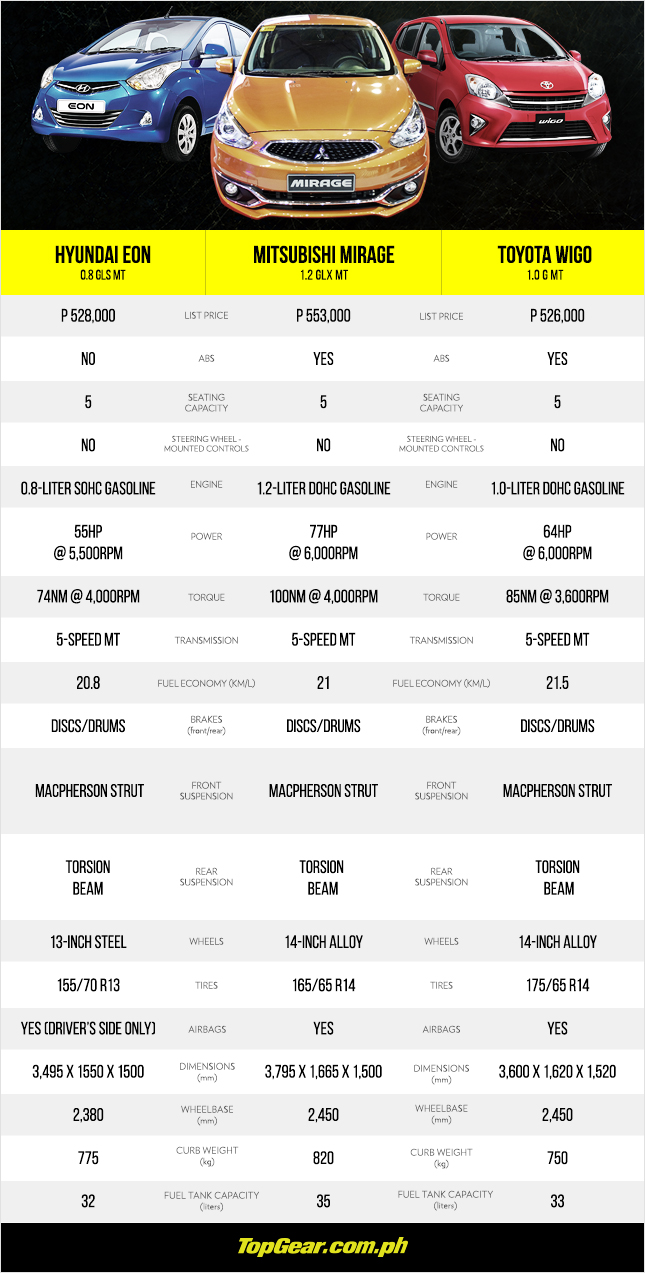 * Fuel-efficiency figures from manufacturers
ADVERTISEMENT - CONTINUE READING BELOW ↓
Recommended Videos
UPDATE as of June 11, 2018: Buying a brand-new car is no easy task. Forking over the down payment and committing to a monthly installment for a few years is a big step, and one that shouldn't be taken lightly. Luckily, getting a car is actually affordable for most budgets right now. Here we've compiled a list of the best cars you can get for P10,000 or less a month. Each loan runs for five years and has a 10% downpayment agreement. If you're able to set aside around P13,000 a month for your vehicle, you'll already have a number of quality options available to you. With that in mind, we've compiled a short list of cars from a variety of segments which you can pay at more or less this rate over a span of five years. We've set the downpayment at 10% using a loan calculator.
ADVERTISEMENT - CONTINUE READING BELOW ↓