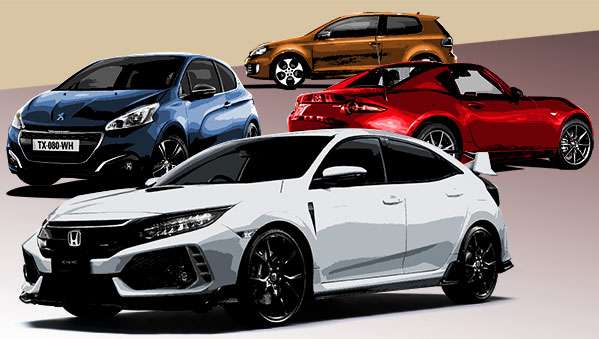 Last month, Honda Cars Philippines announced it would be selling the Civic Type R here in the Philippines. The much-hyped performance car ushers in a new level of Honda performance locally, and will have fan boys foaming at their mouths, climbing atop of one another in an effort to get a hold of one of the only 100 units available.
ADVERTISEMENT - CONTINUE READING BELOW ↓
Yes, you read that right. Just 100 units for now.
With that in mind, what other cars can you turn to if you don't manage to make a reservation? We compiled four of the hottest 'toy' cars in the Philippines, Civic Type R included, and presented them spec-by-spec in another infographic.
There's the recently launched Mazda MX-5 RF for those looking to tackle twisties with the top down, the stylish French-made Peugeot 208 GTi, and the Volkswagen Golf GTI if you're leaning more toward the brand's impressive German build quality.
Each model has its advantages and disadvantages. Some, for example, only come in with an automatic transmission, others can sit up to five occupants. Prices and specs-wise, which of the four will you choose?

ADVERTISEMENT - CONTINUE READING BELOW ↓
Recommended Videos