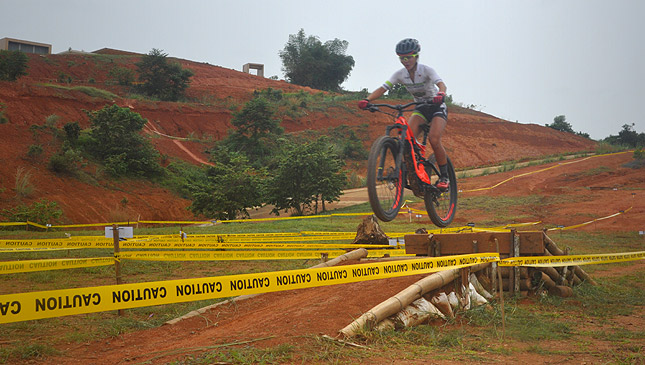 Let's get one thing straight: There's no shortcut for building quads of steel. Only mashing up mountains, sprinting against headwinds, and setting the indoor trainer to 'heavy'—and doing all of this on the regular—will give you true saddle strength.
So when we say that the Specialized Turbo Levo FSR, a high-performance e-mountain bike that features pedal assist technology, will make you a better trail rider, we totally understand if more than a few eyebrows are raised. But hear us out.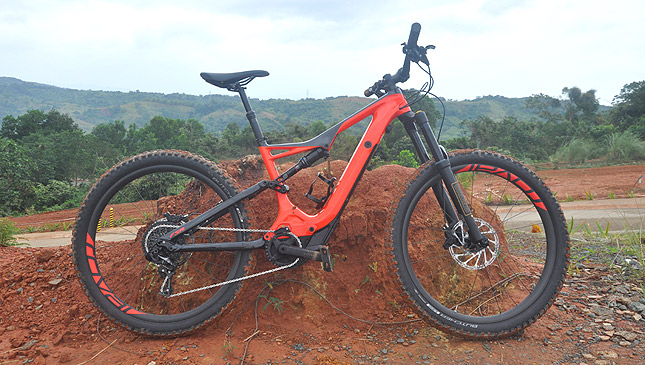 ADVERTISEMENT - CONTINUE READING BELOW ↓
Before we defend our claim, let's talk about the bike. We test rode the Turbo Levo FSR one chilly morning at a custom-built track at The Glades at Timberland Heights in San Mateo, the mecca for mountain bikers in the metro.
Anyone who has ridden Timberland before knows that even the knobbiest of wheels and sturdiest of knees will, at some point, slip a buckle when dealing with the sticky, red Rizal clay. And with rains the night before, traction and control were sure to be an issue. Or, so we thought.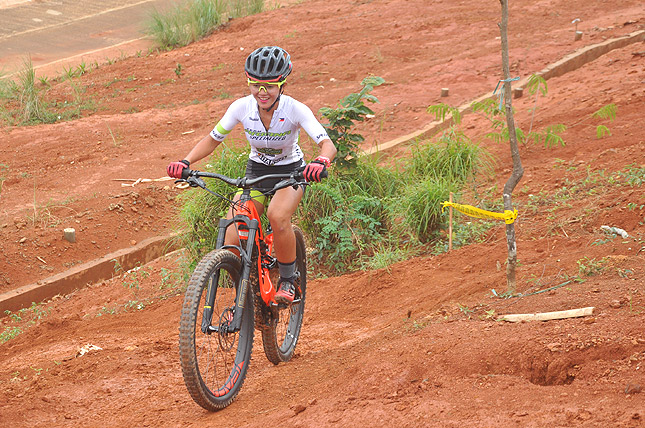 Control was no issue, even on the slippery terrain. The meaty Butcher GRIDs up front gripped the soil like Velcro, while the rear tire easily shredded through everything. The SRAM Guide RE and Code disc brakes were responsive and didn't fade, even in the slightest.
Even when riding high at 29 inches, the Turbo Levo FSR's modern frame geometry made it easy to throw the bike into curves, without losing power when pedaling out, all while keeping a commanding view of the track ahead. There's something about a high riding position that gives you a sense of being in total control (which is perhaps why so many people are drawn to large SUVs). And in the trails, where every decision is made in a split second, you need every ounce of control behind the handlebars.
The heart of the Turbo Levo FSR is its custom, trail-tuned motor. Take a closer look at the frame: Notice things getting slightly thick by the crankset? That spot contains a powerful motor, stealthily connected to a battery pack housed in the bike's downtube. You don't see any extra stuff jutting out where it isn't supposed to be, because this is a fully-integrated e-mountain bike.
Battery usage is adjustable, so you can ride in eco mode, or go on full turbo with real power behind each pedal stroke. Remember, this isn't a motorcycle, so it doesn't go "brrraaaap" or anything like that. It is a quiet electric motor that only goes on when you start pedaling. The difference is felt immediately. Slogging up hills is nothing with the Turbo Levo FSR, and there's no need to adjust how you ride or anything—the transition to it is seamless.
ADVERTISEMENT - CONTINUE READING BELOW ↓
And you can do near impossible stuff with it. To place things into perspective: Pros don't have problems when facing switchbacks that lead into a 65-degree uphill climb. Normal folks (like me), on the other hand, will probably attempt to do the climb, get halfway up, stumble, and push the bike the rest of the way. But not with the Turbo Levo FSR. Imposing climbs become doable—a major confidence builder.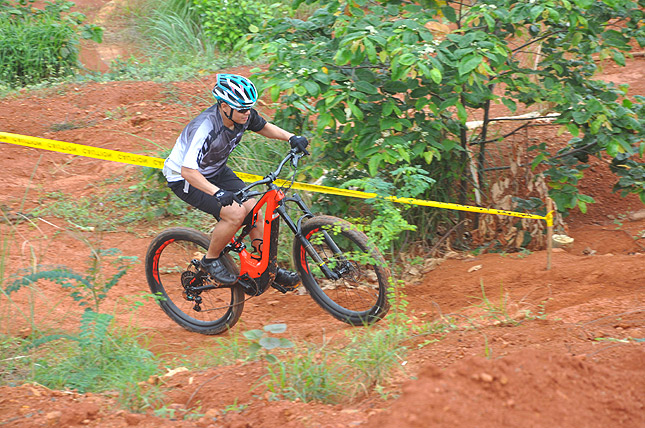 So let's go back to why we believe this bike will make you a better trail rider. It all starts with efficiency. Trail riders will agree that there's nothing more rewarding than finally hitting that sweet single track, catching jumps, and carving berms.
Trail riders will also agree that getting to these spots—usually by climbing up to them (Timberland riders know Shotgun, Shotgun 2, and The Wall all too well)—isn't exactly as enjoyable. The truth is that by the time you get to the top of the mountain to ride the trail, you're too tired and you won't be able to attack the track the way you want to because of fatigue.
The Specialized Turbo Levo FSR allows you to ride more and save your legs for what really matters. Because the difference between a fresh set of knees hitting the trail versus a tired pair that had to deal with a slow, uphill climb is stark.
Present at the launch of the launch of the Turbo Levo FSR was former PBA star Jojo Lastimosa, himself an avid mountain biker, and one who considers Timberland his backyard. He points out something very interesting: "Getting good, whether it's on the court or in the trail, is dependent on repetition. This bike lets you do more reps on the trail, with legs that aren't tired. So you're able to develop muscle memory [and your] riding instincts will get sharper." We agree with Jolas.
ADVERTISEMENT - CONTINUE READING BELOW ↓
On the other hand, a certified pro mountain biker also thinks the world of this machine. Ariana Dormitorio, a professional cross country mountain biker and back-to-back overall champion of the Asia Mountain Bike Series for 2016 and 2017, considers this bike a good investment for a pro biker like herself. "I imagine it would be great for rest days, because I still have to take active rests. Instead of having to push so hard with a traditional bike, I can use the Levo to easily come up to the trails, without too much effort, and focus on riding the technical parts of the trial instead." Ariana's logic is sound.
When asked about the challenges involved when marketing the Turbo Levo FSR, Vivek Radhakrishnan of Specialized Asia Pacific shares that words like "cheating," "fake," and "weak" all come up in the conversation. Part of his challenge is getting a naysayer to ride the bike, too. But when they finally do, they all start to get something he refers to as "Levo face." It's a smile you can't seem to wipe off because riding this thing is just really fun. "We let the product do the talking, and really, you can't beat the smiles people have when they finally get on the Turbo Levo."
Needless to say, everyone who got on the bike that chilly Sunday morning had Levo face.