The cast is complete. Three of the most eagerly awaited midsize SUVs have been revealed in the global arena. And they're headed for our market real soon. In fact, we've even asked you to pick which one you like in terms of exterior styling.
But before they all arrive, we're quite sure that the biggest question on everyone's mind is: Which one is the best performance-wise? Of course, the only way to really answer this burning question is a proper Big Test comparison. Until that happens, however, we can only try to satisfy your curiosity by this simple yet informative specs table.
The tale of the tape reveals that the Ford Everest, the Mitsubishi Montero Sport and the Toyota Fortuner are all pretty evenly matched. Sure, the Everest may have the advantage in the horsepower and torque department. But while the Japanese contenders may be down on power, they are likewise a lot more maneuverable in terms of size. The Montero Sport even comes with a class-leading eight-speed automatic transmission with Sport Mode. This should make the most of that 2.4-liter diesel engine.
For now, let's allow the specifications to speak for themselves. Of course, we'll definitely give you a proper comparo once the vehicles are all on our shores ready for the bloodbath. Until then, you be the judge and decide which one is for you.
Note that these specs (and prices) were collected from the Thai-market models. But most of them will be exactly the same as those to be found on our units.
ADVERTISEMENT - CONTINUE READING BELOW ↓
Artwork and infographic by Audrey Faye Lacsamana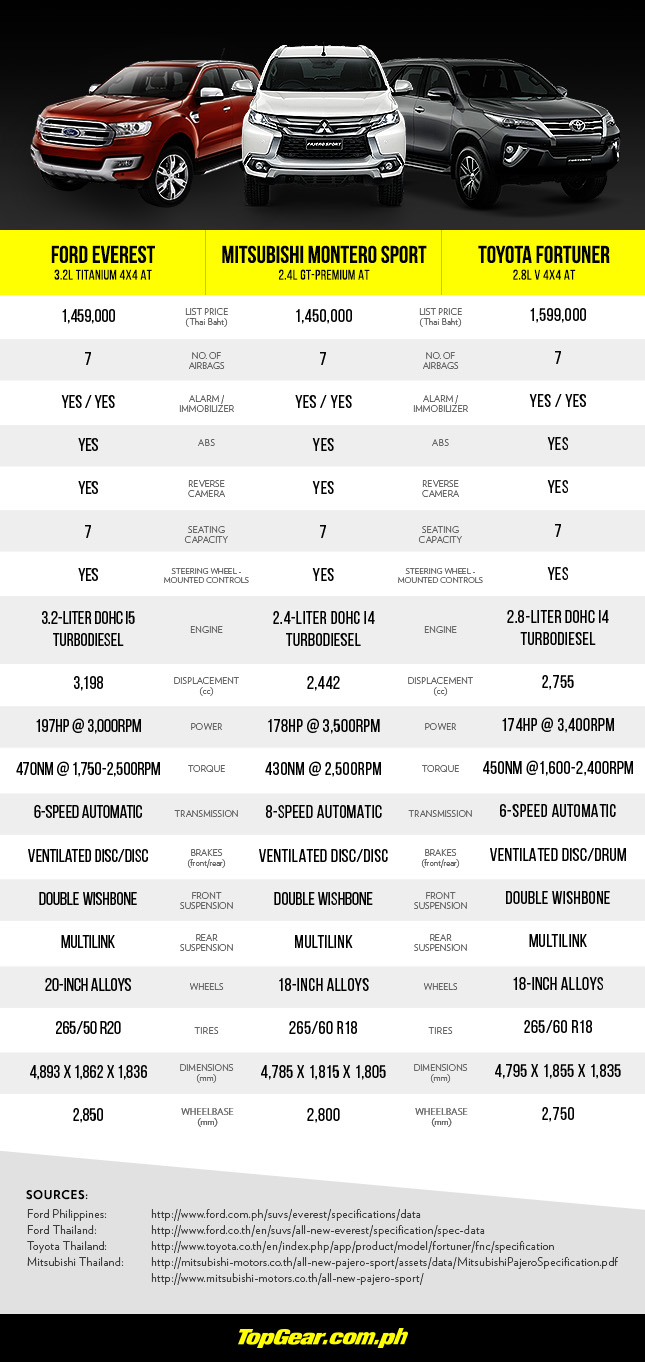 ADVERTISEMENT - CONTINUE READING BELOW ↓
Recommended Videos