Speed limits aren't just restricted to expressways or major thoroughfares in Metro Manila such as EDSA. Just because there's no limit explicitly stated along, say, a narrow side street doesn't mean you can speed your way onto the next corner.
What laws state the speed limits for the various types of roads?
There are maximum allowable speeds stated in Republic Act No. 4136. The limits vary depending on the type of road, and there are different limits set for cars and motorcycles and for trucks and buses. RA 4136 also states that "no provincial, city, or municipal authority shall enact or enforce any ordinance or resolution specifying maximum allowable speeds" other than what was stated in this law.
In addition to this, Metropolitan Manila Development Authority (MMDA) Regulation No. 19-001 further specifies the speed limit for all motor vehicles traversing circumferential and radial roads within Metro Manila.
ADVERTISEMENT - CONTINUE READING BELOW ↓
What are the speed limits set by law?
Section 35 of RA 4136 states that: "Any person driving a motor vehicle on a highway shall drive the same at a careful and prudent speed, not greater nor less than is reasonable and proper, having due regard for the traffic, the width of the highway, and of any other condition then and there existing; and no person shall drive any motor vehicle upon a highway at such a speed as to endanger the life, limb and property of any person, nor at a speed greater than will permit him to bring the vehicle to a stop within the assured clear distance ahead."
This law sets the speed limit to at most 80kph for cars and motorcycles on open country roads with no blind corners and no nearby residential areas. Trucks and buses will only be allowed to drive at 50kph on the same roads.
ADVERTISEMENT - CONTINUE READING BELOW ↓
Recommended Videos
Again, there are various limits set on different types of roads. You can check out the table below for more details.
Speed limits set under Republic Act No. 4136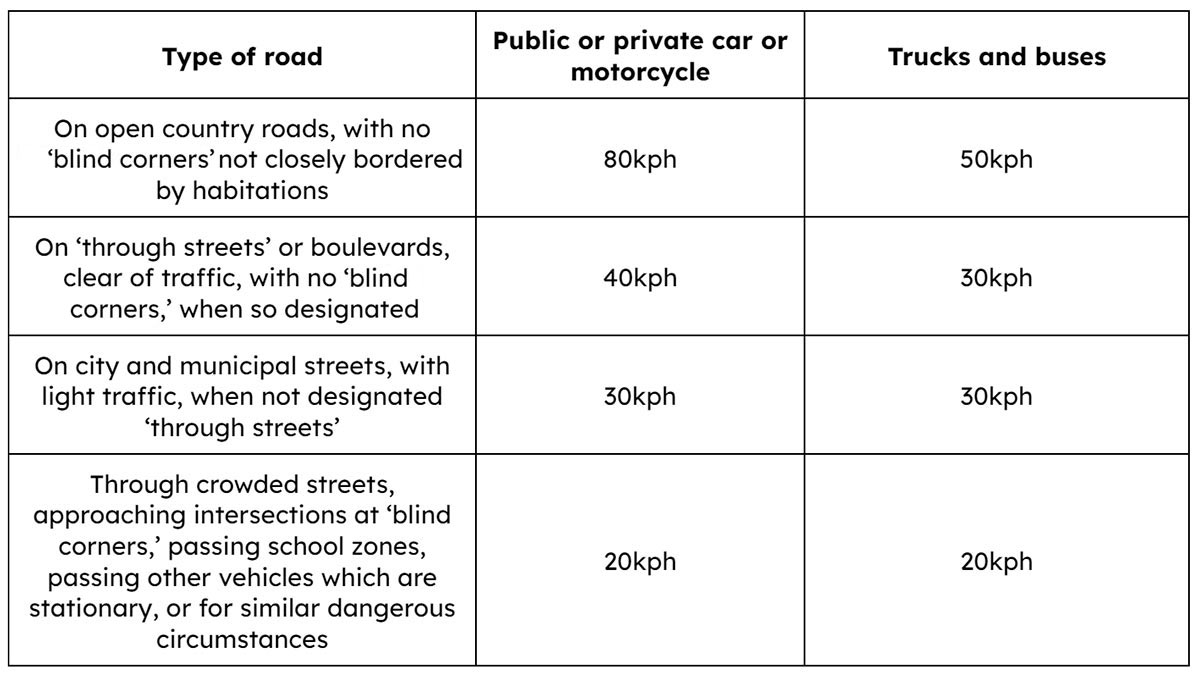 OTHER GUIDES YOU MIGHT WANT TO CHECK OUT:
Quick guide: 10 Things to keep in mind before overtaking the car ahead of you
11 Traffic violations that you may not have known about
ADVERTISEMENT - CONTINUE READING BELOW ↓
What are the speed limits set within Metro Manila?
As mentioned previously, MMDA Regulation No. 19-001 sets different speed limits for major road networks in Metro Manila. When driving on circumferential and radial roads, all private and public cars and motorcycles may only go as fast as 60kph, while trucks and buses can go up to 50kph.
For your reference, we've listed down the different roads below. Just take note that while the South Luzon Expressway (SLEX) is identified as R3 here, the 60kph minimum and 100kph speed limit prevails along that thoroughfare.
Circumferential Roads
C1: Recto Avenue
C2: President Quirino Avenue
C3: Araneta Avenue
C4: EDSA
C5: C.P. Garcia Avenue
C6: Southeast Metro Manila Expressway
Radial Roads
R1: Roxas Boulevard
R2: Taft Avenue
R3: SLEX
R4: Shaw Boulevard
R5: Ortigas Avenue
R6: Magsaysay Boulevard/Aurora Boulevard
R7: Quezon Avenue/Commonwealth Avenue
R8: A. Bonifacio Avenue
R9: Rizal Avenue
R10: Del Pan/Marcos Highway/MacArthur Highway
ADVERTISEMENT - CONTINUE READING BELOW ↓
Are any motorists exempted from speed limits?
Actually, there are a few exemptions to the rule according to RA 4136. These are listed as follows:
A physician or his driver when the former responds to emergency calls

The driver of a hospital ambulance on the way to and from the place of accident or other emergencies

Any driver bringing a wounded or sick person for emergency treatment to a hospital, clinic, or any other similar place

The driver of a motor vehicle belonging to the Armed Forces while in use for official purposes in times of riot, insurrection, or invasion

The driver of a vehicle, when he or his passengers are in pursuit of a criminal

A law-enforcement officer who is trying to overtake a violator of traffic laws

The driver officially operating a motor vehicle of any fire department, provided that exemption shall not be construed to allow unless or unnecessary fast driving of drivers aforementioned
You can also view a Tagalized version of the important parts of what we've discussed here through the Land Transportation Office's information, education, and communication materials. Scroll on below for more.
ADVERTISEMENT - CONTINUE READING BELOW ↓