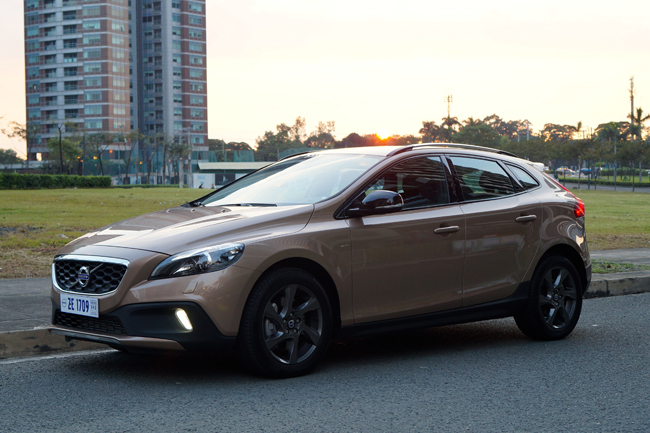 There is a call from PR and marketing people that never gets old. When you pick up the phone and hear the words "test drive," "exclusive," and "weekend," it immediately makes your day.
One such call was made to us last week, from Paolo Ella of Volvo Philippines' marketing services division. He muttered the words "Volvo V40 Cross Country" and gave a date for the test drive. We confirmed right away. It always feels good when your publication is recognized for its relevance.
So before Pope Francis's arrival, we went to Volvo Makati to pick up a Raw Copper Volvo V40 Cross Country 2.0L D4. As most of you might know, the Cross Country variants are more rugged versions of Volvo automobiles, starting with the V70 Cross Country back in 1997.
The CC differs from the normal V40 through its increased ride height (by 40mm), contrasting bumper, honeycomb mesh grille, upright DRLs, and integrated skid plates front and rear. We've driven the regular V40, and to observant eyes there's a noticeable difference. And while a 40mm height increase doesn't seem like much, the car does look a little bit higher.
The inside of our test unit was a lush cocoon of leather and soft premium materials, with a color theme called Espresso Brown. The center console had a bronze-like finish that nicely complemented the black-and-brown leather seats. In front of the passenger, the words "Cross Country" were etched into the metal trim, a little reminder of the extras that this car has.
Continue reading below ↓
Recommended Videos
As we sat down and tried to find the ideal driving position, we were reminded that our large male frame might not be what this car was primarily designed for. Despite a fully adjustable power driver's seat and a steering wheel that adjusted for reach and rake, it took us a few minutes to find that ideal driving position. But we found the best seating position eventually, and we were staring (again) at the most eye-pleasing electronic gauges we had ever seen.
Like in the V40 we had driven before, there were three gauge modes: Eco, Elegance and Performance. These corresponded to the driving mode settings. In the past, we had figured out that we liked the calming teal color of the Eco gauges best, but we liked the driving feel of the Performance setting. It held true with the V40 CC as well, especially with this fine turbodiesel engine.
The V40 CC's diesel mill provided marvelous propulsion. From a low 1,750rpm, all 400Nm of torque was readily available. Combined with the eight-speed Geartronic transmission, power delivery was smooth and seamless; there was also more than enough of it to overtake and leave behind slower cars on expressways. This 2.0-liter D4 engine is the new-generation Drive-E mill that generates 190hp. If you can afford it, go diesel with the V40.
Unfortunately, we managed to do just 12.5km/L on the highway, far from the claimed 19.61km/L fuel economy in the brochure, but still not a bad figure nonetheless. The oil-burning engine and the large 62L fuel tank also give the V40 CC amazing range. A trip to Tarlac province and back to Manila only used a third of what was in the tank.
We weren't able to test whether the increased ride height and body cladding did well off-road or on light trails, but these features did help in avoiding underbody scrapes and bumper grazes when driving around the city--although with careful maneuvering, we must add.
But even if you don't fully utilize the supposed ruggedness of the V40 CC, it has so many toys and functions that your investment will feel justified. First and foremost are the safety technologies Volvo is known for. There are the expected dual-stage airbags, Side Impact Protection System, inflatable curtain, collapsible steering wheel, whiplash protection system, and energy-absorbing interior.
Then there are the advanced safety features that make the Swedish carmaker stand out: City Safety collision prevention, dynamic stability and traction control, corner traction control, Active Bending Lights with dual-xenon technology, Ready Alert Brakes and Engine Drag Control. In other words, these electronic nannies prevent you from getting into an accident in the first place, instead of just saving you if an accident occurs.
Then there's the multimedia system, which has excellent smartphone integration. The menu for navigating music was intuitive and fast, and tunes were pumped out of eight loudspeakers, including a woofer, soft-dome tweeters, and large midrange drivers. Your driving music sounds sublime, to put it simply.
Perhaps the only glaring shortcoming of the V40 CC is its relatively cramped backseat--especially for a big guy's build. But the V40 line never pretended to be a spacious hauler in the first place. And if you need luggage space, the rear seats and the front passenger seat fold flat.
The Volvo V40 Cross Country took what was right with the V40--its elegant design, top-notch safety systems, fun toys and engaging drive--and made it better. Yes, you pay more (P2,795,000, to be exact), but the added features make the V40 CC more than worthy of consideration.
Photos by Dinzo Tabamo