You may have seen that viral video of the two ladies standing in a parking spot in what appears to be the outside of a mall. If you haven't yet, try looking it up on Facebook, we're sure you won't have trouble finding it.
The two women were supposedly blocking a black sedan from entering an empty slot so that their truck could take it instead. It was clear, however, that the car arrived at the spot before the pickup did. Unfortunately, these ladies were already there to 'reserve' it.
We're not exactly sure how things went, but there seemed to have been some form of verbal exchange, after which the driver of the black car decided to yield. That wasn't the end of it yet, though, as the driver of the pickup—after leaving his vehicle halfway into the slot—went down to join the scuffle. That's where the clip ended. Hopefully, things didn't end up with one motorist getting revenge on the other, just like what happened to a similar incident several years back.
Now, some of you might probably be thinking: Who really is in the wrong here? Is a pedestrian standing in a parking spot in place of an actual vehicle for reservation purposes allowed?
ALSO READ:
Beware of Manila City 'parking attendants' who illegally collect fees
Someone in the UK made over P2-M renting out his home's parking space last year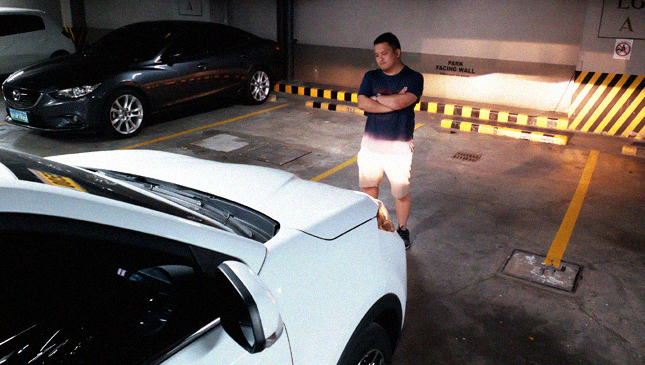 ADVERTISEMENT - CONTINUE READING BELOW ↓
If you ask us, the simple answer is no. Well, unless you want to make an idiot of yourself in the middle of a busy parking garage, that is. It's already 2023, and the world has seen enough of this problematic behavior. Not that it really needed pointing out, but several establishments have even put up signs to remind people that they can't stand in a parking spot to reserve them.
You see, basic parking etiquette dictates that in the absence of a formal reservation with parking management (in which case a slot will be properly marked or blocked by a pylon or sign), free slots are on a first-come first-served basis. This is regardless of whether it's in a public or private area.
"Is there a law against it?" you might ask. Correct us if we're wrong, but probably not—well, not here at least. Apparently, it is against the law in Honolulu, Hawaii. But you aren't a walking pylon, and your driver shouldn't treat you as such.
If you're expecting to stand there and be met by anything other than a raised eyebrow and an awkward situation, you're going to end up red-faced. And if you plan on heading back an hour later for revenge, we don't think we need to tell you whether you're breaking the law or not.
What do you think? Is manning up to a standing reservation worth the trouble? Or would you rather just circle around and look for another slot to avoid confrontation?