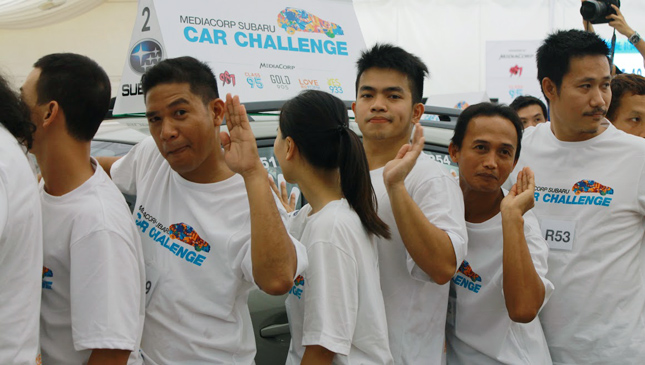 If there's one trait we Filipinos should be known for, it's resiliency. Photos of people smiling in the midst of a typhoon circulating online should tell you enough about our ability to persevere. And the 10 Pinoys representing our country in this year's Subaru Palm Challenge want to show everyone just that. Aside from Singaporeans, no other nationality has won the 14-year-old competition; our kababayans are looking to put an end to that streak.
Ngee Ann City's Civic Plaza is once again playing host to 400 participants looking to win a Subaru XV1.6 I-S (A Subaru Forester 2.0i-L will be given to the grand winner should he come from the Philippines). We asked Team Philippines what the toughest part of the challenge was, and almost everyone admitted that while they could handle the physical part, it was the mental strain which they found the hardest to overcome.
Get to know the boys attempting to be the last man standing in this year's Subaru Palm Challenge.
ADVERTISEMENT - CONTINUE READING BELOW ↓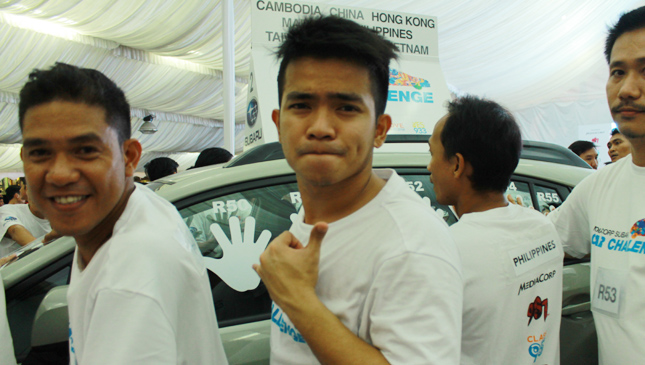 Oshwald John Carbonell, 23. This will be Oshwald's second regional final, and this year, he wants to redeem himself. Should he win the Forester, he doesn't plan on selling it. "Pag napanalunan mo yung Forester, yan yung pride mo, tsaka pride ng country mo. So kung may babayaran man, so be it." He first joined last year because his friends had been planning on joining. Come competition day, however, he was the only one who showed up.
ADVERTISEMENT - CONTINUE READING BELOW ↓
Recommended Videos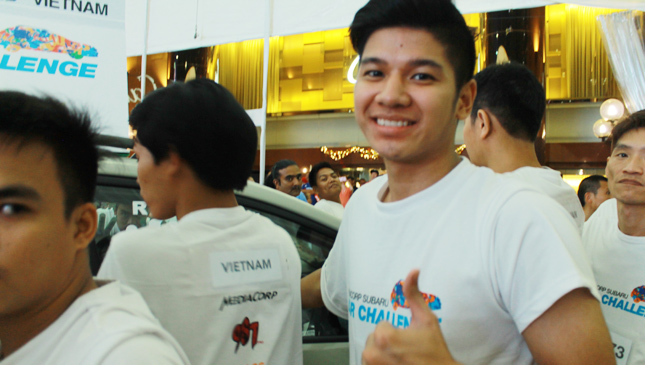 Alec Karol Ebuen, 21. This first-timer wanted to try the endurance competition after reading TopGear.com.ph's 10 tried-and-tested tips to surviving the challenge. The hardest part of this competition for Alec is when his body starts to weaken and only his willpower remains.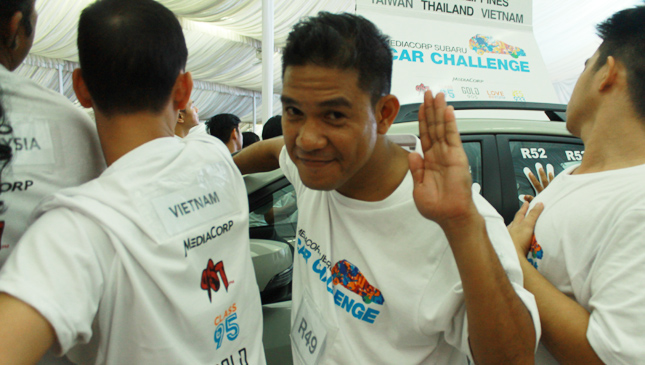 ADVERTISEMENT - CONTINUE READING BELOW ↓
Juan Furiscal, 36. It's this Navy man's third Singapore final. He joined his first palm challenge back in 2013 because he wanted try out the competition himself. After last year, his goal has been to beat other nations. "Ang goal ko is to prove na meron sa atin manalo." Should he win the Forester prize, he will take his family on a road trip using the car.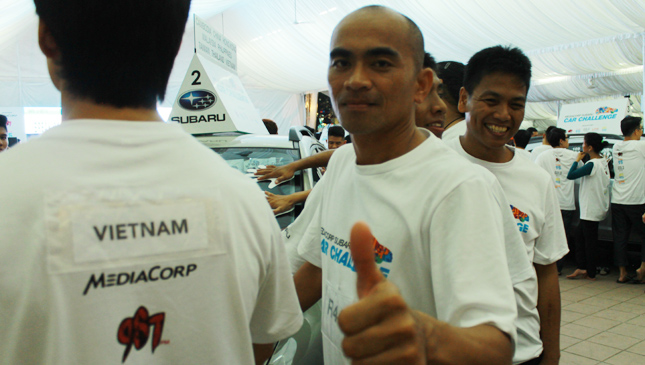 ADVERTISEMENT - CONTINUE READING BELOW ↓
Francisco Gomez, 40. He first joined the event during last year's Manila leg. After his 2014 stint, he participated again this year looking to become a Palm Challenge regular. He shares that his being an active sportsman is preparation enough for the challenge. He lists tae kwon do and arnis as his regular physical activities.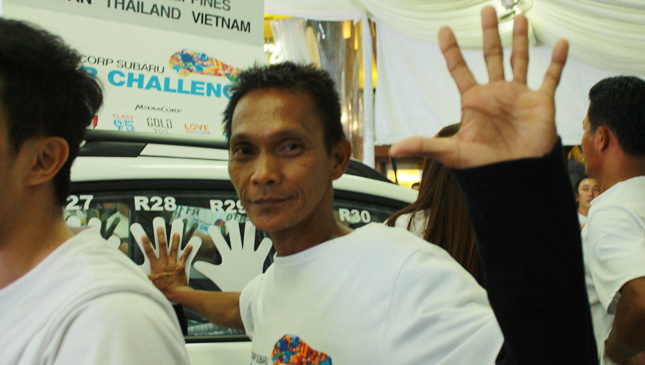 ADVERTISEMENT - CONTINUE READING BELOW ↓
Gilbert Hamo-ay, 44. It was his first time when he joined the Palm Challenge during the Davao leg this year, and to think that the idea to join came from his neighbor, who handed him a flyer with the details. What would keep him focused this weekend? He has two kids in college, and we're pretty sure he could use a windfall in the form of a P1.39-million car.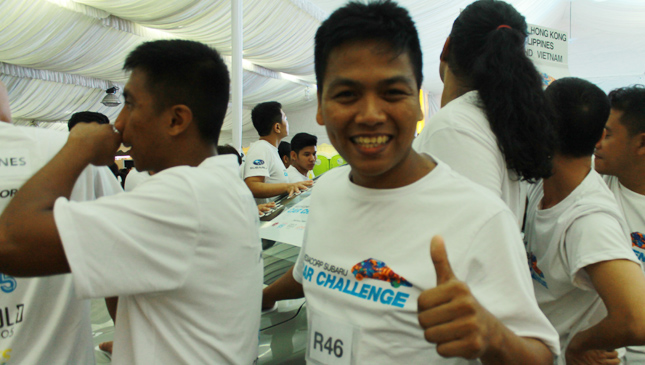 ADVERTISEMENT - CONTINUE READING BELOW ↓
Alex Neblasca, 33. This seven-time participant treats the competition as unfinished business. Should he fall short again this year, he will still join next year's challenge. Alex admits that the toughest part of the game is when you start hallucinating. "Kung paano mo iho-hold yung reality, kasi parang nananaginip ka na talaga ng totoo."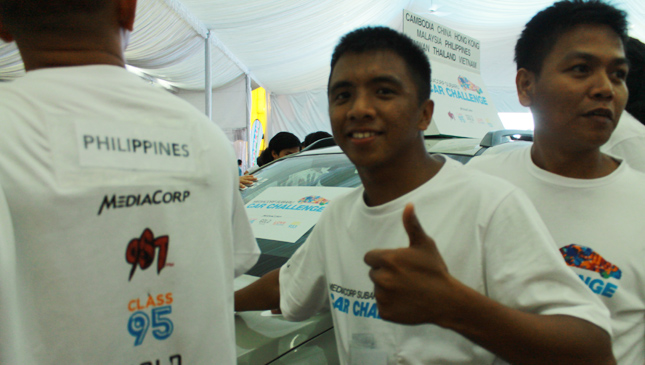 ADVERTISEMENT - CONTINUE READING BELOW ↓
Marcus Levi Pagcaliwangan, 19. Marcus is the youngest Filipino representative this year. The opportunity to join the competition came when invitations were sent to his school. Wanting to try out the endurance contest, he signed up and eventually became one of the finalists. This first-timer now has the chance to bring home a Subaru Forester.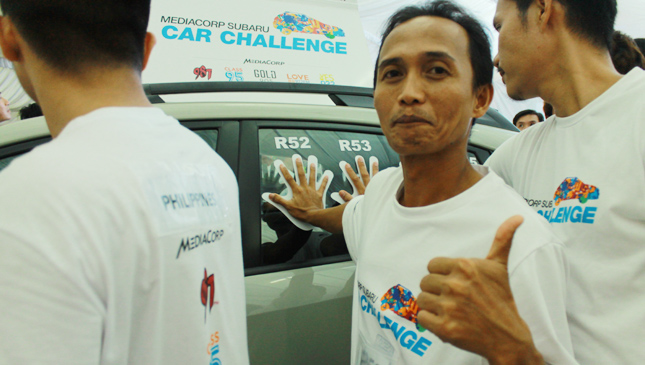 ADVERTISEMENT - CONTINUE READING BELOW ↓
Juntie Torres, 39. Although this is Juntie's first time joining the regional final of the Subaru Palm Challenge, he has already been competing in the local legs since 2013. His first was in Pampanga, and then twice in Bonifacio Global City. For him, the annual endurance competition encourages him to take care of his body, in hopes of lasting longer in the event.
ADVERTISEMENT - CONTINUE READING BELOW ↓
Dan Angelo Villacorza, 24. Dan really had no prior plans to join the BGC leg. He just happened to pass by the event area after coming from his shift and ended up going back to ask about the registration. He eventually became one of the Manila finalists. To prepare for the Singapore final, he limited his diet to only nutritious food in anticipation of the strenuous beating his body would be subjected to.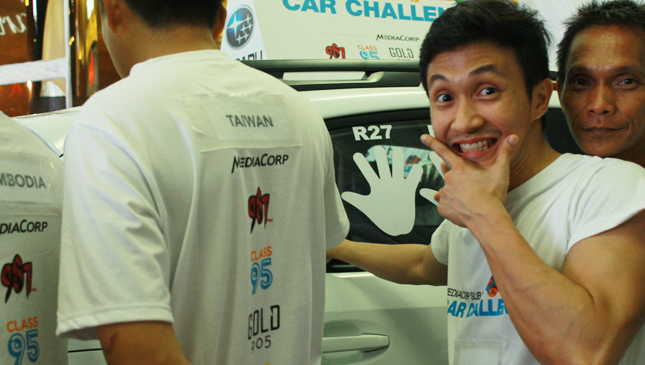 ADVERTISEMENT - CONTINUE READING BELOW ↓
Donn Michael Yap, 25. This Cebu-leg winner found out about the annual competition from a neighbor who happened to work at Subaru Cebu. After feeling "cheated" last year (his hand apparently breached the periphery of the palm decal, so he was eliminated), he now wants to prove he has what it takes to win it all.
Photos by Elaine Lara