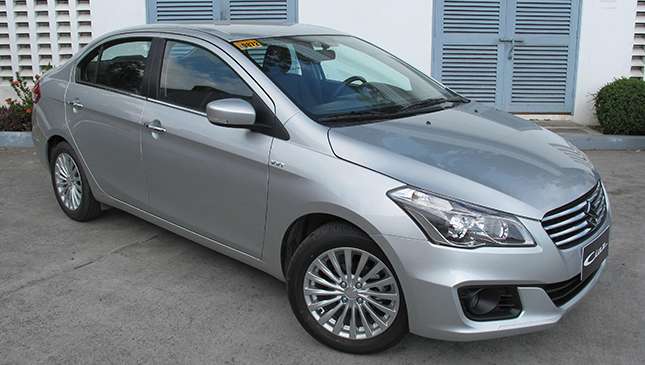 A few years ago, Suzuki Philippines made the decision to bring in the Ciaz sedan. At the time, the idea of another entry into the highly competitive and already saturated local subcompact market was a tired one--especially considering Toyota's segment stranglehold with the Vios.
Still, the Ciaz did offer enough to justify interest, and it's a sentiment that should still hold true in 2018. Overlooked and underrated? You be the judge. But let's count a few reasons this tasteful Japanese sedan remains worthy of consideration years after its arrival:
1) It's a looker.
We have to say that the Ciaz still looks pretty darn good with its large swept-back headlights, bold chrome grille and stylish lines. The proportions are just right, and it sports an exterior design that leans more towards elegance than being edgy. It's a humble appearance, and we like it.
2) There's plenty of room.
Not only is the Ciaz one of the bigger looking models in its class, it's also one of the roomier ones. The car's larger dimensions mean there's a little more space to move around inside the cabin compared to its slightly smaller counterparts. From the top of our heads, the only car that can match the Ciaz in this regard is the Nissan Almera--and that one is a lot less appealing to the eyes.
Continue reading below ↓
Recommended Videos
3) A big trunk for your junk.
The Ciaz's rear-end offers a massive 495 liters for luggage space. That's a lot of room for a trunk. To give you somewhat of an idea how big that is, the Ertiga--the Ciaz's MPV sibling--offers 482 liters of rear cargo space with the third row seats folded down.
4) The cabin is a nice place to sit in.
The top-of-the-line GLX variant gets nice leather seats, a touchscreen Android infotainment system, six speakers, and steering-wheel mounted controls. As we mentioned earlier, there's plenty of space, too. Oh and the instrument cluster is one of the nicest in its segment as well.
5) Maybe you want to be different.
You have to admit that it's pretty refreshing encountering a sedan other than a Vios, Honda City or Hyundai Accent plying Manila's streets. If you want to stand out from the crowd, Suzuki's offering is a safe bet.