The Suzuki Swift is a popular car among enthusiasts because of the excellent spec list at its given price range, and how fun it is to drive. Here are two cars that we did features on, followed by a review of much newer base variant. 
Richard Young Lim's 2011 Suzuki Swift
Q: How do you keep up with the current aftermarket modification trends suitable for your car these days?
A: It's hard looking for Suzuki Swift parts. They're very limited and rare, and it's quite challenging owning a Swift here in the Philippines. It was a great help joining Team Swift Philippines and knowing that its members can compile all user experiences with their own Swifts.
Q: What is your day like with this car?
A: Driving a white car on a daily basis is brilliant! Every time I drive it, I can't help but look at its reflection on office buildings, with all its flattering angles and its cheeky but moderately sporty looks. A review I read online said that the Swift is a real hidden gem in the subcompact class. And even if I drive it almost every day going to the office, it never ceases to amaze me every time I get behind the wheel.
Continue reading below ↓
Recommended Videos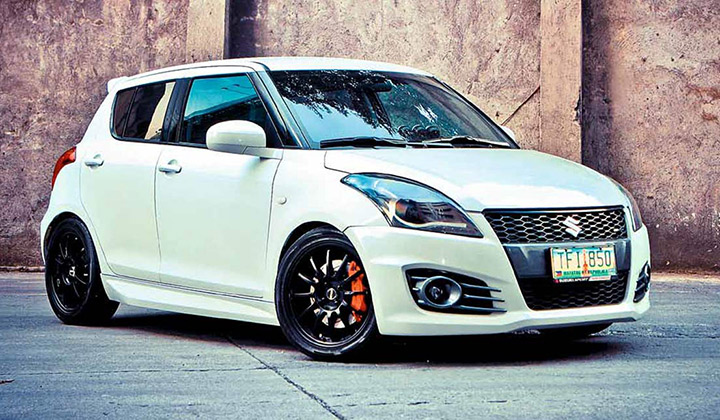 Q: Growing up, were you always interested in cars?
A: Before I started school, I could already name most cars on the road. As I lot older, I've learned the styling techniques, a little engineering and mechanics, and everything else. I can't remember a time when I wasn't fascinated by cars. I played with Matchbox die-cast models instead of other toys. I always drew car sketches from high school to college. Cars are the reason why I took up Industrial Design as my course in UST.
Q: What was your first car and how did you learn to drive?
A: I guess this Suzuki is my first car because this is the first car I bought using my hard-earned money. It was my girlfriend who taught me how to drive a car. And she's my wife now. (Elaine Lara, TGP July 2015)

Andrew James Olivar's 2012 Suzuki Swift
Q: Have you been living in the Philippines for a long time? What keeps you busy?
A: I am currently a business analyst in a call center, and I have been living in the Philippines since 2001. I was a hotelier for 33 years, and was once the general manager of The Manila Hotel.
Q: Why did you choose to drive a Suzuki Swift? 
I was looking at the Honda Civic, but when my wife and I saw the Suzuki Swift hatchback, we realized it looks very sporty. After we checked it out, we found out about its fuel efficiency. I bought it at the end of 2011.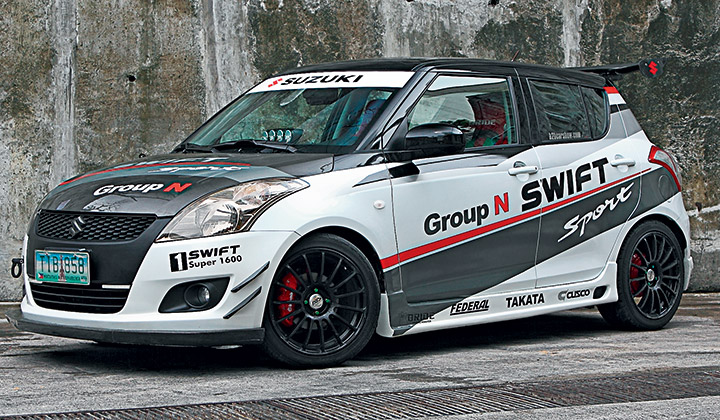 Q: Is there anything else that you love about it?
A: Its control and the steadiness it has on the road. It is really cool. The handling is perfect.
Q: How long was it before you decided to modify your ride?
A: After two months of ownership. I first saw the Suzuki Swift car club. All the cars there were set up, and I wanted to do the same. So, I started with an air filter, then the guys of Revline Elite Autoworks, the shop that did the work, took over. They did up the engine bay with carbon-fiber parts. Some are even custom-built and modified. Then they went further to do the interior, the exterior, the suspension and the rims.
Q: Why did you choose Revline to do the modifications?
A: I went to a lot of shops, and they all said that it was hard to get the parts for my car. But Revline was able to source the parts and also make its own.
Q: It looks like the work paid off. Tell us about the awards your car has won.
A: I was inspired when I won the Best Engine Display award at the most recent Bumper To Bumper car show and also when I got a few other trophies from other shows. From then on, I decided that I will keep joining competitions.
Q: What does your wife have to say about your hobby?
I told my wife Paula to support me because I am going to set up the car. She said, "Okay, I will—as long as you give me a chance to buy designer bags."
Q: Your wife was the one who arranged this shoot, actually.
A: We've got to have our hobbies or else we will go crazy. This car is my stress-reliever. It really is nice to have a supportive wife.
Q: Do you have a message for other car lovers out there?
A: I want all car enthusiasts to do their cars up! (Paulo Rafael Subido, TGP Dec. 2012)

2014 Suzuki Swift Shakedown Review
Traditionally, a lower- spec variant sacrifices the range-topper's bells and whistles. But with the 1.2-liter Suzuki Swift, that isn't necessarily the case. Externally, the only ways to tell it apart from the 1.4-liter Swift are its 15-inch wheels (versus 16-inchers) and side-mirror-integrated turn signals (versus plain caps). The spot-the- difference game becomes even more difficult inside; it seems the only real divergence is that the center console box on the higher variant's dashboard is absent here. 
With very little cosmetic variances between the two trims, it's a given that the P141,000 pricing gap would be noticeable on the mechanical side. The 200cc deficit in displacement results in a power gap of 7hp and 16Nm, but that doesn't make the 1.2-liter Swift a lesser car. The lower engine output is offset by the 65kg curb-weight difference, so the fun-to-drive Swift platform becomes even more enjoyable. While the suspension setup— MacPherson struts at the front and a torsion beam at the rear—has been retained, the 1.2-liter Swift rides a little taller, perhaps due to the road 'variety' in India, its country of production. This does make the car feel slightly top-heavy, but it can still take sweeping corners at 70kph.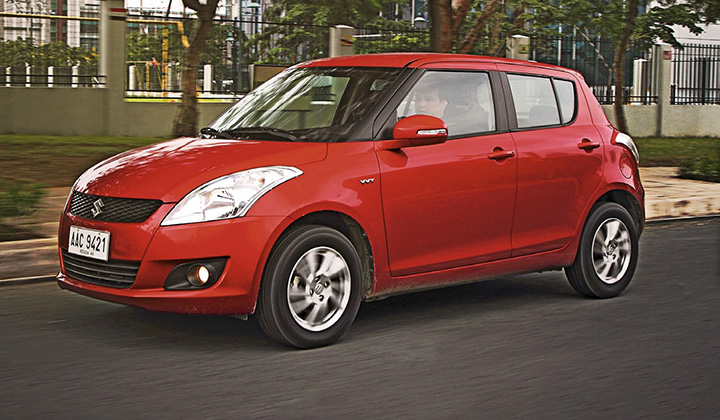 It's when you push the Swift that you'll start to see where Suzuki has cut some corners to achieve the entry-level variant's current price point. NVH levels are higher, and the amount of road noise is particularly irritating if you're driving on concrete. Engine noise also intrudes into the cabin when you hit 3,000rpm. On startup, the K12M mill sounds coarse, and the four-speed slushbox has a '90s vibe to it because there's still shift shock when you transition from Drive to Neutral.

What's more, the 1.2-liter variant retains the weaknesses of its bigger- engined version: the tight second-row seating and the shallow 210L cargo capacity. Rear cargo space can be increased to 533L when the rear seats are folded down. Still, these are minor inconveniences given that the engine yields a very frugal 14.4km/L in combined city-highway driving, and an admirable 11km/L when driven strictly in the metro. It's also worth pointing out that the fuel-gauge needle reached the three- quarter mark from full only when we'd covered 150km.

The Suzuki Swift 1.2 might have a smaller powerplant, but that doesn't make it substandard to its hungrier twin. It's a frugal thing in a sporty and nimble package. All things considered, it's the most fun on four wheels that you can have at a price that's easy on your checkbook. (Patrick Everett Tadeo, TGP Nov. 2014)