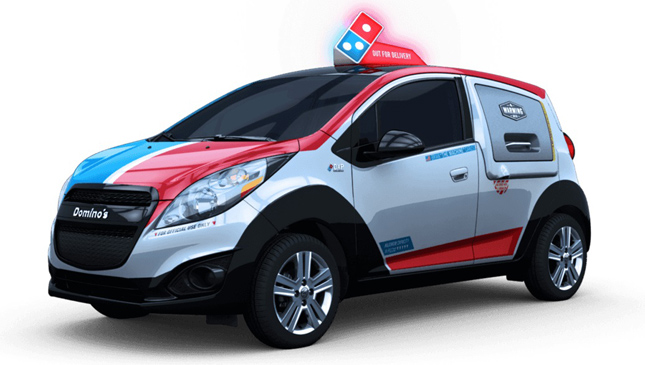 If you love pizza (who doesn't?), then you're going to love this. Domino's Pizza, General Motors and Local Motors joined forces to produce what may be the most significant breakthrough in all of pizza history. Guys, say hello to the Domino's DXP--the ultimate pizza-delivery vehicle.
Essentially, the DXP is a heavily modified Chevrolet Spark. The three companies turned to crowdsourcing for inspiration by holding an online contest called the "Domino's Ultimate Delivery Vehicle Challenge." A total of 385 submissions from designers all over the globe were considered, and then they got to work. Three years later, the DXP was born.
This isn't just another typical delivery vehicle with a few accessories and the company logo plastered on it. The DXP is the real deal. Aside from the Domino's Pizza theme, the vehicle is equipped with a handy built-in warming oven that heats pizzas to up to 140 degrees. The interior has also been designed to safely store anything a pizza-delivery driver might need: drinks, dipping sauces, napkins, and up to 80 pizzas.
Outside, the DXP features a Domino's logo puddle light, an illuminated Domino's car topper, reflective decals and side panels, and hubcaps with the company logo. Each unit can be personalized with the driver's name via a decal on the side as well.
Continue reading below ↓
Recommended Videos
We have no clue as to why no pizza company thought of this sooner. Can you imagine the possibilities? No more cold pizzas, no more soggy mojos, endless supply of napkins and sauces--this is what you call innovation. Everything about the DXP--from its crowd-sourced inspiration to its purpose-built features and functionality--is genius.
Would something like this work in the Philippines? Well, it doesn't seem logical to use a car here for delivery on account of the horrible traffic. But to be honest, we wouldn't mind an extra 30 minutes of delivery time if it means we get to see one of these babies roll up in front of our house.