Our kababayan car designer Winifredo Camacho  was featured in our April issue this year because of a very special achievement: He had played a big role in the design of the current- model Mercedes-Benz E-Class. In the world of automobile design, it is rare for one designer to be involved in every step of a vehicle's styling process. Wini was there from start to finish—his design making it to the factory floor. This feat earned him genuine rock-star status.
It isn't every day that Top Gear gets a chance to talk to a renowned car designer—a Filipino one at that! We then decided to make the most of our time getting to know the fellow. "I've worked in three different continents and I tend to adapt to the style of the place that I am in, but a big part of me is still Filipino," he told us. After hearing that, we dared to ask his help for a story. How would he feel about redesigning the famous Philippine jeepney for these modern times and share the sketches and renderings with our readers?
ADVERTISEMENT - CONTINUE READING BELOW ↓
"Why not?" was his enthusiastic answer. Within weeks, Wini sent us the illustrations you see here. Remember that the man is one of the main designers of Daimler AG, and that this is a first for a local automotive magazine. We do consider ourselves honored.
"I looked at the jeepney and focused on its strengths to make it better," he explains now. "I thought, 'What makes it iconic?' It is colorful, with interesting graphics. The '70s jeepney was the best—super nice and colorful. I started from there and made it tasteful, without losing the essence of what makes a jeepney, a jeepney."
Wini's redesign sketches may seemingly be at odds with the original Willys Jeep concept of simplicity, but they still actually represent the very essence of what the Philippine jeepney is all about—endless possibilities of customization and individualization. "The idea is to start with something very basic, and a potential for limitless customization," he says. "Who knows what one may end up with? This, I believe, is what makes the Philippine jeepney truly special."
ADVERTISEMENT - CONTINUE READING BELOW ↓
Recommended Videos
Below are his notes that accompanied the sketches:
1) The basic concept of Wini's design proposals pays homage to the original Willys Jeep.
This is only logical, since it is the vehicle that spawned the jeepney. "For the basic design, I kept—albeit with my own interpretation—the iconic details, such as the round lights, the vertical grille holes, and the front fender design," Wini says. "More-over, I kept the simplicity, honesty, timelessness and absoluteness of the original design." The challenge was to produce exterior designs that re ect all these, while at the same time making them as aesthetically attractive as possible.

2) 

The designer considered our local road and environmental conditions in his reinterpretation:

"It should be able to deal with rough conditions, such as bad roads and oods. Exterior parts should be rugged, easily replaceable and cheap." The cost of running a jeep plays an integral part in its overall character.

ADVERTISEMENT - CONTINUE READING BELOW ↓
3) A

lso important is the consideration of local manufacturing capabilities.

"The chassis and the body panels should be manufacturable through the available local steel, metal and plastic manufacturing processes. Large gaps and shut lines should be incorporated in the design aesthetics for ease of manufacture and minimal assembly tolerance problems. Body panels can be made of molded fiber-reinforced plastic—for low-vol ume production—or stamped sheet metal—for high-volume production."

4)  It must have a modular platform based on one wheelbase.
For simplicity of engineering and manufacturing will make it possible for numerous variations, such as passenger jeepney, SUV/AUV, family vehicle, delivery van, and other body styles. The possibility of long and short wheel- bases can be developed later as needed.
5) 
The new jeepney should use a steel space-frame chassis (like the first 300 SL 'Gullwing').
This is structurally stiffer and stronger than the ladder frame of current jeepneys. Modular design is possible with this type of chassis.
ADVERTISEMENT - CONTINUE READING BELOW ↓
6) 
For practicality, the new jeepney should be front-wheel-drive.
"This is cheaper to make than RWD and allows better vehicle architecture packaging," Wini reasons. "Four-wheel drive is also a possibility. The powertrain can be sourced from a Japanese or Korean assembler."
7) 
Customization is a vital part of the Philippine jeepney culture.
Parts such as lights, bumpers, rocker panels, the grille and the roof can be replaced or enhanced with aftermarket parts. "I foresee the growth of aftermarket parts manufacturers and tuners who will develop their own designs," Wini points out.
Note: This story first appeared in Top Gear PH's October 2010 issue.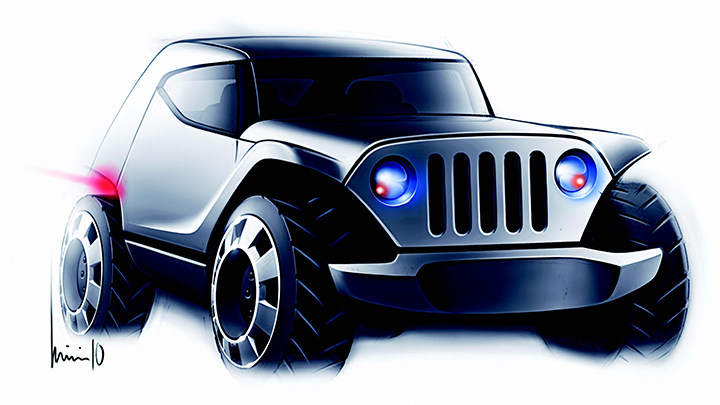 ADVERTISEMENT - CONTINUE READING BELOW ↓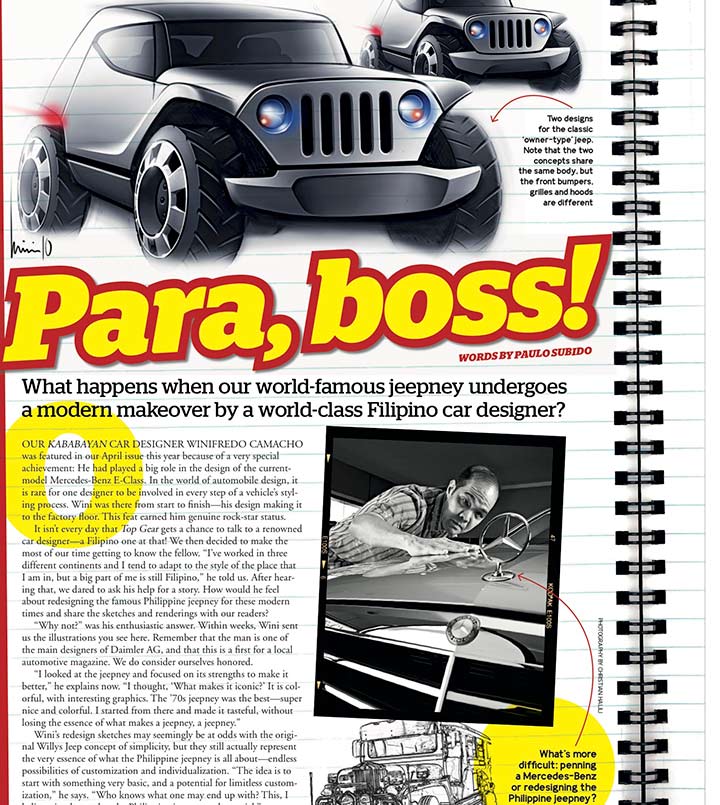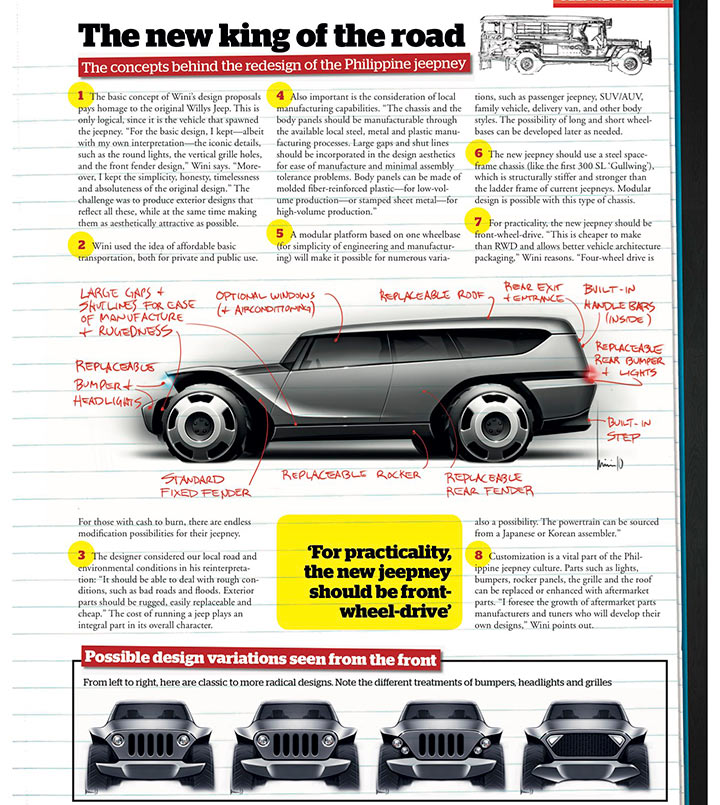 ADVERTISEMENT - CONTINUE READING BELOW ↓