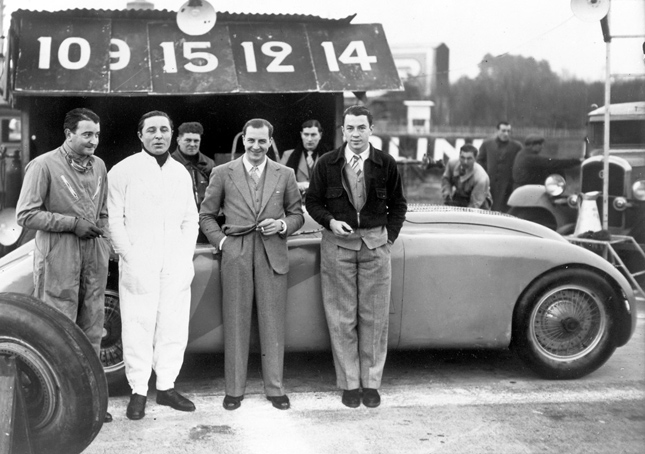 The Bugatti Veyron has developed a legendary reputation since it first rolled off the French supercar manufacturer's production floor in 2005. It shouldn't come as a surprise, really. After all, we're talking about one of the fastest--and most expensive--cars on the planet. But what exactly is a Veyron? No, it isn't some fancy foreign word that connotes luxury or speed. "Veyron" refers to a man, and he deserves just as much recognition as the car that shares his name.
Today marks the 45th death anniversary of Pierre Veyron (pictured, second from left), the supercar's namesake. Pierre was a French engineering student turned race car driver who began his career after a friend and avid racing fan had convinced him to take up the pastime. He fell in love with the sport immediately, and after being introduced to a wealthy industrialist who offered to back him financially, there was no looking back for the young Frenchman.
ADVERTISEMENT - CONTINUE READING BELOW ↓
After a convincing victory at the 1930 Geneva Grand Prix, Pierre received an offer from no less than Jean Bugatti (son of Bugatti founder Ettore Bugatti) to become both test driver and development engineer for the company. This allowed him to continue his racing while at the same time remain directly involved in the development of Bugatti vehicles.
Pierre would go on to establish a notable career with the company, bagging win after win in the Berlin Avus races. His success culminated in a victory during the prestigious 1939 24 Hours of Le Mans with fellow driver Jean-Pierre Wimille. In addition to his achievements behind the wheel, Pierre would also be instrumental in the development of the Bugatti Type 57, one of the company's most financially successful automobiles. His proudest moment, however, may not have had anything to do with cars at all.
Pierre Veyron joined the French resistance movement against the German occupation of France in World War II. For his efforts, he was rewarded with the French Legion of Honor award--one of the highest military decorations in France. Veyron would take a step back from racing after the war, prioritizing his family and small petroleum business instead. He passed away in 1970, in the small town of Eze, at the age of 67.
ADVERTISEMENT - CONTINUE READING BELOW ↓
Recommended Videos
The rest, as they say, is history. Bugatti would eventually name its record-breaking car after Pierre. So Veyron is a winning race car driver, vehicle engineer and war hero all rolled into one. We guess you can say he's a pretty big deal. To be honest, we'd pick having all those accolades over owning a Bugatti any day.
Photo from Bugatti's Facebook page