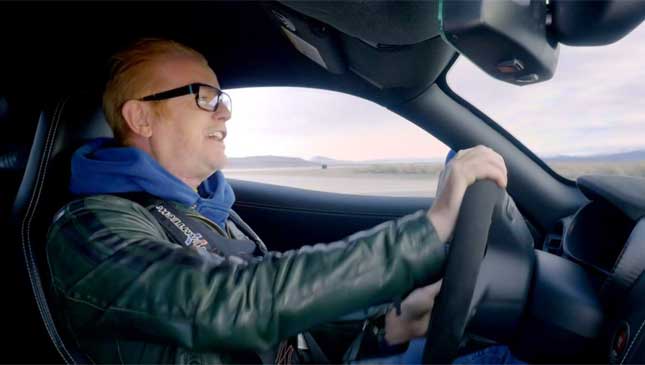 There's a split second at the beginning of the show where the eyes of new presenter Chris Evans wait for the cue, and he does a quick introduction before the new opening credits appear. It's a brief reminder that the hosts are new to this job, and of the daunting task that lies before them.
So we've seen the first episode of the 'new' Top Gear, and it's not awful.
The first segment is done in the familiar format of presenting a new sports car, and then mixing it up with a challenge. Off the bat, we can see that Top Gear's fabled cinematography is still there. This segment also celebrates the 30th anniversary of the movie Top Gun, so fans of the iconic '80s film will enjoy the banter between Evans and Sabine Schmitz. It was nice to see that the humor is still subtle, and can be appreciated by listening to the dialogue.
As seen in the succeeding challenges, Matt LeBlanc's inclusion is a nice touch. There's an easy comedic vibe about him, something honed from years working in sitcoms. The British-American contrast between Evans and LeBlanc could be an interesting dynamic in the future if the writers can sustain it.
It's obvious that Evans knows his cars, and he's no novice when it comes to public speaking. But he's the more unfamiliar face at this point to non-British viewers, so it'll take time to warm up to his personality. Schmitz is actually more recognizable, having appeared in previous TG episodes.
Evans seems to be in his element when it's time to do the interviews. This first episode has two guests: celebrity chef Gordon Ramsay and actor Jesse Eisenberg. If you don't know it yet, you will be amazed at what car Ramsay owns. And the chef can drive!
We'll let you discover the rest of the episode on your own. But it is important that you go into this new Top Gear with an open mind. If you view it and expect the chemistry and dialogue to be exactly like before, you're setting yourself up for disappointment. Remember that James May wasn't part of the current trio either; he was brought in as a replacement for someone else. Which means they also didn't get it right the first time.
We look forward to future episodes with Evans and company. Even with new faces, it's just good to see Top Gear back if you're a true car fan.