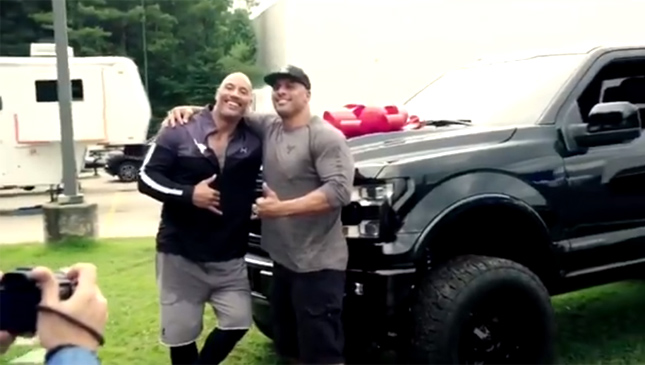 Dwayne "The Rock" Johnson has had a hell of a film career, cementing his reputation as one of the industry's most bankable actors around with films like The Fate of the Furious, San Andreas and, most recently, Skyscraper.
With a filmography like that, it's safe to say that Johnson is a bona fide action star. But behind every over-the-top sequence The Rock has ever been in is another person who deserves just as much recognition: His cousin and long-time stunt double Tanoai Reed.
Reed takes the brunt of the beating during shoots. According to Johnson, he's suffered everything from broken bones to torn ligaments and severed tendons. Ouch. Johnson says Reed continues with his work despite this with only one goal in mind: To deliver kickass movies to audiences across the globe.
To thank his friend and cousin, Johnson secretly had a custom Ford pickup truck built as a gift while Reed recovered from an injury. The entire surprise was caught on camera, with Reed thinking he and Johnson were simply being interviewed about their career together. You can watch the heartwarming moment on The Rock's Instagram and Facebook page.
"Not only does Tanoai represent our family and my career with relentless commitment and passion," Johnson says, "he also represents an entire Hollywood stunt community that is truly the backbone of our business. Love you so and thank you for the blood, sweat, tears and years."
So the next time you see The Rock getting the s*** beat out of him in a Fast film, remember that, chances are, that's Tanoai taking in the bruises. Thanks for the awesome movies guys!