The Toyota Vios above belongs to Dominic Garcia of Mandaluyong. Here's his story:
Can you tell us briefly the modification process your Vios went through?
The process was really long. I started with a European design concept for my Vios, before I decided to follow the JDM setup. Now, I'm following a Thailand concept. We have the same car market with Thailand so most of the cars here are also there, and most of the parts are made in Thailand. The fastest Vios cars are also in Thailand. My group, Thai Culture, is trying to bring the Thailand car concept to the Philippines.
Why did you decide to follow the Thai car-culture design?
This was the only time I really researched about the culture. Actually, when I was in the JDM phase, it was more on experimenting and DIY lights and installations. I realized, during the whole modification process, that there are no Vios cars in the Euro market. In Japan, JDM is for the sportier cars. Here in the Philippines, this car model is for Uber and Grab. In Thai- land, the Toyota Vios is a really respected model. It's their race car.
What's the most important accessory or modification?
Continue reading below ↓
Recommended Videos
The air suspension. Before I was rolling static, it was really hard for me to go places. Now I can go anywhere.
Is this still a work in progress or is it complete project car?
As of now I'm satisfied with the look but the modifications will probably not stop. It will not make you sleep. You will always think of something new to add. How did you learn to drive? There was an emergency. I forgot what it was but I was forced to drive. Before that, though, I've been practicing driving already.
You purposely chose the base variant because you wanted it and not because it fit your budget?
Yes, this is the taxi variant, roll-up windows and everything. I really bought the base 1.3 model so that I can modify it and play with it. My mom preferred the J variant but I told her that I really wanted the base variant.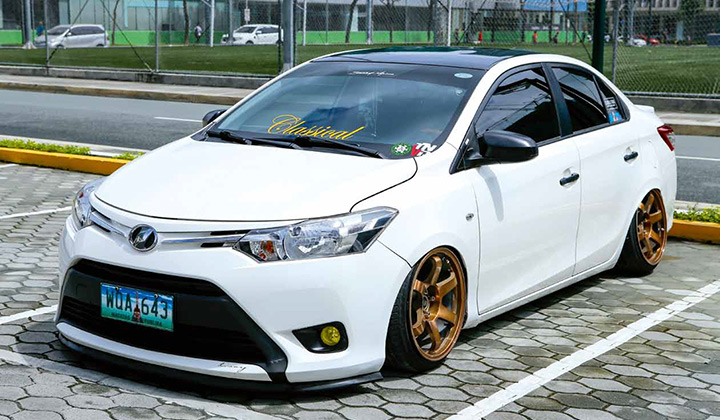 This one belongs to Gerald Cruz of Pasay. Here's his story:
Why did you buy this car?
I started dreaming of owning a car when my son and I went to Yexel's Toy Museum in Las Piñas. During the trip my son was not able to rest throughout the journey. I saw how hard the commute was for him. We were both standing in the bus and MRT because I didn't have a car back then. I then promised myself that on our next trip together, we will have a car of our own. The following year I bought this car, Tisay. I call it that because of its white color.
What upgrades did you make to its interior to make it child-friendly? Inside?
I didn't upgrade anything. I just changed the steering wheel, that's all. My son doesn't like noise or anything loud because of his migraines, so I didn't upgrade the sound system. When he's in college, he'll be the one driving this Vios.

Do you have a car in mind that will replace your daily driver by then?
Yes, I do. My next car will probably be the new Honda Civic.
When did you start adding accessories to your Vios?
I kept this car in stock condition for about a year. Everyone advised me to do so because of the insurance policy.
How did you know that it was time to start modifying the car?
This is the Vios J, it's the second to the lowest variant and it's also white. So sometimes when I drive it, people wave their arms thinking that my car is a taxi. I knew I had to start modifying it because of that. After a year, I changed the mags first and then added the bodykit.
Does your son like cars?
Yes, we even went to the Lotus showroom in Greenhills. We took lots of photos. I may not be able to afford those cars, but at least I was able to bring him to the showroom where we can look at them together. (Elaine Lara)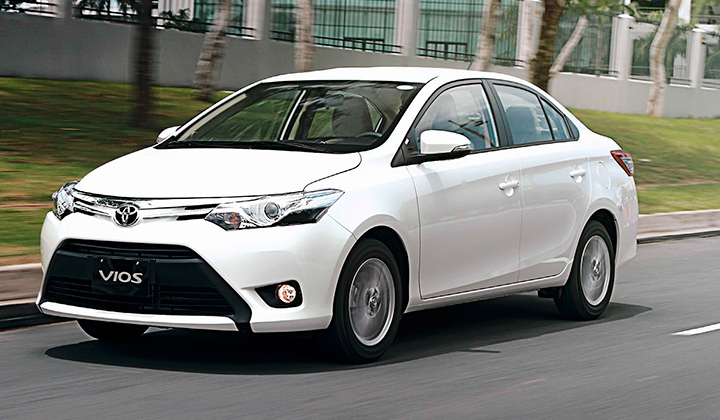 Here's more info about the ubiquitous  Toyota Vios:
Make no mistake about it: The Toyota Vios is the Philippines' best-selling car today. Even if you discount the ones in taxi form, the number of privately owned units still outnumbers any other nameplate you see on the street at any given time. But after six years—and despite moving 1,446 brand-new units in its last full month of sale—the second generation was finally replaced by an all-new model, four months after the latter's global debut at the Bangkok International Motor Show.
What immediately captures your attention is the new look. Gone is the bulbous front fascia, and in its place is a more aggressive snout that highlights the large lower grille. With its sleek, laser-cut headlights and the slim chrome grille, the third iteration appears a lot larger than its predecessor when, in fact, it's only 110mm longer and 15mm taller. The standard wheels look decent, but they're almost begging for an upgrade.
It's when you get to the rear that you realize you're still looking at a subcompact—all 1,700mm of its width, which is exactly the same as the older model's. Unlatch the front and rear doors, and you'll see how wide they open. While this makes getting in and out easier, extra caution must be taken since you could give the neighboring car some dings.
As you step in, the first things you'll notice are the leather-clad, three-spoke tiller and the Optitron-like gauge cluster, which now sits on top of the steering column where it should be. Another standout feature is the floating upper-center console, which houses the integrated multimedia head unit for the six-speaker setup: A manual, dial-controlled type and not the automatic version that other markets get. In typical Toyota fashion, all the controls are intuitive and fall naturally to your hands.
One Toyota touch we can do without, however, is the Japanese carmaker's enduring fascination with beige interiors. They are notoriously hard to keep pristine, and attract dirt in the same way kaiju gravitate toward a densely populated coastal city. And since the dead pedal isn't even covered with a rubber pad, imagine how quickly it will get dirty.
Once you get going, it's immediately evident how quiet the cabin is, with nary a hint of road or engine noise until you prod the accelerator hard. Toyota has really improved the NVH levels in this latest generation, and it's admirable considering the dash and door panels are all made of hard plastic that impressively imitates leatherwork down to the fake stitching. It gives the term 'faux leather' a whole new meaning. (Patrick Tadeo, TGP Sept. 2013)