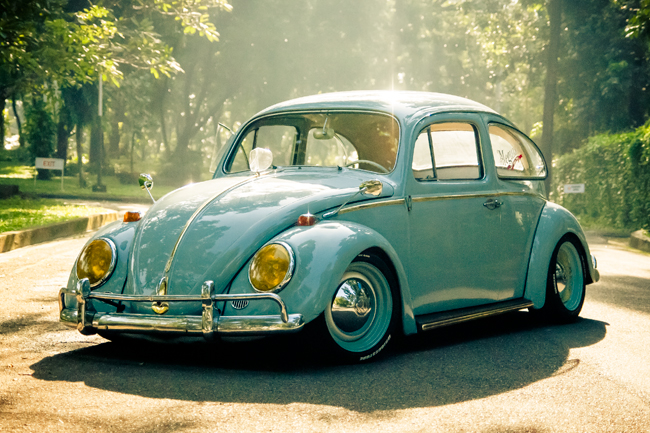 How does a car owner truly make a ride his own? There are two ways to go about this. The first is to load your car with off-the-shelf parts for performance and aesthetics. The second is to really dive in with custom features and modifications that can't be bought. Sam Albayda and his 1964 Volkswagen Beetle fall under the latter category. Enthusiasts and cars like this appear few and far between.
We love this style because it reminds us of classic hot rods. Widened steel wheels look good to us when they fill up fender wells. And then there are the hubcaps; it's easy to take these for granted, but when you have an eye for detail and a taste for this very specific aesthetic, you know when things are just right. There aren't a lot of cars like this roaming Metro Manila, and that's why we dig it. Purists had better look away.
"The restoration was done at home, from the engine to the bodywork and paint job," says Sam. "And we brought everything back to stock, with the tall tires and the normal stance."
The restoration job was done 10 years ago, and up to now it still looks pristine. Sam tells us that Anzahl was the paint brand of choice, and the old painter who did the finish was a genius.
Continue reading below ↓
Recommended Videos
As for the execution of Sam's personal vision for the car, it was a 10-year journey. It all started with his desire to go low and fit widened steel wheels. The modified steelies were done by an old machine shop on Anonas Street in Quezon City. The rear wheels look so big and deep, especially when enclosed by the very sexy rear fenders of the Beetle. The car also sports gold accents on the chrome pieces, and swan-neck fender mirrors. "You need these mirrors talaga," Sam remarks.
Inside, the gray interior is a very neutral tone that works with the blue exterior paint. And because Sam wanted to make the Beetle a plaything of sorts, he added a cut-off switch for turning the engine off. There's also a secret push-start engine button hiding somewhere in the interior. You won't find a place to put a key in here. This Beetle is 50 years strong, and will definitely turn heads for another 50 years. It's a ride that's right up our alley.
Photos by Ian Magbanua
If you're viewing this on a mobile device and can't see the video, please click here.