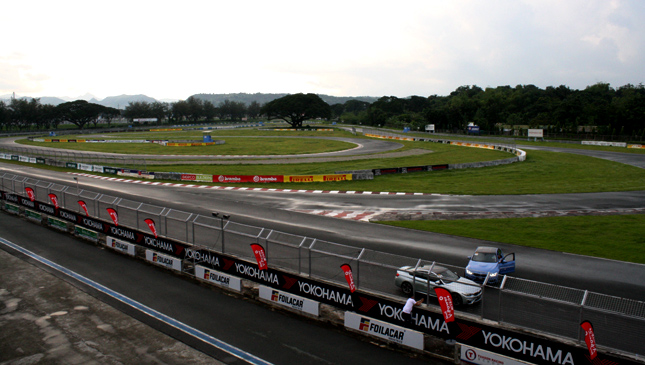 There's just something about your first time that--for whatever reason--feels special. We've all been there: hands shaking, body dripping with sweat, adrenaline rushing through our veins. We've all had that "did I really just do that" feeling, followed by the inescapable idea that no matter how beautiful or amazing the next one will be, the experience just won't be able to stand in the same light. What I'm talking about here is not what you're thinking, but it comes pretty damn close.
These were the exact same thoughts running through my head as I took off my helmet and stepped out of my car, grinning like an idiot. I had just completed my very first track event, in no less than the all-new BMW M4 and a lineup of other M vehicles that Asian Carmakers Corporation graciously provided for us. At Clark International Speedway, by the way. Believe me when I say that the experience is absolute ecstasy. The car was stunning; the track was incredible; and the fact that I was behind the wheel was absolutely priceless. Maybe this is the track-virgin in me doing the talking, but there are very few sensations (for a car nut at least) on this earth that can come close. What exactly am I talking about?
You get a little nervous. That's one mighty fine car they're rolling out over there. Mighty expensive too, I'm sure. Would be a tragedy if something were to happen to it. And then you take one big gulp as you remember you're going to be driving it. You wonder if you can handle it, let alone pay for it if anything disastrous were to transpire with you behind the wheel.
You realize that you're more capable than you think. You complete your first slalom. Your first run isn't exactly a thing of beauty. You're slow, glaringly sluggish in comparison to your fellow drivers--but you're just getting started. Your initial attempt is enough for you to gain a proper feel for the car, and some confidence. Just enough for you to leap several seconds ahead of a few competitors in your second run. You're no pro but hey, everyone has to start somewhere, right?
You learn to appreciate the work people put into your car. The BMW M3 and M4 are, in their purest forms, absolutely staggering track vehicles. There's a lot to admire here, but only now do you truly learn to appreciate the effort and time engineers and designers put into building them. That power, that superb balance, the precise, nearly mathematical handling you feel in your hands as you attack the track in its entirety. In your mind, you thank them for it, because you know that without their expertise, none of this is possible.
You get jealous. The instructors? Now they're the real deal. They're not so much drivers as they are artists. You just can't help but feel a little awestruck watching them work their magic in a car. Seeing them standing on the track with their arms crossed and shades on, and knowing that they get to drive these cars for a living just make you want to kick a tire. Life's not fair--it never will be. Oh well, c'est la vie.
You're left absolutely speechless. They radio you to pull up to the side, and just like that it's all over. You step out of the vehicle, and your more experienced colleagues come up and ask you how your first time was. Ang saya. Yes, that was all I could say. I had just been behind the wheel of the most stunning car I'd ever been given the privilege to drive, and all I had to say was that it was fun. It's not that the experience was underwhelming. Quite the opposite really: The feeling afterward was so immense that only my ridiculous grin, which stretched from ear to ear, could express the pseudo-state of nirvana I was experiencing.
You start acting weird. And now, I'm facing a problem: I am absolutely hooked. It's like the worst itch you just cannot seem to scratch. I still find myself occasionally grinning at the thought of one day returning for another go behind the wheel of my own car. What I'd give for that car to be a BMW M4.
Photos by Drei Laurel