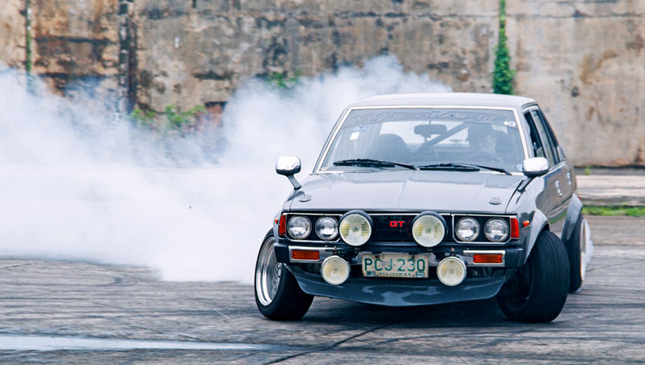 Are you a car nut who has a thing for boxy, old-school Japanese rides? Does the Toyota Corolla DX strike you as one of the most gorgeous models to ever be sold in the Philippines? When a modified DX drifts and burns rubber, does it bring a tear to your eye? If you've answered yes to all of the above, then you must know who Alvin Dayrit is. And you must also recognize his ex-rally-car DX with its massive Cibie Oscars, fender flares, and period-correct custom SSR deep-dish alloys.
There are so many automotive enthusiast subcultures out there, but Alvin belongs to a very specialized one. He's arguably the star of the V8-into-a-DX modification crowd, thanks to his wild drift videos. The latest one of him doing a burnout on a flat-bed truck hit over a million views recently. His badass DX has so much attitude, it's hard not to love it. A group in Japan called Motorfix does the same thing, and has gained a bit of notoriety for its unmistakable style. But Alvin is bringing his own flair to the table. Plus, he's got a pretty cool story, too.
Continue reading below ↓
Recommended Videos
Alvin first got interested in slalom because Bing Bang and Lito Dulce are his neighbors. This couple founded Race Motorsports Club and runs the only AAP-certified national slalom series. "I went there so many years ago, watched it, and tried it. And it was fun," he recalls. His first car was a stock DX. The night before the races, he would swap out the single-carb for a twin down for more oomph. He moved on to the Isuzu Gemini and dominated for a while. But when the Starlets came in with TRD parts, he decided to take a break from racing.
He then came across drifting eight years ago, and had to give it a try as well. So, he built himself a Nissan Silvia and a Cefiro and whatever drift cars were popular at the time—with modded engines that pushed 400hp. He still had a fascination with old-school cars, though, but he admits that once you get a taste of 400hp and you drive an old car with 150hp, you will tell yourself that there's something wrong.
Alvin's DX, which looks awesome, has a Toyota V8 shoehorned into the engine bay. It packs 'only' 200hp, but the torque output is enough to set rubber ablaze. When he uploaded his first video of the DX drifting, it got way more views than his vids drifting a Skyline. Why so popular? The video shows him going sideways in the old-school car all the way around a slalom course, and it's pretty amazing to watch. "I'm gonna run the slalom, but I'm gonna run it sideways," he recounts. And with that, an Internet automotive subculture star was born.
Alvin's 1982 DX is an ex-rally car, and was a solid score. Seam-welded, caged and reinforced, it was perfect for accepting more power. The 1-UZ comes from a Lexus LS400, which is an automatic. There are aftermarket kits you can bolt on to mate the motor to a manual tranny. It was a quick and easy installation, not to mention very tough and durable. For underpinnings, the car has an AE86 suspension and differential, plus coilovers. There are no problems with rust even after all the welding. The widened SSRs also have a story of their own. They are maintained by the same guy who set up the car so many years ago.
Alvin works abroad and only has limited time when he's in the Philippines. That's why he's out drifting at Megatent in Libis on odd days of the week. Most of the time, he's alone with a hired videographer to document his antics. After that, he has to hop on a plane and head back to work; he can't attend local drift events that are usually held on Sunday. Alvin says he's happy to have company any time, and he really does enjoy it when other drifters come out to play. But whether he's alone or not, Alvin says he's just doing this to have fun and get his kicks. We can't think of a better way to unwind and destress from work.
Do you like what you see? You are welcome to drop by Megatent to watch. If you're lucky, he might even give you a taxi ride. We can't wait to spend another afternoon with this dude. Burnt rubber never smelled so good before.