Contrary to popular belief, no production car (at least in this day and age) is designed by one man alone. Even the legendary Giorgetto Giugiaro had a whole team of designers working under him during the conceptualization if the Delorean DMC-12. However, when a designer is part of each step of the long process of creating a new car—just like our kababayan Wini Camacho was during the inception of the current Mercedes-Benz E-Class— that's something to brag about. In the world of automobile design, it's very rare for one designer to be involved in all stages of the process.

"This car is a very special project because I was involved right from the start," recounts Wini while we study the angles of a gleaming silver E-Class parked inside the Mercedes showroom in Greenhills. He gives us a glimpse of what it is like to be working at Daimler AG as well as the rigorous process of designing (and then producing) a new car.
ADVERTISEMENT - CONTINUE READING BELOW ↓
First, the entire design team is tasked to create proportion models that determine the technical package of the car, all the while negotiating with engineers. From there, a design competition is staged where all Mercedes-Benz designers are invited to participate. Twenty designs are then chosen to be transformed into quarter-models. In the case of the E-Class, one of those designs was Wini's. Three models are then picked to become full-size clay mock-ups.

"Mine was chosen to be among the three, and eventually my design proposal became the basis for actual production," shares Wini. The total time frame for these steps combined is two years. "It is very seldom that a designer gets to work with a car from start to finish," Wini says in a reserved yet matter-of-fact manner. He is obviously proud of his achievement, but his demeanor remains humble.

Benzes have always been known to be conservative when it comes to style. Wini acknowledges that its cars are more about 'evolution' rather than 'revolution'. Consider how difficult it is to design a car with 'vertical affinity'—a Mercedes maxim stating that older cars should not be rendered stylistically obsolete by their successors, thus ensuring greater timelessness of design. Today, the current E-class looks more modern and angular, more dynamic and emotional—a huge leap that Wini was an integral part of.
He admires car designers from the Sixties and the Seventies, particularly Giorgetto Giugiaro whose cars managed to evolve with the decades and remain abreast with the times. For vision, he mentions Chris Bangle, the former chief designer of rival company BMW. "He transformed the brand," Wini declares. " He was able to convince the whole company to change its direction. That's not easy."
ADVERTISEMENT - CONTINUE READING BELOW ↓
Recommended Videos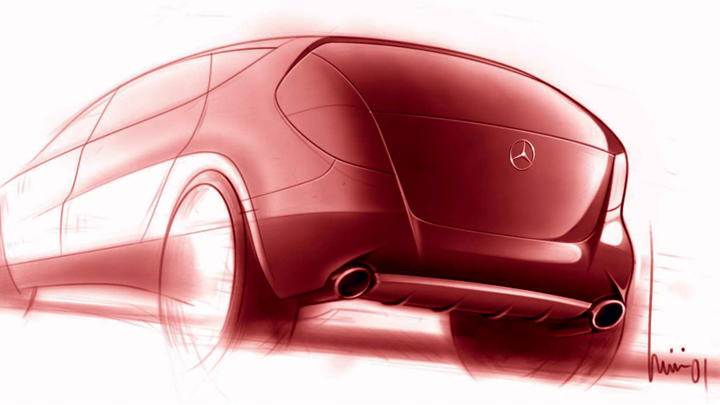 In the annals of his company, Wini looks up to Bruno Sacco, the Italian head designer of Daimler-Benz from 1975 to 1999. Sacco is acknowledged as one of the most influential designers in automotive history. "He made timeless stuff, with plenty of clean surfaces," Wini muses. "Today, Benzes are more dynamic and emotional. Gorden Wagener, our boss when we were designing this E-Class, is young. He is now currently the head of design. In two years, you will see products showing his design direction."
To be part of such an iconic brand and to be one of the men behind its visual direction is such a huge achievement. Wini has indeed come a long way, but the journey wasn't planned at all. "I just saw opportunities and took them," he says coolly. Wini grew up in San Francisco del Monte in Quezon City. His childhood was normal but he loved to draw and sketch anything and everything. In high school, he started designing technical things, moving on from just drawing "for art's sake."
ADVERTISEMENT - CONTINUE READING BELOW ↓
He drew his first car during his third year in high school, but preferred the shape of airplanes. He took up industrial design at the University of Santo Tomas. While working in Hong Kong, he came across a magazine called Car Styling and got hooked. Wini then enrolled in Art Center Europe in Switzerland and took up Transportation Design. When the school closed, he transferred to the Art Center College of Design in Pasadena, California. After receiving his degree in 1997, he started work as a designer at the Mercedes-Benz Advanced Design Studio in nearby Irvine. "It is very expensive to study transportation design," he shares. The cost is one of the roadblocks to being a car designer—a big reason why we don't see many Filipinos in this field.
Others look to beautiful furniture or intricate architecture for inspiration. Wini doesn't. He sketches on a blank digital canvas instead and tries to make sense out of nothing. "I just keep sketching and when I find that 'something,' I develop it. Sometimes this is an effective way of doing things, but sometimes it takes me days and days! Computer technology is a big advantage because you can do so many variations. My style developed from this technology."
Would he want to be the head designer someday? "Not in a big company," he laughs. "I'd want to be the boss in a smaller, more focused company with a smaller lineup. There, you can control the design direction better."
His dream project is to design the next-generation SLS Gullwing (yes, even if the current one is still new), but only if there are no constraints or a watching boss. Wini would also want to design a cabriolet—the purest expression of a car. "No roof, super light, minimalist, pure, clean, beautiful proportions, no need for bling-bling," he explains. For fun, would he redesign the Philippine jeepney for Top Gear PH readers? "Why not?!"
Note: This story first appeared in Top Gear PH's April 2010 issue.