After two Christmases spent in a pandemic, we're still eager to get a chance to drive out of the city for a quick break. Especially if the opportunity comes with a Jaguar F-Type. Early this month I was invited to try out the British carmaker's svelte grand tourer, with Jaguar Philippines head Chris Ward as my driving companion. Jolly good, I thought to myself. 
I arrived at the Jaguar Philippines dealership along EDSA and was greeted by a white F-Type, all fueled up and ready to go. Our destination was a charming cafe in Tanay, Rizal, about 60km away. Not too far, not too near, a proper day trip.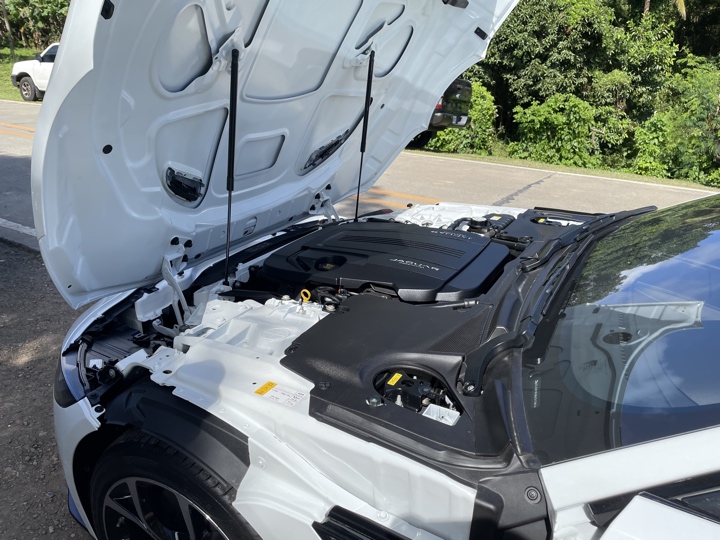 There's only one F-Type variant listed in the brochure sent to me. Its 2.0-liter turbocharged gasoline I4 engine generates 296hp and 400Nm. Not too shabby. You can also order the more powerful V6 variants, but expect the cost to go up significantly from the P6.16-M model idling before me. 
ADVERTISEMENT - CONTINUE READING BELOW ↓
The 2022 Jaguar F-Type was refreshed back in 2019. It now has sleeker headlights and a less cluttered grille design. I sense a bit of Audi R8 vibe when I look at it. Chris explained that its look, especially evident in the flanks, are directly influenced by that British icon of automotive design perfection, the E-Type. No wonder its looks don't age. 
Chris drove first, and I lowered myself into the passenger seat. I have a Japanese crossover as my daily driver, and my leg muscles got a quick workout with how low the F-Type is. There's also barely any cabin storage space. I had to place my big bag with my computer in the trunk.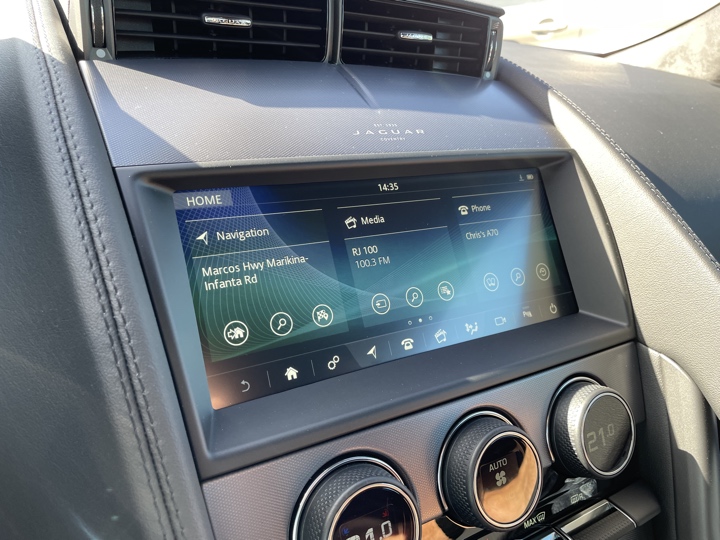 After Chris starts the engine I witnessed the most amazing conversation piece: The front A/C vents are hidden until you start the car, and then they rise up and cool you. Completely unnecessary, completely superfluous, I loved it. 
ADVERTISEMENT - CONTINUE READING BELOW ↓
Recommended Videos
The cabin is what you'd expect from the premium British brand. Gobs of leather, plush materials, and a cosseting cabin that will insulate you from the hot, noisy outside world. The F-Type now has Apple CarPlay and Android Auto, as well as a Meridian Sound System with 10 speakers. These are controlled by a 10-inch touchscreen infotainment system. We didn't use either of them because Chris knew the route, and we were discussing the car.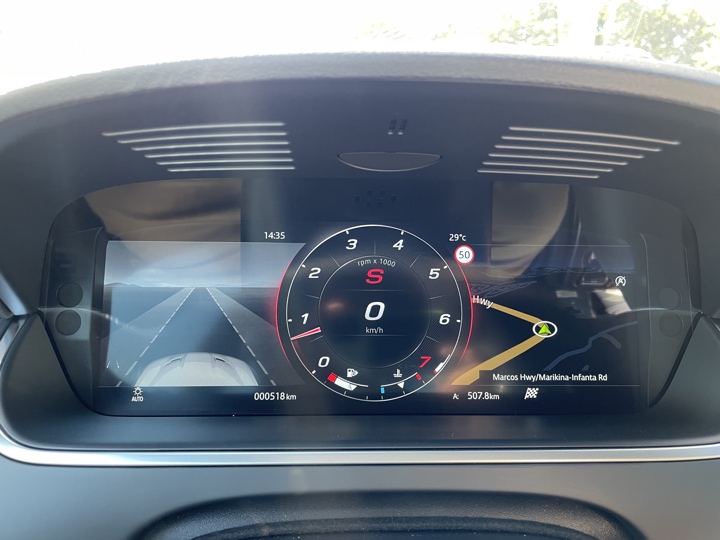 I wasn't able to note the size of the tires, but they looked a 'little' chunky. And knowing our roads, this was a good sign to me. True enough the F-Type handled our road imperfections handily. Besides, I had no complaints about the beautiful five-spoke silver wheels.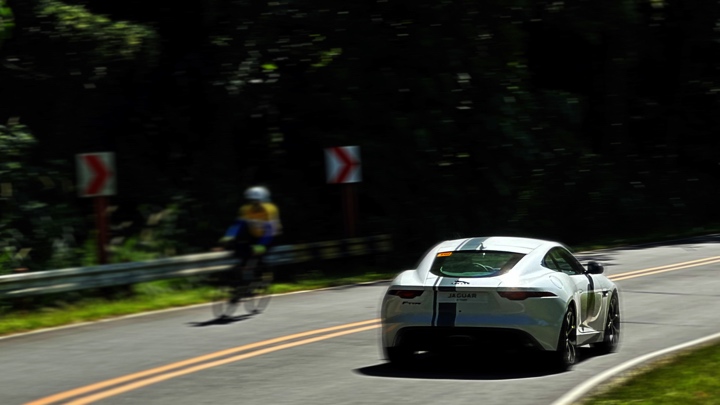 ADVERTISEMENT - CONTINUE READING BELOW ↓
Halfway through the trip, Chris and I switched seats. The first thing I noticed was the wonderful power delivery. Maximum torque comes in at a diesel-like 1,500rpm, and the F-Type launches itself like a—pardon the cliche—cat chasing its prey. With Chris thankfully driving through the clogged Marcos Highway and that perpetually gridlocked junction, I could now enjoy the 'Tanayburgring'. 
I have to confess at this point that I didn't push the F-Type hard. Maybe the reputation of these roads for inviting accidents spooked me a bit. Or I didn't want to appear reckless and jeopardize future lendouts from my host. I just let myself enjoy how the Jag handled the many twists and corners of these sublime roads. I never felt power lacking, and there was endless grip even at triple-digit speeds. All the while being pampered by a cabin and enjoying the conversation with my companion.
Then I realized that this is exactly the situation a grand tourer like the F-Type excels at. It's not a sports car you throw into a corner and drive at the limit—although you'll have to be a very good driver to dance around its limit. This is for fun, relaxing drives that let you enjoy the road and the scenery.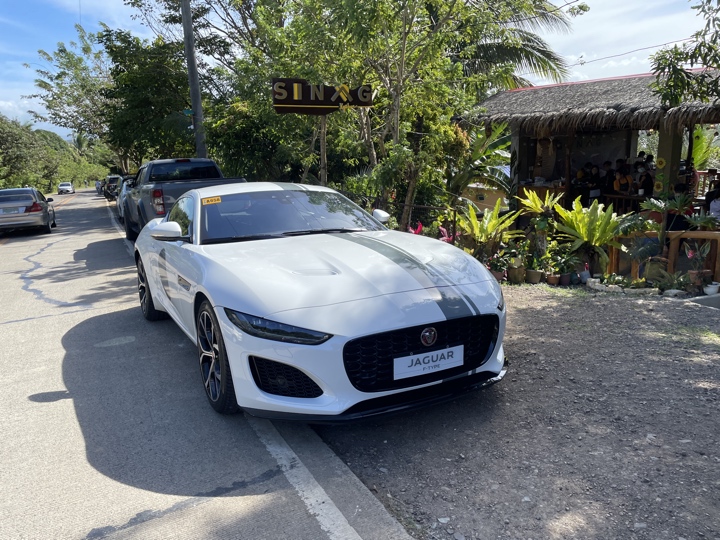 Before long we reached our lunch destination. Despite almost two hours on the road I don't feel tired. We had a nice lunch at Sinag Kapihan, with the fresh mountain breeze wafting through the tables. I got some takeout coffee after our meal and we headed back to EDSA.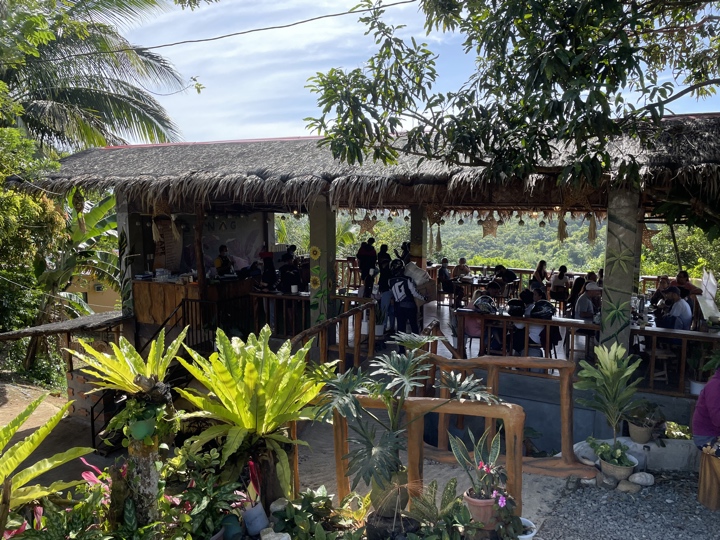 This time Chris drove first, and he tackled the twisties using the sport mode. The F-Type became an angry animal, snarling gloriously and surging between other cars and motorcycles. The exhaust didn't sound like a four-cylinder engine at all. We switched again halfway and I drove through the Antipolo traffic. You really get a sense of how low you are when jeepneys tower over you. But it was nevertheless a comfortable drive thanks to the excellent NVH. 
ADVERTISEMENT - CONTINUE READING BELOW ↓
We arrived at Jaguar HQ in the afternoon. It was a pleasant escape. I discovered a quaint new coffee place, and I got to know Jaguar's sexy coupe. In a time when bad days can become really bad because of what we're going through, good days like this become even more special.