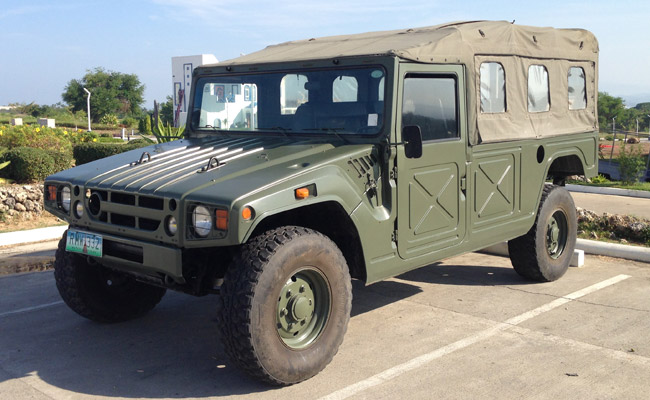 We here at Top Gear Philippines have been very vocal about our distaste for Japanese surplus vehicles that are dumped into our country and gladly received by unscrupulous Filipino car smugglers who sell them at a profit. We disapprove of these cars because not only are they unsafe (converted from right-hand-drive to left-hand-drive), they also put the formal automotive industry at a disadvantage.
To be honest, I'd rather buy a smallish Honda Brio than get a similarly priced surplus midsize SUV from Japan. I'm sure there are many of you who will disagree with me, but that's my personal preference.
And then I saw this--the Toyota Mega Cruiser--during last week's ride-and-drive event with Toyota Motor Philippines from Manila to La Union. This very manly ride is owned by Rene So, the jolly dealer principal for Toyota La Union, Toyota Dagupan and Toyota Baguio. He told us that he had bought the vehicle for just P750,000. He has left it virtually untouched, although friends try to convince him to repaint and modify it.
"This has become quite a toy car for my family," So shared. "My nephews always enjoy driving it. In spite of its size, it's actually easy to maneuver, although it can get really hot inside due to the lack of air-conditioning."
Continue reading below ↓
Recommended Videos
While the Mega Cruiser is basically spartan when it comes to creature comforts, it has features that will help you survive the most difficult of motoring conditions. And that's because this is essentially a military vehicle. One such feature that So finds extremely useful is the automatic tire-inflating system, which allows the driver to adjust the tire pressure from inside the cabin.
The heavy-duty Mega Cruiser was produced by Toyota from 1995 to 2002. I believe it remains to be the biggest SUV the Japanese carmaker has ever built, dimension-wise. It is wider than the current full-size Sequoia by some 140mm and taller by 120mm. It was designed primarily for the Japan Self-Defense Forces, although a civilian version was also released.
Powered by a 4.1-liter turbo diesel engine, the Mega Cruiser has exterior styling that borrows heavily from the Hummer H1. Nevertheless, it looks just as intimidating, especially when you consider that this humongous SUV has been used to transport artillery and missiles. You should snap up a unit if you can.
Photos by Vernon B. Sarne