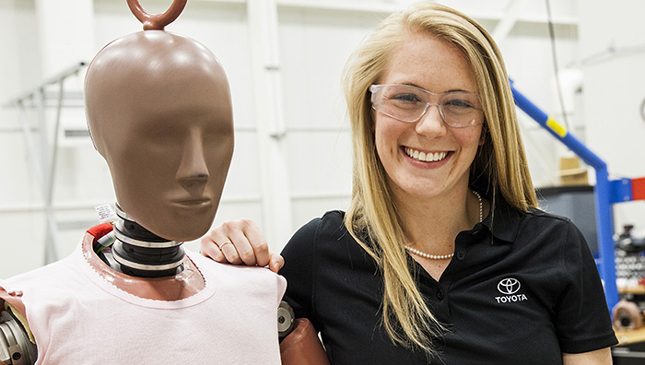 We found a career option that car lovers may consider. Thanks to Lexus International's education and training boss Paul Williamsen, we stumbled upon the story of Dana Buckley, Toyota's safety engineer, via Twitter.
"Every single person who gets into a car is a person I'm helping," Buckley was quoted as saying.
For more tweets you may have missed, read below.
Paul Williamsen (@williapm)
Ever wonder who does crash tests? http://t.co/PwErJobRww

— Paul Williamsen (@williapm) March 24, 2015
James May (@MrJamesMay)
Reporters outside my house: if you're going to hang around on small streets with your car engines idling all day, don't buy a bloody diesel.

— James May (@MrJamesMay) March 25, 2015
Cadillac (@Cadillac)
Watch Jason Wu share his thoughts on daring. Full interview at http://t.co/4qUDcZG79Y#DAREGREATLY https://t.co/0GUH5ylNja

— Cadillac (@Cadillac) March 24, 2015
Fernando Alonso (@alo_oficial)
Good "test" day for us. Yes, a lot of work ahead, but we are moving on the right direction. #happy#MclarenHonda pic.twitter.com/mAI5TYxe8F

— Fernando Alonso (@alo_oficial) March 27, 2015
Nissan Philippines (@NissanPHI)
Don't forget to save our 24/7 Nissan Customer Assistance Center's (NCAC) hotline # on your mobile phones: 403-6593. pic.twitter.com/5pqHnOVI2B

— Nissan Philippines (@NissanPHI) March 28, 2015
Ford Thailand (@FordThailand)
Smart, Rugged and Refined: New #FordEverest perfect for everyday commute and most extreme off-road terrains #FordBIMS pic.twitter.com/zRL9tw55JS

— Ford Thailand (@FordThailand) March 24, 2015
Toyota Motor Philippines (@ToyotaMotorPH)
See what went on Race 1 of the 2015 Vios Cup last March 21 at the Clark International Speedway! http://t.co/BJnwgJclmn

— Toyota Philippines (@ToyotaMotorPH) March 25, 2015
Richard Hammond (@RichardHammond)
Gutted at such a sad end to an era. We're all three of us idiots in our different ways but it's been an incredible ride together.

— Richard Hammond (@RichardHammond) March 25, 2015
Peugeot (@Peugeot)
The #PeugeotExalt is a sleek and athletic #conceptcar. Discover more about it : http://t.co/ZXCBZmKAky pic.twitter.com/nvgpzFX7f1

— Peugeot (@Peugeot) March 30, 2015
Jaguar USA (@JaguarUSA)
Our growl just got a little louder. #NewXF #NYIAS http://t.co/LCc48RmEVS

— Jaguar USA (@JaguarUSA) March 31, 2015
ADVERTISEMENT - CONTINUE READING BELOW ↓