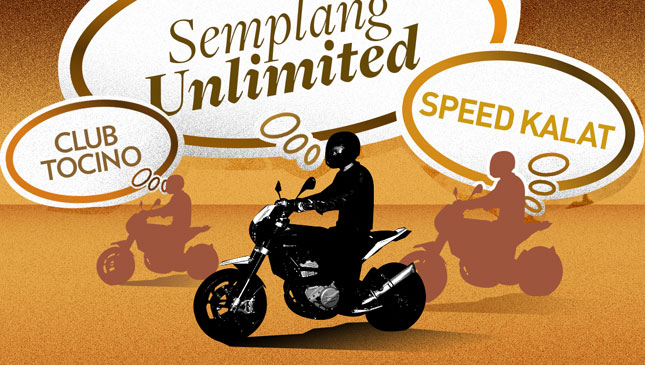 They ride in big groups during weekends, all wearing uniform vests with exclusive motorcycle club patches. But once you take a closer look at the patchworks, you'll either raise an eyebrow or roll on the floor laughing at the club names.
Some are funny, while others are intimidating. A few may be offensive, while others command respect from non-riders. But whatever the group's objective of naming its club as such, it is primarily about brothers bonding on two wheels. This is also about freedom of expression and creativity.
Here are the 10 samples of unique motorcycle club names in the country:
Continue reading below ↓
Recommended Videos
* ATAT Motorcycle Club and Racing. According to the club president Marc de Joya, the five founders are always itching to ride almost every day of the week. The word atat in Filipino means "eager." ATAT, on the other hand, means "Any Time, All the Time." We guess the name is self-explanatory.
* Club Pok Pok. Formed by riders who found themselves astray from other motorcycle clubs, this informal organization does not believe in club rules. According to club official Alvin Dee, he and Club Pok Pok just ride with different motorbike clubs. The members are loyal only to their motorbikes and their wives (not necessarily in that order).
* Happy Hour. Coined by Top Gear Philippines Moto Sapiens editor Aris Ilagan, this supposed group promotes "positive thinking" among riders especially now that traffic has gone from worse to worst. No registration is required to be a member. Just learn to pronounce the club chant properly: "Kampai!"
* Mad Dog. Formed in the Philippines in 1994, this exclusive motorcycle club of Harley-Davidson owners is probably the most popular group of motorcyclists in the country today. Minus the dog tail and hairy paws, Mad Dog riders sport a club tattoo as a requirement to become a regular member. Majority of its members are career executives who don their faded jeans and leather jackets while riding their loud cruisers.
* Takaz Boys. Nope, they are not convicts who bolted from prison. Actually, they are fun-loving riders who would find ways to escape from their wives just to ride their motorcycles more frequently. Member Don Ysais said they would wait until their spouses are in deep slumber before they sneak out of the house and meet at their club's place in Malate late at night.
* Team Tanga. This is a group composed of expert off-road motorcycle riders who are not afraid to get dirty. They call themselves Team Tanga for a unique reason. They ride where no other riders would dare to go like goat trails, muddy pathwalks and deep rivers without breaking a sweat. Founder Jake Yu said that eventually the trails became so hard for them to traverse so they would always end up saying "Ang tatanga kasi natin!" (We're so stupid!). Team Tanga also defies GPS technology.
* Torero. This actually refers to Top Rev Riders Organization. As the name implies, the club is addicted to high-speed motorcycling. Aside from this, the Toreros are also always "in heat," says club leader Aris Cuevas. Although they eat plenty of papaya fruit during rides.
* UHAW Adventure Riders. Nothing beats this club. UHAW stands for "United Husbands Afraid of Wives." Often called tigasin or toughies, these are riders who can't ride without fulfilling their household duties like doing the laundry, cooking breakfast, and cleaning the house. By doing so, they become the most loved and respected riders in the universe.
* Vespakol. Combining the brand of the famous Italian scooter with "spa" or massage therapy, members of this group always look forward to a happy ending, says Vespakol member Jong Dalupan. And that entails a post-ride get-together during which they down beer bottles and share funny exploits.
* Vespalaboys. This is another group of Vespa scooter fanatics who'll likely commit suicide if you ask them to stay put in their house. Palaboy means wanderer in English, by the way.
Do you have a witty club name in mind?